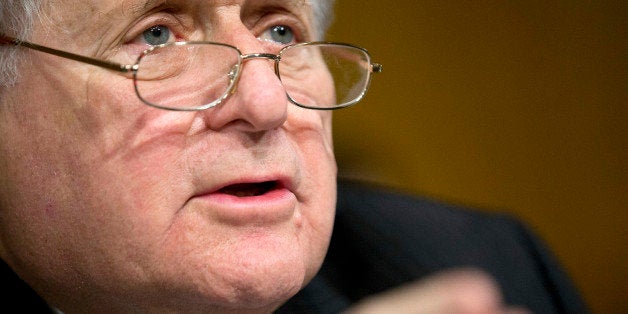 I watched Sen. Carl Levin deliver his farewell address to the Senate the other day and was struck by a singular memory of the man that sums him up.
Levin is retiring after six terms, the longest serving senator in Michigan's history. I am not going to write about his accomplishments except to say that his work as chairman of The Permanent Subcommittee On Investigations alone where he pursued corporate wrongdoing and ethical failures had no match anywhere else in our government. (See this piece in Politico about the Levin method). When it came to those who were ripping off Americans, Carl Levin was a scourge and a terror.
I just want to tell one little story that, for me, is the Levin equivalent of George Washington's cherry tree story -- except this is true.
I worked for Levin back in the early '80s and one day he gave me a peculiar assignment. He asked me to get a photograph of himself and his brother, Sandy framed at the Senate carpentry shop. Sandy is Levin's beloved older brother and best friend whose tenure in the House coincides with Carl's in the Senate. A professional photographer had taken a portrait of the two in the Capitol that Levin wanted to hang on the wall of his office. As I was the staffer who happened to be passing by, Levin asked me to take it down to the carpenters.
A week later I got a call that it was ready so I picked it up and brought it to Carl. He was delighted but asked, "How did you pay for it?"
I said that there was no charge because the carpentry shop exists to serve senators. The portrait was of a senator. He was hanging it in his office. That made the expense "official" and of no cost to him.
Levin said, "No good. Take this check and pay for it. Please."
So I went back and told the guys down there that Levin insisted on paying. They told me that they had no cash register, no way to take money. Then they regaled me with stories about all the ridiculous personal items senators were always requesting with no thought about propriety, let alone payment.
I went back and told Levin who was exasperated. He then had me check into what a professional frame would cost on the outside and sent a check to the Treasury for the amount. Not only did he not publicize it, the way many legislators dramatically announce that they are returning unused office expenses to the Treasury with self-congratulatory press releases. He told me not to tell anyone what he did. "I don't want to look like some goody goody."
I kept the secret until now.
It would, of course, be of no significance if Levin's private ethical practices diverged from his public actions. But they were of a piece. He did not cut ethical corners and, to the extent of his powers, he wouldn't allow anyone to cut any either. That is why the most frightening call for any Wall Street CEO or Beltway Bandit was that Sen. Levin's staffer called and that Levin wanted him to testify before Levin's Permanent Subcommittee on Investigations.
Levin is a lovely man, a sweetheart, if you will. But not to those who stole from the American people and especially his beloved Michiganders. The senator who wouldn't take a picture frame was hell on wheels to those who thought nothing about taking millions or billions. For them, Levin had no compassion. And they trembled in his presence.
The only senator I can imagine taking his place is Elizabeth Warren. Like Levin, she is eager to use her brilliance not in the service of the powerful (like most of our legislators, unfortunately) but in service to the people she was elected to serve. Like Levin, she is angry on their behalf.
My only question is whether she would take a free picture frame.
In any case, all Americans will miss Carl Levin, whether they know it or not.
Popular in the Community