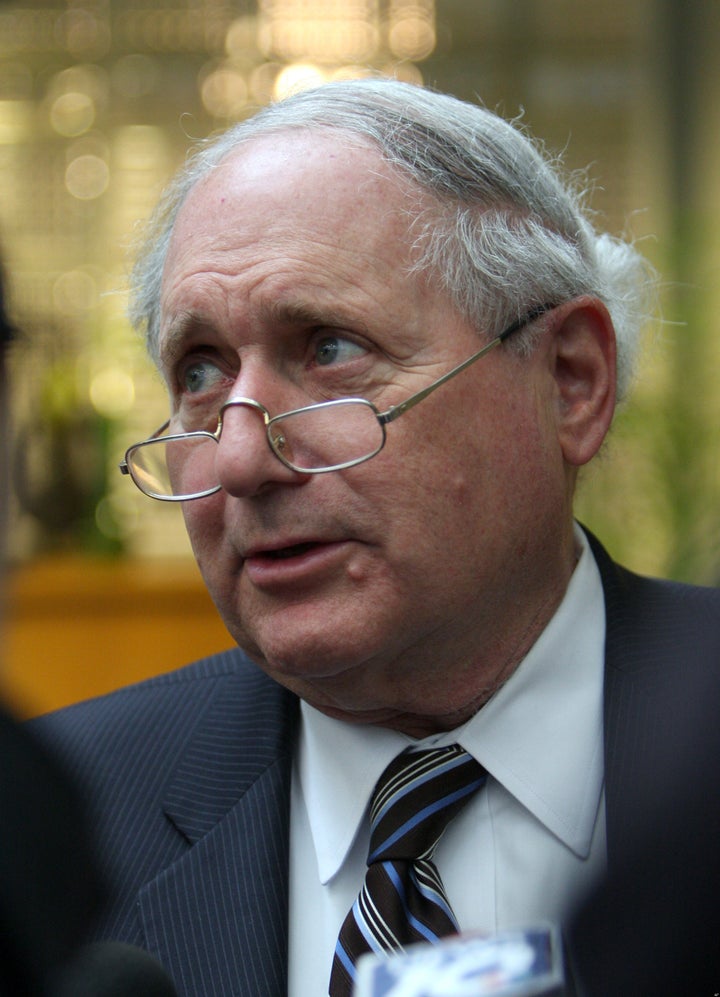 The top Senate Democrat on defense issues said on Tuesday that he would like to see an expansion of the U.S. military's controversial drone-strike operations in Afghanistan and Pakistan.
Senator Carl Levin (D-Mich.), who chairs the Senate Armed Services Committee, told a group of reporters that he favors targeting the militant insurgent group, the Haqqani network, through drone strikes -- something that U.S. forces don't currently do.
"As a matter of fact, I think we have to include on the list other threats to the Afghan mission," Levin said, during a breakfast sponsored by the Christian Science Monitor. "We have to have, I believe, we should have on our list the headquarters of the Haqqani network. We know where they are. We know where that headquarters is... I don't think they should be off-limits to those strikes. They directly threaten the Afghan mission."
"I think we have got to have them on a list of targets, absolutely," he added, after the breakfast. "I don't see any reason why they are not on a target list and I won't be surprised if they are. So I'm not gonna go beyond that."
Levin also said that he supports adding the Haqqani network, which has links to Osama bin Laden, to the State Department's list of terrorist sponsoring organizations, hinting that he would pursue legislative action to do as much in the near future. The Michigan Democrat called the insurgent group, which is closely allied with the Taliban and based primarily in northwest Pakistan, the "greatest threat" to stability (and, subsequently, the U.S. mission) Afghanistan -- greater, he said, than Taliban fighters crossing the border into Afghanistan.
"Can more be done?" he asked, rhetorically. "It has to be done by Pakistan, unless it is going to be done with drone attacks on their headquarters. More needs to be done by Pakistan. They have not gone into that area in North Waziristan where the Haqqanis are. They have not gone in for reasons that, I'm afraid, are clear to me: The Haqqanis are not a threat to the Pakistanis. They are threats to Afghanis. But the Pakistanis have said they now realize more than ever that terrorism is a threat to them."
Levin's call for an expansion of drone strikes is a reflection, in many respects, of how reliant the U.S. mission in the AfPak region has become on less human-intensive military operations. According to military and political officials, drones have been effective, in many cases, in allowing U.S. forces to target and eliminate terrorist and insurgent headquarters without taking on the actual costs and difficulties of sending units into remote areas. But they haven't come without tragic side-effects. Most notably, drone attacks have resulted in a significant number of civilian deaths, inspiring an intense backlash by local Afghanistan and Pakistan communities against American forces.
There is, increasingly, an open debate as to whether drones are eliminating or creating more anti-American sentiment. All of which Levin acknowledged.
"There is always the challenge of hitting innocents in the neighborhood or in the area or in the facilities; so-called collateral damage," he said. "And there is also probably a political question as to whether or not the Pakistanis would look the other way on that one."
But the senator insisted that with respect to the Haqqani network, drones are necessary, in part because there have been no prospects for political reconciliation with the group.
"I don't think [Afghan President Hamid Karzai] is very optimistic about them being part of any peace settlement," said Levin. "They are simply irreconcilable and, frankly from everything we've heard, that is accurate."
Calling all HuffPost superfans!
Sign up for membership to become a founding member and help shape HuffPost's next chapter