WASHINGTON ― Republican House candidate Carl Paladino praised Nazi leader Adolf Hitler's ability to rouse "the crowds" and declared Hitler "the kind of leader we need today" in a February 2021 interview on the radio station WBEN in Buffalo, New York.
Paladino, a businessman and leading GOP figure in New York state who was the party's gubernatorial nominee in 2010, is running for the Republican nomination to replace the retiring Rep. Chris Jacobs (R-N.Y.).
Rep. Elise Stefanik (R-N.Y.), chair of the House Republican Conference, the third-ranking position in GOP House leadership, swiftly endorsed Paladino after Jacobs announced his retirement. Jacobs became a target of conservative gun rights activists following his endorsement of limited gun control measures.
When presented with Paladino's statement that Hitler is "the kind of leader we need today," Stefanik claimed it was taken out of context.
"I condemn any statement, but don't take it out of context," Stefanik told HuffPost. "That is not accurate reporting."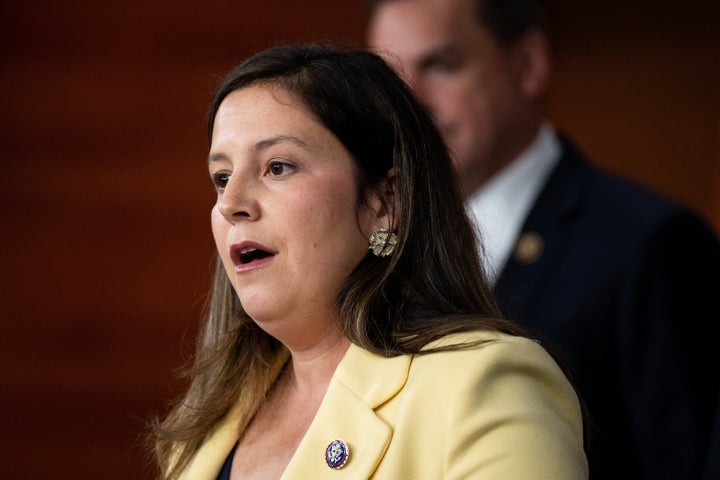 "[M]any people don't voice their opinion or just become, see it as utter futility," Hunt said. "How do you rouse the population? How do you get people thinking about the possibility of change here in New York state and what that might mean for our, for everyone here?"
"I was thinking the other day about — somebody had mentioned on the radio Adolf Hitler and how he aroused the crowds," Paladino responded, chuckling a little bit as he said the Nazi dictator's name. "And he would get up there screaming these epithets and these people were just — they were hypnotized by him. That's, I guess, I guess that's the kind of leader we need today. We need somebody inspirational."
Adolf Hitler was the fascist dictator of Nazi Germany from 1933 until his suicide at the end of World War II in 1945. He was responsible for ending democracy in Germany and starting a war for global domination that cost the lives of between 75 and 80 million people. That included approximately six million Jews mass murdered who died in the Holocaust, the attempted genocide of Jewish people orchestrated by Hitler.
Paladino released a statement Thursday saying that he does not actually support Hitler.
"Any implication that I support Hitler or any of the sick and disgusting actions of the Nazi regime is a new low for the media," he said. "The context of my statement was in regards to something I heard on the radio from someone else and was repeating, I understand that invoking Hitler in any context is a serious mistake and rightfully upsets people. I strongly condemn the murderous atrocities committed against the Jewish people by Hitler and the Nazis."
He also pointed to comments he made 12 years ago, in which he denounced Hitler and the Holocaust.
"There are some things in this world that we must all be angry about. During World War II, all decent people were angry at Hitler's extermination of six million Jews in the gas chambers of Auschwitz," he said in 2010. "During the days of the civil rights battle here in the United States, all decent people were angry at the brutal mistreatment of black people down South."
Stefanik also pointed to this quote in the House GOP press briefing Thursday, as an indication that Paladino does not love Hitler.
But neither she nor Paladino included the part of the quote where Paladino compared gay marriage to the evil of the Holocaust, including it in the list of "some things in this world that we must all be angry about."
"Congresswoman Stefanik has one of the strongest records in the U.S. Congress condemning anti-Semitism and led and passed bipartisan legislation to expand Holocaust education," an adviser to Stefanik told HuffPost, further trying to distance the congresswoman from the comments of the man she endorsed.
This isn't Paladino's first brush with controversy. In 2016, he said in an interview that he would like to see President Barack Obama die from mad cow disease and First Lady Michelle Obama "return to being a male and let loose in the outback of Zimbabwe where she lives comfortably in a cave with Maxie, the gorilla." Those comments led to Paladino being removed from the Buffalo School Board.
This piece has been updated with comment from Paladino and Stefanik.
Popular in the Community