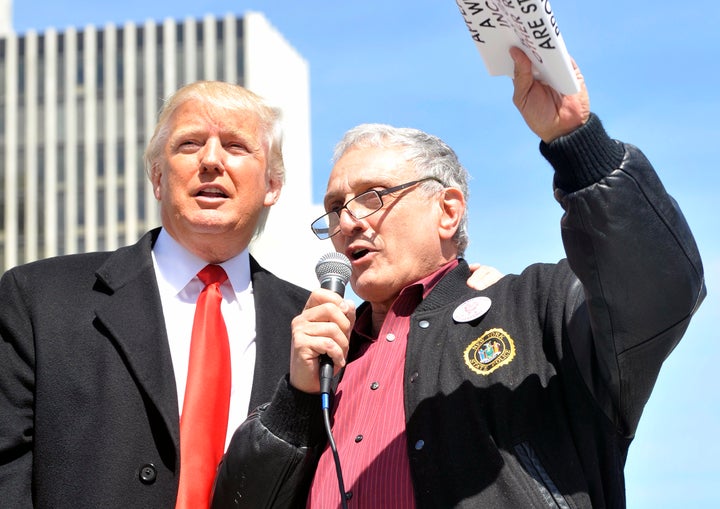 The city of Buffalo, New York, may just have had enough of Carl Paladino, notorious fount of racially charged remarks. After his insulting comments about the Obamas last week, the calls are growing for Paladino to step down ― or be removed ― from the local Board of Education.
The outrage arose over an article in the free weekly newspaper ArtVoice, in which Paladino said he would like to see first lady Michelle Obama "return to being a male and let loose in the outback of Zimbabwe." He also wished particularly horrible deaths on President Barack Obama and White House senior adviser Valerie Jarrett.
One of Paladino's colleagues on the Buffalo Board of Education plans to submit a resolution on Thursday demanding that he resign within 24 hours ― or the board will petition New York Education Commissioner MaryEllen Elia to oust him, according to The Buffalo News. The resolution has already been signed by six of the nine board members, who oversee a school district that serves mostly students of color. It describes Paladino's remarks as "unambiguously racist, morally repugnant, flagrantly disrespectful, inflammatory and inexcusable."
Also on Thursday, the Buffalo Parent-Teacher Organization is holding a rally to demand that Paladino go, which PTO co-chair Larry Scott said they expect hundreds of people to attend.
On Tuesday, members of the Buffalo Common Council unanimously called on the education commissioner to investigate whether Paladino's remarks warrant removal. Council Member David Franczyk, one of Paladino's long-time allies, said the real estate developer's behavior warrants consequences, according to radio station WBFO. And state Assemblyman Sean Ryan said on Twitter that he'd written to Elia asking for Paladino's removal.
Paladino, who served as co-chair of President-elect Donald Trump's New York campaign, has claimed that his comments had nothing to do with race. He said he meant to send them to his friends, not the newspaper, and he apologized to "the minority community."
But he insisted he has no plans to leave the school board.
New York state has limited ways to force out an elected official. Scott, the PTO co-chair, said his organization is in the process of filing an official complaint about Paladino with the education commissioner. From there, Elia could act to remove him, Scott said.
"We've had Mr. Paladino make some very hateful comments in the past, but the outrage we're receiving from the community, from Buffalo parents, and even outside Buffalo has certainly reached a new level," said Scott, who is a school psychologist in a neighboring district. "Students are hearing this. They're paying attention. It's all over social media, it's in the news. It's having an impact on them."
In response, the state Education Department issued a statement saying they're "in the process of reviewing all of our options in this unusual situation and will closely watch the actions taken by the Buffalo Board of Education at tomorrow's meeting."
Paladino did not immediately respond to requests for comment.
This is not the first time Paladino has drawn the ire of his local community. He has come under fire for racially offensive emails. Even in endorsing him for re-election this past spring, The Buffalo News referred to "all his defects ― his offensive comments, his bullying, his sometime inability to function effectively on the board."
Earlier this month, Paladino presented a formal resolution to the Board of Education calling for pictures of Trump to be placed in the schools. He brought the request on behalf of the "patriotism committee," which is not actually a committee, according to The Buffalo News. Instead, the board decided that schools would display posters showing all the U.S. presidents.
Paladino's latest offense sets a poor example for the students, said Eve Shippens, a local parent, teacher and co-chair of the Buffalo PTO.
"If he was a student in my classroom, he would have gotten formally suspended for saying that to another student. If he had posted that on his Facebook page, he would have been suspended," Shippens said. "So how can he make decisions that affect children and not even have the consequences they have?"
Rebecca Klein covers the challenges faced in school discipline, school segregation and the achievement gap in K-12 education. Tips?Email: Rebecca.Klein@huffingtonpost.com.
Popular in the Community