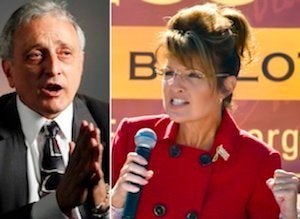 New York gubernatorial candidate Carl Paladino took aim at the prospect of Sarah Palin pursuing a presidential run in 2012 in an interview with the New York Times published on Monday night.
In voicing his opinion on the matter, the Tea Party-backed hopeful reportedly criticized Palin as a "TV personality" in the making who isn't ready to serve the country in the White House.
It's not the first time that Paladino has stated the view in the wake of whispers about plans in the works for Palin to mount a presidential campaign in 2012.
"We need a real leader," explained the Republican candidate to New York-based station WNYC last month. "Not someone who just wants to go and throw a bunch of words around and proverbs and -- I want somebody that is going to be totally responsible. Someone that is a student of that government."
Paladino told the outlet he isn't sure who in his party he thinks could earn his support to take on President Obama in the next election cycle.
"I don't see anybody," he said. "Not Newt Gingrich. Not Sarah Palin. Sure enough not John McCain. I don't see 'em. Not Governor Christie either."

Popular in the Community