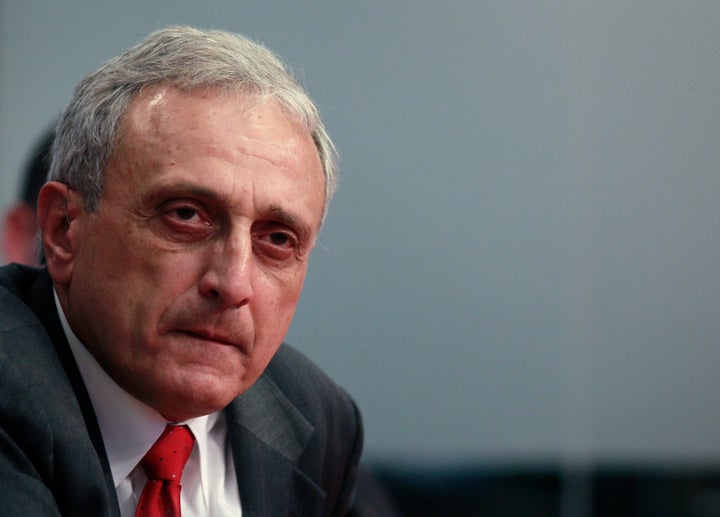 "I never intended to hurt the minority community who I spent years trying to help out of the cycle of poverty in our inner cities," Paladino wrote Tuesday in an open letter to Artvoice, the publication to which he'd earlier sent racist responses to interview questions. "To them I apologize."
In his earlier email to Artvoice, published last week, Paladino ― the New York co-chair of President-elect Donald Trump's campaign and a member of the Buffalo Board of Education ― provided the following response to a question about what he'd "most like to happen in 2017." The misspellings are his.
"Obama catches mad cow disease after being caught having relations with a Herford," he wrote. "He dies before his trial and is buried in a cow pasture next to Valerie Jarret, who died weeks prior, after being convicted of sedition and treason, when a Jihady cell mate mistook her for being a nice person and decapitated her." (Valerie Jarrett, who is black, is senior adviser to Obama. She is not dead.)
Asked what he'd "like to see go away in 2017," Paladino turned his sights on the first lady.
"Michelle Obama," he wrote. "I'd like her to return to being a male and let loose in the outback of Zimbabwe where she lives comfortably in a cave with Maxie, the gorilla."
Once Paladino's remarks were publicized, he tried to downplay them, insisting that they had "nothing to do with race." But after drawing condemnation from New York Gov. Andrew Cuomo (D), Trump's transition team and his own son, among others, it appears Paladino felt the need to do more damage control.
In his letter on Tuesday, Paladino said he'd never intended to send the comments to Artvoice to begin with.
"I filled out the survey to send to a couple friends and forwarded it to them not realizing that I didn't hit 'forward' I hit 'reply,'" Paladino wrote. "All men make mistakes."
Paladino has a history of sending reprehensible emails to his friends. Amid his failed New York gubernatorial campaign in 2010, Paladino came under fire for messages he'd sent to contacts that included racist memes and a "bestiality video involving a horse and a woman."
Tens of thousands of people have signed online petitions in the past few days demanding that Paladino be removed from his position on the Buffalo school board. But Paladino said in his open letter that he doesn't plan to step down.
"I'm not leaving the school board, not when it's time to help implement the real choice elements of Trump's plan for education reform," he wrote.
The board is set to hold a special meeting on Thursday to discuss Paladino's future.
Paladino's letter doesn't actually include an apology to the Obamas. In fact, he misspells the names of both the president ("Barak") and the first lady ("Michele") while arguing that the Obamas have made the United States worse in the past eight years. He claimed that he wrote his original, racist email in an "emotional moment" after hearing "Obama's statement that he regretted the slaughter in Aleppo that, in fact, resulted from his failed and cowardly foreign policy."
"I could not have made a worse choice in the words I used to express my feelings," Paladino wrote. But he ended the letter on a defiant note: "I don't intend to yield to the fanatics among my adversaries. I certainly am not a racist."
UPDATE: 5:30 p.m. ― Paladino continued to face backlash for his racist remarks on Tuesday. In a letter to members of the New York State Education Department, the NAACP Legal Defense and Educational Fund called for Paladino's "swift removal" from the Buffalo school board.
"Mr. Paladino's race-based assessment of President and Mrs. Obama's qualifications cannot be reconciled with his mandate to ensure that all of the children of Buffalo receive a quality education," wrote Janai Nelson, associate director-counsel of the NAACP Legal Defense and Educational Fund. "To the contrary, Mr. Paladino's racist tropes can and will have an especially insidious impact on Buffalo's children of color, who will be expected to accept that someone who is entrusted with their educational development links blackness to inhumanity."
Rep. Peter King (R-N.Y.) suggested that Trump's transition should consider officially severing ties with Paladino.
"What he said was disgraceful and irresponsible," King told Newsday. "There's no way that's humor. You can say things that are politically incorrect. You can say things that you consider a dark humor. But, no, that was totally disgraceful really... If they don't sever him now, they have to say that one more time like that and you're gone."
Popular in the Community