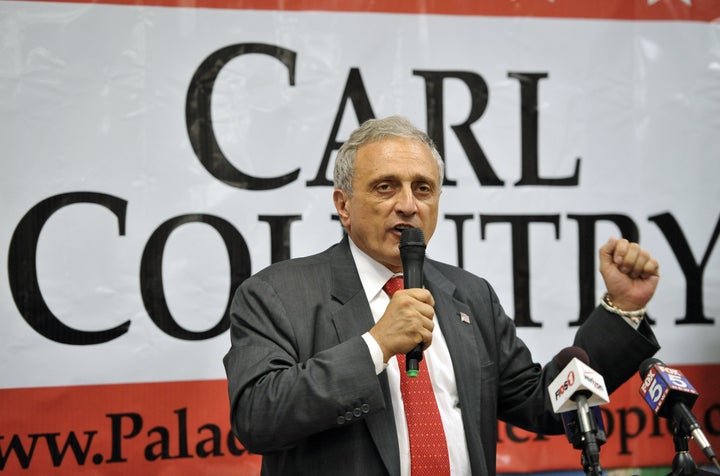 Carl Paladino stood before a crowd at a Long Island rally Thursday and spouted off in a manner that has come to define the Tea Party-backed Republican candidate for governor, referring to Sen. Kirsten Gillibrand (D) as Sen. Chuck Schumer's "little girl."
According to NY1, which first reported the comments, one person at a campaign stop seemed to accurately describe the large stumbling block in calling the only woman currently in statewide office in New York somebody's "little girl."
"I'm worried that the temperament invites very harsh criticism against the man," one man told TV1. "It detracts from the real issues at hand, and that's why probably Cuomo will do better than even he thought he would."
Paladino has indeed received his share of bad press for statements that seem to indicate a candidate who is reluctant to filter his own thoughts as they pass from brain to mouth. Though his torrid brand of politics and public speaking has also become a selling point for many of his Tea Party followers, Paladino has not been able -- and perhaps not tried -- to buck the perception that he is incredibly rough around the edges.
Right now, however, it appears to be mostly a curse, as he trails Democrat Andrew Cuomo by 24 points in HuffPost Pollster's latest analysis of the race. Don't tell that to Paladino, however. He's been consistent in saying polls don't count for squat.
Sen. Gillibrand responded to Paladino in a statement Friday:
"The fact is that I don't take a back seat to anyone when it comes to fighting for New York. While I have delivered solutions, Mr. Paladino has delivered insults," Gillibrand said."Mr. Paladino's campaign has been a disservice to New Yorkers. His divisive behavior and name calling is offensive to women and unacceptable in any circumstance."
Calling all HuffPost superfans!
Sign up for membership to become a founding member and help shape HuffPost's next chapter