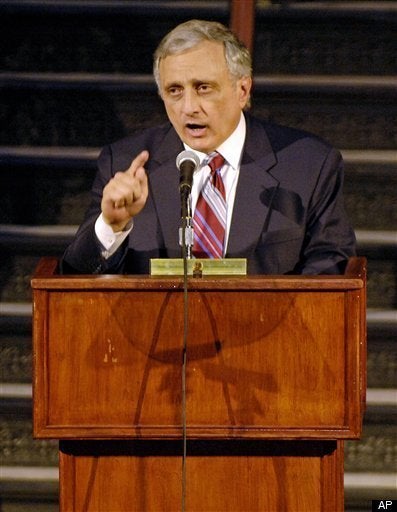 Although there's a lot of competition, the most odious proposal to escape the lips of GOP gubernatorial nominee Carl Paladino is his plan to convert state prisons into workhouses for New York's poor and unemployed where they would be given jobs and taught basic hygiene.
Paladino has relied on his military experience to justify the most insulting aspect of this Dickensian scheme: personal hygiene classes. The Buffalo developer said that while in the U.S. Army, he had trained troops at Fort Dix. "We had to teach them basic things," he told the New York Times, including cleaning themselves on a daily basis and brushing their teeth.
I decided to ask the Paladino campaign exactly what Paladino had done at Fort Dix, when he had served at the New Jersey base, and whether his personal hygiene instruction was part of an organized Army program. No details were forthcoming.
"Yeah, Carl set up his own clinic and gave everybody sponge baths. You guys are ridiculous," campaign manager Michael Caputo said in an e-mail.

Paladino, 64, served about 10 years in the Army before retiring as a captain. But there's nothing about Paladino's military record that's going to make you jump up and salute, especially for a man who's using his Army experience as a club to bash the poor.
During the Vietnam War, Paladino was a student in ROTC at St. Bonaventure's University, where he served as the chairman for military balls at the school. He was commissioned as a reserve officer in the Army's Air Defense Artillery Branch upon graduation in 1968, but went on to attend law school at Syracuse.
His military career began after he graduated from Syracuse in 1971 with a brief stint on active duty at Fort Bliss, Texas. As Paladino's long-suffering wife recalled in an interview with the Buffalo News, the GOP standard-bearer spent four months at an Army air defense school in Texas before returning to upstate New York, where he served in a reserve unit, the 98th Division, based in Rochester.
So the sum total of Paladino's military experience is a few months of active duty and nine years as a weekend warrior in upstate New York.
Campaign manager Caputo said the candidate spent "six months active duty with orders for Vietnam," although he conceded that Paladino didn't actually ever go there, due to a "force reduction just weeks before deployment to Saigon." Caputo also said Paladino was "responsible for training 250 men during that time at Fort Bliss."
But even given Caputo's assertion that Paladino nearly went to Vietnam, this record is small potatoes for a man who likens his own campaign for governor to the derring-do of Gen. George Patton in World War II. ("We're going to charge, charge, charge.")

Or maybe they're going to brush, brush, brush.
Popular in the Community