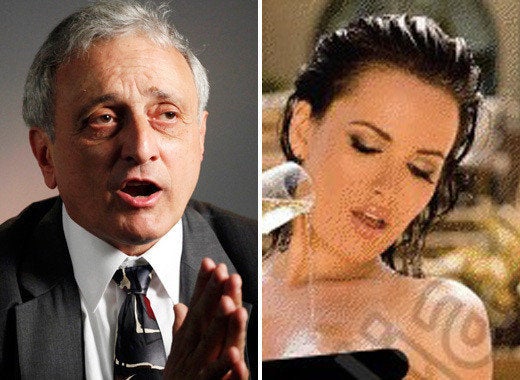 New York gubernatorial candidate Carl Paladino found himself embroiled in controversy once again on Thursday after WNYMedia.net published a series of emails containing pornographic images reportedly forwarded by the Republican hopeful to friends and colleagues within the last several years.
The messages released by the New York-based outlet contain provocative pictures of naked women in revealing positions and engaging in sexual activity. Paladino included brief notes in some instances when he blasted out the images. More than once, he wrote, "awesome," while on a different occasion he said, "for andy this is better."
The graphic emails have surfaced on the heels of Paladino sparking controversy in speaking out against marriage equality. "We must stop pandering to the pornographers and the perverts, who seek to target our children and destroy their lives," he said earlier this week.
The AP reports on the campaign's response to the dirty messages:
Paladino spokesman Michael Caputo called the political site's operators miscreants and notes that Democratic activists have been accused of falsifying e-mails in the past.

Caputo stated the e-mails from 2008 to January of 2010 aren't new or relevant. He didn't deny Paladino forwarded them.
Amid controversy swirling over a series of racist and graphic e-mails forwarded by Paladino to friends and colleagues earlier this year, the Tea Party contender said, "I'm not politically correct and never have been." He added, "I'm not perfect. But if the worst I ever did was send out some non-politically correct e-mails, my God."
HuffPost's David Weiner reported on the e-mails, also published by WNYMedia.net, at the time:
These emails run the gamut from your standard email chain smut to greatly disturbing racist imagery. Many of the latter type of emails targeted President Obama and his wife Michelle.

Here's a brief rundown of some the emails obtained by the news outlet...

- Ahead of Obama's swearing-in ceremony, Paladino sent around a video entitled "Obama Inauguration Rehearsal." The video shows an African tribesman dancing, and is apparently popular among white supremacists.

- An email with the subject line "Proof the Irish discovered Africa" containing a video of monkeys that appear to be doing a Riverdance-style jig.

- A video of a naked woman sent from a government email account.

- A bestiality video involving a horse and a woman.
One image passed along by Paladino featured President Obama and the First Lady made to look like "a pimp and a ho."
Responding to the matter, Caputo at the time told the New York Daily News:
"Carl Paladino has forwarded close friends hundreds of email messages he received. Many of these emails he received were off color, some were politically incorrect, few represented his own opinion, and almost none of them were worth remembering..."
Paladino is facing off against Democrat Andrew Cuomo to be New York's next Governor in November's midterm election. According to the latest numbers out on the match-up, Cuomo holds a comfortable lead in the race.
The pornographic emails, which contain graphic images, can be found here.
Popular in the Community