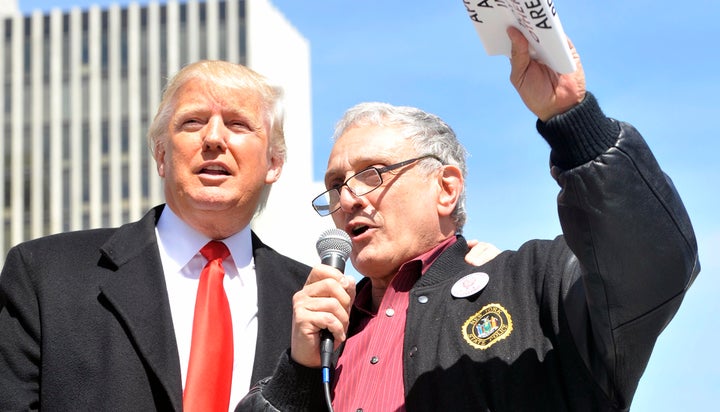 The son of Donald Trump's New York campaign co-chair is distancing himself from his father's comments about President Barack Obama and first lady Michelle Obama, calling the offensive remarks "disrespectful and absolutely unnecessary."
Buffalo real estate developer Carl Paladino recently answered a questionnaire from the local publication Artvoice about his hopes for 2017. While other respondents gave innocuous answers, Paladino used the opportunity to call the first lady a man who should live with gorillas and said he hopes the president dies from mad cow disease and that Obama adviser Valerie Jarrett is decapitated.
1. What would you most like to happen in 2017? Obama catches mad cow disease after being caught having relations with a Herford. He dies before his trial and is buried in a cow pasture next to Valerie Jarret, who died weeks prior, after being convicted of sedition and treason, when a Jihady cell mate mistook her for being a nice person and decapitated her.

2. What would you like to see go away in 2017? Michelle Obama. I'd like her to return to being a male and let loose in the outback of Zimbabwe where she lives comfortably in a cave with Maxie, the gorilla.
On Saturday, Paladino's son William also weighed in. He wrote on Facebook that he wanted nothing to do with the remarks and tried to distance his father from the family real estate business.
The Buffalo News reported that many locals were skeptical of the statement that Paladino's son is the driving force behind the company.
"Carl Paladino was the company's founder and led the 43-year-old development firm as CEO for decades, until his son took over a few years ago as the father became more active politically, first with the Buffalo Public Schools and then in statewide Republican circles," the paper wrote. "Carl Paladino remains chairman of the company, which he started in 1973, and is still considered by many to be influential in the firm's overall direction."
Nevertheless, the statement represented a strong condemnation of Paladino's remarks from his own son.
Paladino responded to the national criticism Friday in a statement, saying his comments had "nothing to do with race" and criticizing America for not getting his "deprecating humor."
"It's about two progressive elitist ingrates who have hated their country so badly and destroyed its fabric in so many respects in 8 years," the statement read, referring to the Obamas. Paladino added that he thought the president was a "yellow-bellied coward who left thousands to die in Syria and especially Aleppo."
When Paladino ran for New York governor in 2010, he came under fire for sending emails to associates that included references to bestiality and offensive characterizations of Obama. In one email labeled "Obama Inauguration Rehearsal," there was a video clip of African tribesmen dancing around.
Want more updates from Amanda Terkel? Sign up for her newsletter, Piping Hot Truth, here.
Popular in the Community