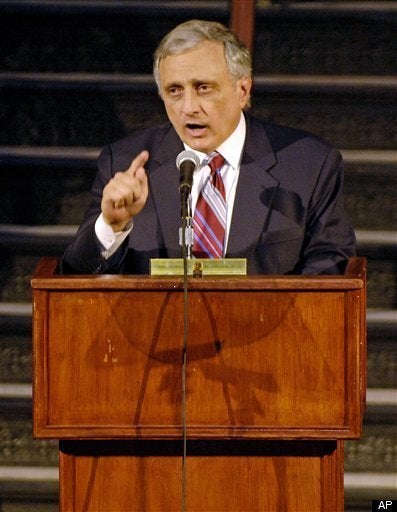 ***Update with letter from Carl Paladino below***
The already-volatile race for New York governor got a new jolt of drama this week with the candidacy of Carl Paladino, the Buffalo businessman and Tea Party favorite known for his big mouth and bigger wallet.
And Paladino promises to make headlines as a candidate in the Republican primary by vigorously attacking New York's entrenched political leadership, forcefully pushing his anti-spending, anti-tax message and not backing down from past controversial stances.
Though he's little known in the rest of the state, the 63-year-old developer is a legend in Buffalo, where he's made some powerful enemies and stirred up plenty of scandal.
Less than two years ago, he was accused by local lawmakers of making racially offensive comments during a public forum. The outspoken developer caused controversy at the forum by claiming that the only reason Buffalo Public Schools Superintendent James Williams had been hired was because he is black.
In response, several members of the Buffalo Common Council proposed a resolution condemning Paladino for making "racially offensive comments" and requesting that New York's legislature pass a law to allow government agencies to back out of contracts and leases with people who make "racially-offensive or insensitive remarks." Paladino is downtown Buffalo's biggest landlord, including $85 million in leases for New York State offices.
Paladino's campaign manager says that the candidate stands by his comments, noting that the resolution passed on a split vote. "He's never taken back his words," Michael Caputo told Huffington Post. "They may not like it but it happens to be the truth. They [the school board] hired a search firm to look for an African-American candidate."
Caputo, a protege of notorious political consultant Roger Stone, promises that Paladino has plenty more on his mind.
"It might not be politically correct. So buckle up because it's going to be a pretty wild ride -- if they think this is tough talk, they ain't seen nothing yet."
Paladino's scathing criticism of Buffalo's school authority extended to angry letters he penned to Buffalo Teachers Federation President Phil Rumore. In one letter, obtained by the Huffington Post, Paladino lashed out at Rumore's alliance with several black female school board members, whom he called "the parasitic Black Sisterhood." Paladino also referred to the "Black Sisterhood" again in a similar letter to Buffalo's weekly newspaper Artvoice.
Read the increasingly contentious exchange of letters between the two men:
Reached by phone in France, Rumore told HuffPost that Paladino "appeals to the lowest instincts in man" and to "a mob mentality." Rumore dismissed his run for governor, saying that the developer is "full of mouth and no constructive ideas... He loves the limelight. He'll do anything he can to get his name in the papers... He feels that he has a cult following. Only in his own mind."
Caputo dismissed Rumore's comments: "At the end of the day, the people who make those kind of comments represent everything that's wrong with our state -- union bosses who strangle our children through a failing education system every single day."
Paladino was also accused by Democratic Congressman Jerry Nadler of comparing the impact of President Obama's health care overhaul to 9/11 during a recent appearance on the Curtis Sliwa radio show. Caputo strongly denies Nadler's description of the comments and warns "any lawmaker who has driven this state into the ground, they can expect to have fire returned."
Paladino just can't help shooting from the lip. On Tuesday, he attacked presumptive Democratic gubernatorial nominee Andrew Cuomo, blaming him for helping cause the nation's subprime mortgage crisis. During his tenure as housing secretary during the Clinton administration, Cuomo applied pressure to make lenders give mortgages to people who could not afford them, argues Paladino. "Andrew destroyed their lives... It's disgusting," Paladino told reporters, according to the Buffalo News.
Paladino, who recently released a video touting his pro-life, pro-gun credentials, has become a darling of the Tea Party movement. Since it sprouted last February, he has spoken at too many Tea Party rallies to count, says Caputo. Paladino was the star of one rally in downtown Buffalo last month, at which he condemned the health care overhaul recently passed in Congress and called for Cuomo, New York's current attorney general, to sue the federal government to overturn the law.
Yet his conservative purity is sure to be questioned, considering his past support for Democratic stalwarts like Hillary Clinton, Sen. Chuck Schumer, Sen. John Kerry, recently disgraced former Congressman Eric Massa, Rep. Louise Slaughter and former Vice President Al Gore.
In addition, it was recently revealed that Paladino fathered a child during an extramarital affair over a decade ago.
Though he has been encouraged to run for office in the past, it was a few Tea Party leaders from the Tea Party Patriots and Tea Party New York who pushed him over the edge. "It wasn't until a couple of Tea Party leaders pulled him aside that he began to consider it seriously,' says Caputo, who emphasizes that he plans to form a Tea Party line on the ballot if he doesn't receive the endorsement of the state's Conservative Party. In February, Allen Coniglio of the Western New York Tea Party Coalition offered his support for the then-potential gubernatorial candidate, telling WIVB, "If Carl Paladino took the governor's race, that would be incredible."
The multimillionaire developer plans to spend up to $10 million of his own money on the race and then to raise money from contributors after that -- he recently hired a finance director.
Paladino's business empire, which dominates the Buffalo skyline, is also sure to attract attention. He is the CEO of Ellicott Development and is known for his work ethic, often putting in 18-hour days. Though profitable, the company has given him some headaches -- it was sentenced by a federal judge in 2000 for violating the Clean Air Act. The company pleaded guilty for failing to provide thorough inspections for asbestos before the demolition of a property in Syracuse and was handed a $500,000 fine, the largest fine allowable by law.
Carl Paladino wrote to us, objecting to what he views is the "mischaracterization" of his remarks. Below is his letter to Huffington Post:
Dear Ms. Huffington:

I was disturbed by the headline and the story regarding my candidacyfor Governor of New York claiming that I "stood by raciallyinsensitive remarks" during my efforts to reform the Buffalo schoolsystem. I categorically reject the characterization of my remarks asracially insensitive and you fail to mention that is only thecharacterization of my remarks by my critics. More importantly, myremarks at the time were categorically true - if too politicallyincorrect for you and your friends.

Anyone who knows me knows that I hate no man. I'm proud to say that Ihave created jobs for people of every ethnicity, color and sexualpreference. Local African-American education bureaucrats "played therace card" and I called them on it.

These tactics by the protectors of a failed public education systemare the worst form of racism. Incompetence comes in every color.

In case you are unaware, New York State pays more per pupil than anystate in the nation and we have among the highest dropout rate andhighest illiteracy rate for residents between 18 and 25. I will not bedeterred in my efforts to reform our public schools by teachersunions, racial game players or other defenders of a broken system.

Sincerely,

Carl Paladino
Popular in the Community