WASHINGTON -- The Progressive Change Campaign Committee endorsed Carl Sciortino Jr. on Wednesday, singling him out of a field of seven Democrats vying to fill Sen. Ed Markey's (D-Mass.) empty former House seat.
Sciortino, currently serving in the Massachusetts state House, has attempted to portray himself as the most progressive candidate in the race, in a heavily Democratic district.
Several progressive lawmakers -- Reps. Keith Ellison (D-Minn.), Alan Grayson (D-Fla.), Raul Grijalva (D-Ariz.) and Mark Takano (D-Calif.) -- have already endorsed him. Sciortino, who is gay, also has the backing of several lesbian, gay, bisexual and transgender organizations. If elected, he would be the eighth openly gay member in Congress.
Sciortino's early announcement that he would oppose military intervention in Syria played a major role in why the Progressive Change Campaign Committee decided to endorse him, according to co-founder Stephanie Taylor.
"We hosted a debate with all five candidates in this race. Carl supported prosecuting Wall Street bankers, Elizabeth Warren's Glass-Steagall bill, increasing Social Security benefits, and reversing Citizens United," said Taylor in a PCCC fundraising email to supporters. "But among several good candidates, Carl proved these past two weeks that he is the type of bold leader we can count on."
PCCC said it has more than 5,000 members in Massachusetts' 5th Congressional District and more than 33,000 members in the state.
One of Sciortino's rivals is state Sen. Katherine Clark (D), who has been placed "On the List" and made a priority candidate of EMILY's List, the Democratic political action committee that supports women seeking public office. Clark released two ads this week, both highlighting her support for women's rights. One features her mother, who talks about the lack of opportunities for women when she was younger, and the other highlights the life of Clark's grandmother. The campaign polled its supporters to vote for the one that would appear on television, and the spot with Clark's mother won.
Correction: This article originally stated that EMILY's List has endorsed Clark and has been updated to reflect that she is "On the List."
Before You Go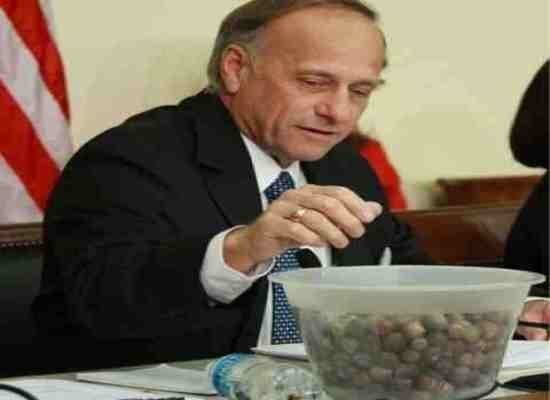 More Crazy Examples of Congressional Theatrics
Popular in the Community