When U.S. officials claimed two weeks ago that an American aircraft carrier was heading toward waters near North Korea, it was actually sailing in the opposite direction, The New York Times and Defense News report.
Amid growing tensions between the U.S. and North Korea, U.S. Pacific Command announced on April 8 that the USS Carl Vinson strike group would sail north to the western Pacific after departing Singapore that day. An American official told Reuters at the time that the ships' move toward the Korean Peninsula was a show of force directed at the regime of Kim Jong Un.
U.S. National Security Adviser H.R. McMaster told Fox News the next day that the group was being rerouted from Singapore toward the Korean Peninsula as a "prudent" show of force.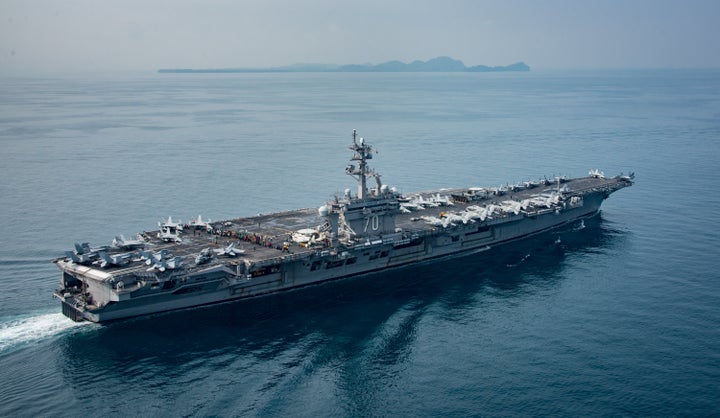 Mere days after the announcement about the strike group's new course, President Donald Trump weighed in on the North Korean threat. "We are sending an armada, very powerful. We have submarines, very powerful, far more powerful than the aircraft carrier," Trump told Fox on April 12.
"We have the best military people on Earth. And I will say this: He is doing the wrong thing," Trump added, referring to Kim Jong Un.
But Defense News pointed out on Tuesday that photos released by the U.S. Navy showed the aircraft carrier passing through the Sunda Strait in Indonesia, about 3,500 miles from the Korean Peninsula, last Saturday. It was moving away from North Korea when U.S. officials said it was moving toward the peninsula, the Times confirmed on Tuesday.
The ship has changed direction since then, but is expected to arrive far later than initial reports suggested.
CNN's Jim Acosta tweeted that an administration official blamed the mix-up on a miscommunication. The White House did not immediately respond to a request for comment.
North Korea has recently ramped up work on its nuclear program, hoping to develop a missile capable of carrying a nuclear warhead to the United States. Trump has vowed to "solve" the North Korean problem, but is facing few good options to confront the threat.
Pyongyang test-fired missiles during Japanese Prime Minister Shinzo Abe's visit to the U.S. in March, and again on April 4 ahead of a visit to the U.S. by Chinese President Xi Jinping. Following the April launch, Secretary of State Rex Tillerson released a three-sentence statement acknowledging the launch: "The United States has spoken enough about North Korea. We have no further comment," it read.
Tensions further escalated in the runup to April 15, the 105th anniversary of the birth of North Korea's founder, Kim Il Sung. Experts warned that Pyongyang might conduct a missile test. Satellite imagery at the time indicated that Pyongyang might have been preparing for a sixth nuclear test in addition to a massive military parade.
While North Korea did end up test-firing a missile on Sunday, the projectile exploded almost immediately after launch.
Following the launch, Vice President Mike Pence said Trump would take a more aggressive stance against Pyongyang than previous administrations.
"We're going to abandon the failed policy of strategic patience. But we're going to redouble our efforts to bring diplomatic and economic pressure to bear on North Korea. Our hope is that we can resolve this issue peaceably," Pence told CNN.
This is a developing story and will be updated.
Popular in the Community