For Carl Warner, it all started with Portobello mushrooms. Now the landscape photographer who has spent 25 years in the advertising industry is famous for his foodscapes, which you've probably seen in an email that went viral back in 2008. I caught up with Carl when he was in New York City to present his Chocolate Train at the NYC Chocolate Show, as well as to promote his new book, Food Landscapes.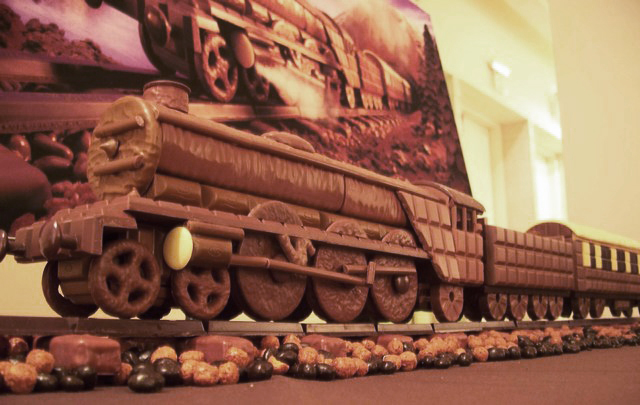 Carl Warner's Chocolate Train on display at The New York City Chocolate Show (Regina Varolli)
Check out some of Carl Warner's Food Landscapes: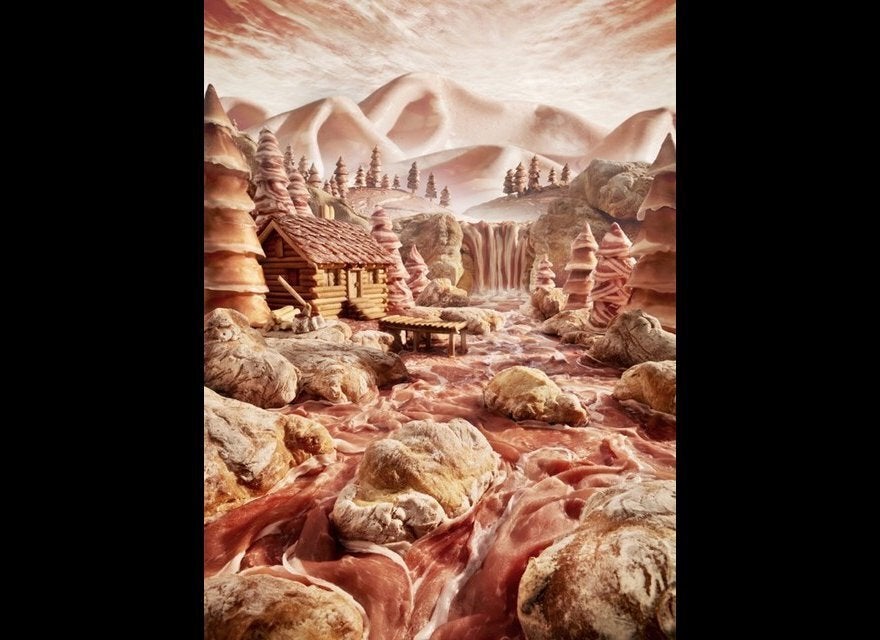 Carl Warner's Food Landscapes
"I came across these Portobello mushrooms and they were beautiful specimens," said Carl when we sat down for an interview at Barnes & Noble. "Then I looked at them from a low angle and thought, Wow, that kind of looks like a tree. I wonder if I could photograph these in a way that would really make them look like trees?"
So he brought the mushrooms back to his studio in London, bought some seeds, beans and rice for the ground cover, and started constructing a landscape, using mackerel for the sky. With his knowledge of lighting and his talent for photography, he got down to the photo shoot. The result was his first ever food landscape, which he calls Mushroom Savanna, "because it looks like an African Savanna on another planet."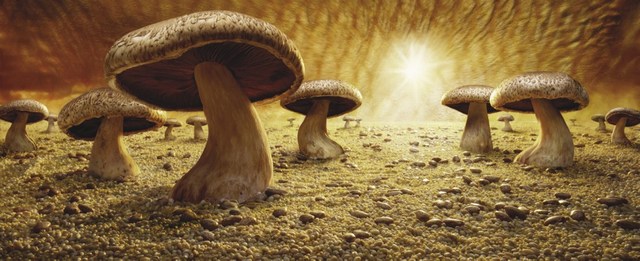 Mushroom Savanna (Carl Warner)
When he saw that it worked, he immediately wanted to do more. So he did. After his second food landscape, Parmesan Cliffs, a friend gave him a referral for a butter company that was looking to launch a new ad campaign. Although he was filled with trepidation after accepting the commission, Carl went through with it anyway. Telling himself (if not the client) that if it didn't work, he just wouldn't charge them for it.
Well it did work, and his Salmon Sea steered his advertising career in a whole new direction. Since that first campaign Carl has developed an international reputation for his food landscapes. People in the industry call him because they want "that guy who does the food pictures." He's even branched out into moving images for television commercials.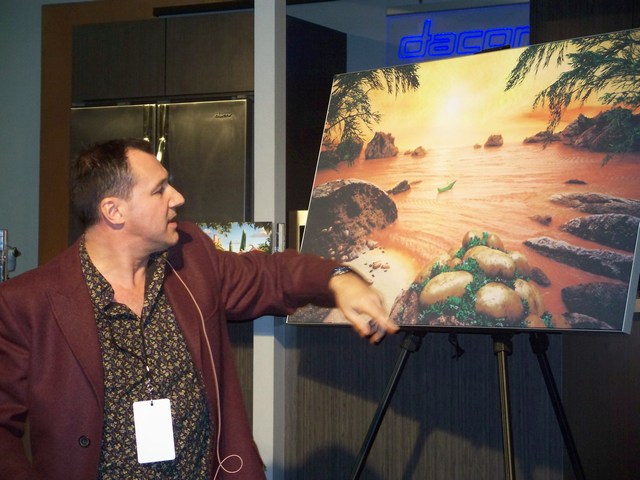 Carl Warner presenting his Salmon Sea at The New York City Chocolate Show (Regina Varolli)
"This all started out of a need to do something that people had never seen before, and that's what creative photography is all about," said Carl.
What began as a fun fluke has become something that has deeper meaning for Carl -- and he hopes for others too. "My work has become a great vehicle for promoting healthy eating, so I'm pushing it in that direction. I think I can get kids to want to eat their vegetables because they've seen them in one of my landscapes and get curious about how they taste."
For this reason, Warner is already working on a children's book. Carl believes that kids' diets in places like England and the U.S. are too restricted in general, and too unhealthy. So he's taken a page from fellow Brit Jamie Oliver and is trying to do something about it. He's even working on a children's TV program where the characters are made of healthy food and they explain what they're made of and how they're good for us.
"Food landscapes put me on a path and gave me a direction for my work. Now, taking nice pictures and using the creative process is allowing me to do something far more significant -- and hopefully more effective. I hope my work can encourage a healthy eating culture -- bringing families and communities together through food."
Although Carl sees the seriousness of his work, he also appreciates the lighter side. "It's really good fun. I love making people smile, there's not many things you can do for a living in this world that make people smile."
Carl's book, Food Landscapes, will indeed make people smile. The book contains all of his food landscapes up to December 2009, woven through with witty story telling, images of the sketches he draws in preparation for creating a foodscape, as well as lists of ingredients for each element used in production. It's a brilliant and fun little book, and makes great Christmas presents for foodie friends. There's already a copy sitting on my coffee table, and everyone who comes over is amazed -- and amused -- by it.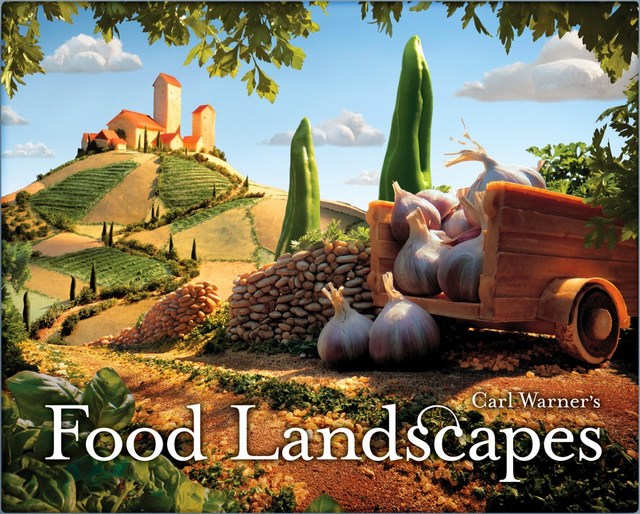 Book Cover (Carl Warner)
Carl Warner's food landscapes have gone beyond advertising and his book, they've been turned into a wall calendar, cutting boards, and he's even working on puzzles. "But," says Carl, "I would love to do a TV show where I travel the world making food landscapes of different locations, using all local ingredients." Now there's something I'd love to watch, it would be more interesting than just watching people travel and eat the foods they find!
Today Carl's life has been so shaped by his work in food landscapes that, he says, "When I see a natural landscape or anything in it, or even a city, I imagine what foods it resembles. And when I look at food, I always imagine what its shape could represent."
You can find Carl's book (as well as the wall calendar) on Amazon.com, BarnesandNoble.com, and Borders.com, as well as in any major book store near you.

Related