Carla Bruni and her bump de bébé have landed their second magazine cover (the first, if you remember, can be seen here), but the pregnant French first lady is none too pleased.
Europe 1 reports that she has accused Gala of using the front image and interior pictures without her permission.
The photographs were taken on July 14, when Carla hosted the wives of navy officers fighting in Libya at the presidential retreat in Fort de Bregancon. They were meant to be published exclusively in local newspaper Var Matin, but were apparently resold to Gala. Carla is after monetary compensation, which she would donate to orphans of navy families.
Gala released a statement saying its editorial board was shocked about the misunderstanding and pointed fingers at photo agency Max PPP who sold the images to the weekly. They hope to reestablish a good relationship with Carla and their readers by running a special tribute to navy wives.
Take a look at the Gala cover below.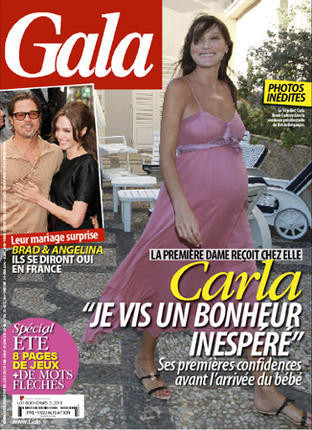 Related