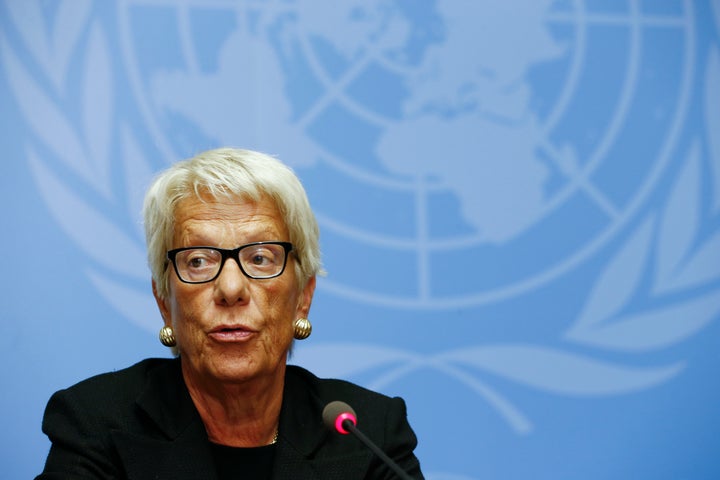 A veteran international prosecutor announced she plans to quit the United Nations commission investigating human rights abuses in Syria because of the international community's inaction when it comes to the bloodshed in the country.
"I am frustrated, I give up," Carla Del Ponte told Swiss newspaper Blick at the Locarno Festival on Sunday. "We have had no success. We kept hitting walls for the past five years."
Del Ponte said at the festival she still planned to attend one more meeting of the U.N. Commission of Inquiry on Syria in September, but had her resignation letter ready and was set to send it in the next few days.
The U.N. commission was established in August 2011, just a few months into the conflict, to investigate human rights violations during the war. It was tasked with both probing the occurrence and circumstances of alleged crimes, as well as identifying the perpetrators.
Del Ponte joined the body in 2012. She has previously served as chief prosecutor for the International Criminal Tribunal for the former Yugoslavia and chief prosecutor for the International Criminal Tribunal for Rwanda.
The U.N. Commission of Inquiry on Syria has interviewed thousands of witnesses since its inception, publishing several reports about human rights violations in the country. But members of the commission have never been given access to Syria, and none of the reports have led to prosecutions.
At the Lucarno Festival, Del Ponte said she felt the commission was being used as an alibi for inaction and lacked political support. She argued that without a special tribunal to prosecute the situation in Syria, reports would remain without consequences since countries like Russia and China, who have veto power in the U.N. Security Council, have consistently blocked meaningful action.
Even before announcing her resignation, Del Ponte had been openly critical of the U.N. Security Council's position on Syria. "Nothing happens, only words, words and more words," Del Ponte told the BBC recently about the international community's response to reports of war crimes in Syria.
"We thought the international community had learned something in Rwanda. But no, they have not learned anything," Del Ponte said at the film festival.
On Friday, the commission issued a dire warning that more than three years after the start of the war, the international community still hasn't addressed the self-described Islamic State group's ongoing genocide against the Yazidi minority.
The commissions two other members, Paulo Pinheiro and Karen AbuZayd, said in a statement released on Sunday that Del Ponte had informed them in mid-June of her decision to leave the body. "The Commission wishes Ms. Del Ponte well in all her future endeavors, particularly as a tireless advocate for the cause of accountability and bringing perpetrators of war crimes and crimes against humanity to justice," the statement said.
Popular in the Community