Pennsylvania police have released new surveillance video of a man they believe may have abducted a Philadelphia nursing assistant on Sunday.
The video, released Tuesday evening, shows a man dressed all in black, including a hood, browsing the aisles of a gas station mini-mart at about 6 a.m. Monday, in Aberdeen, Maryland, which is located about 70 miles south of Philadelphia.
The man in the video, who police describe as a "person of interest" in the abduction of Carlesha Freeland Gaither, can be seen picking out items, before paying for them and leaving the store.
According to police, the missing woman had lived with her grandmother in Maryland for several years, but family members say they do not recognize the man in the video.
"I just want her home," Freeland-Gaither's mother, Keisha Gaither, told reporters Tuesday. "She's got family. She's loved. Just let her come home."
The distraught mom also had a message for her daughter: "Just fight. Don't give up. Just fight."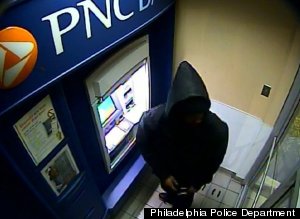 Person of interest.
Both transactions occurred less than nine hours after surveillance video captured Freeland-Gaither's Sunday night abduction on a street in the Germantown section of northwest Philadelphia.
The video of the abduction, which was released on Monday, shows an unknown man grab the 22-year-old woman and force her into a waiting vehicle in the 100 block of West Coulter Street.
A witness to the abduction called 911 at about 9:40 p.m. Sunday and told police Freeland-Gaither yelled for help as she was forced into a vehicle, described as a 2000-2002 dark gray metallic 4-door Ford Taurus, with an unknown Pennsylvania license plate, police said.
Authorities said Freeland-Gaither fought with her abductor, and during that struggle, broke the driver and passenger side rear windows of the suspects' vehicle before he drove off with her.
When police arrived at the scene of the abduction they found Freeland-Gaither's glasses and cellphone.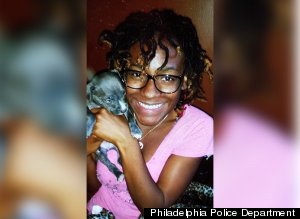 An undated photo of Carlesha Freelander-Gaither.
Authorities are now in a search for the person responsible and are offering a $17,000 reward for information leading to his capture. They have also enlisted the help of the FBI, which is offering its own reward of $25,000 for information leading to the arrest and conviction of a suspect.
"Our goal is the safe return of Carlesha to her family and friends," Christian Zajac, the assistant special agent in charge of the FBI's Philadelphia office, said at the Tuesday news conference.
The suspect is described as an African American male, 25-30 years of age, 5 feet 10 inches tall, with a medium-heavy build. He was wearing a dark colored jacket with a dark colored hood -- possibly a hooded sweatshirt underneath, with a dark colored hat and dark colored pants.
Freeland-Gaither was last seen wearing a light blue jean jacket, a gray and white sweater, blue jeans and tan/green shoes. She was also carrying a black backpack. She is described as 5 feet 3 inches tall and approximately 125 pounds, with brown eyes and braided hair. She has a tattoo on her lower back.
Anyone with information in the case is asked to contact the Philadelphia Police Department at (215) 686-3353 or anonymously at (215) 686-8477. Tips can also be texted to 773847.
REAL LIFE. REAL NEWS. REAL VOICES.
Help us tell more of the stories that matter from voices that too often remain unheard.