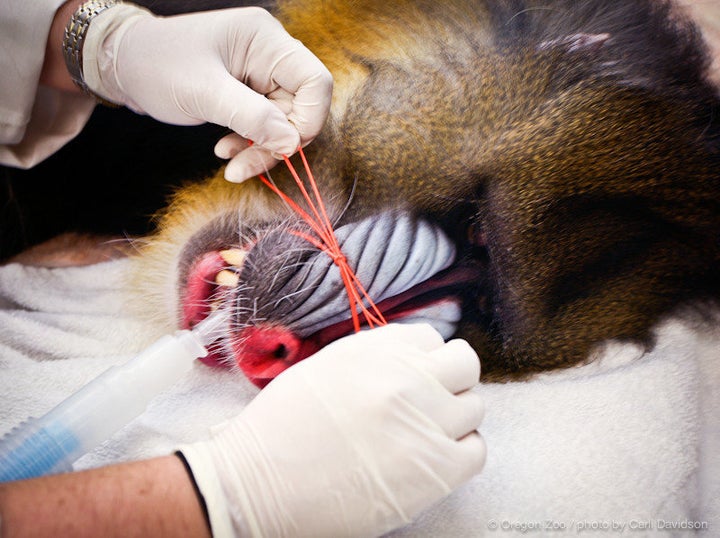 It is no big surprise that the Huffington Post has a soft spot for all creatures warm and fuzzy. We originally stumbled upon Carli Davidson's work through her photography collection of dogs in motion, which we highly recommend. Yet the collection that really grabbed our attention was a behind-the-scenes look at how veterinarians care for zoo animals.
The intimate photos show wild animals as vulnerable creatures needing help, and the bond that forms between animal and doctor. We asked Carli, a professional photographer and animal trainer, some questions about her work. Scroll down for a slideshow of animal operations.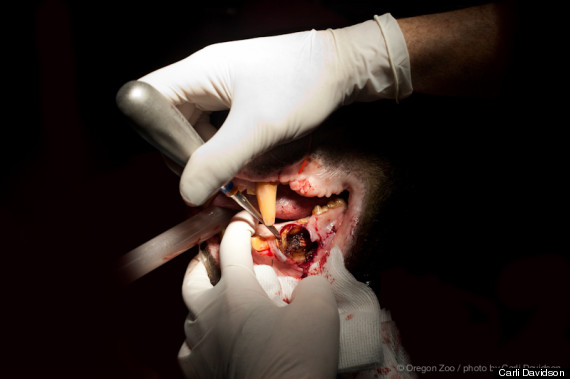 HP: When did you start taking photos?
CD: I've been attracted to photography since childhood. My first photo 'assignment' was for a 10th grade art class. I shot a series of road kill that I saw as very abstract and beautiful. I was able to get very close to wild animals in a new way. I keep coming back to this theme of animals and vulnerability.
HP: You give access to realms of animal life we don't often get to see. (For example, disabled animals or animal veterinary procedures.) What is the message you'd like to impart?
CD: I'm often looking for ways to impart a sense of normalcy or familiarity with animals, to show how similar we are both physically and emotionally. Surgery seemed like an appropriate way to relay this humanness; it's something that we can all relate to.
Many of my subjects, considered dangerous animals, are suddenly right in front of me, no barrier, and totally at the mercy of those around them. Often when I'm shooing I'll observe just how familiar these animals' bodies are, their eyes, and their teeth -- on the mandrill I couldn't stop looking at his fingerprints. Growing up very closely with animals I really saw them as part of my peer group more than my pets. I feel this way working with them as well, and am always surprised to find that many people still see them as so different than us, or as lesser life forms. I want to show they are not.
I'm also showing the intimate and skilled work of the veterinary community. The vets I get to work with at the Oregon Zoo are amazing -- that zoo in particular pours a lot of resources into making sure they have cutting edge animal care. I'm excited to work in their new state-of-the-art hospital that just opened. The zoo's lead vet who is performing oral surgery on the black bear, Mitch Finnegan, is very connected to all of the animals and keepers, dealing with everything from breeding programs to making sure animals have safe enrichment items to play with. It's very cool to watch how these facilities are rapidly updating themselves with the same machines we use in 'human' hospitals. There are even local doctors and specialists that come in, like the allergist working on the bear, an ophthalmologist that comes in to check the polar bear's eyes, and a neurologist once came in to observe a physical on a lion I was shooting.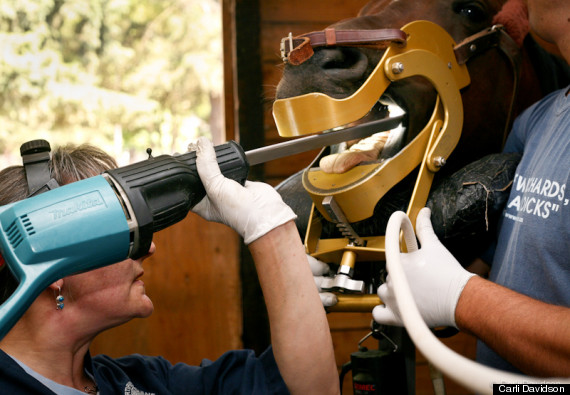 HP: Although these photographs are your personal work, some of the images look almost surrealist. What artist or work of art has been influencing you lately?
CD: Lately I've been looking at Holly Andres and Corey Arnold. I love the story and unique angle on the content of Holly's images, as well as her use of painterly light. Corey's work displays wildlife as very modern and expertly shows the tension between humans and animals, as both resources and as objects of beauty. I've also been reading a lot on Diane Arbus, she is one of my big personal influences.
HP: Can you share a story behind one of these pictures? What exactly is going on?
CD: The first image is Sun Bear 1. I worked with this bear, Vivian, for a short time doing animal care and got to know her keeper, Amy Hash, pictured here. In this photo, lead veterinarian Mitch adjusts Vivian's tracheal tube and makes sure she is getting the right amount of oxygen and sedative for her procedure. He explains to Amy that Viv will have a tooth removed, followed by an allergy test and an ultrasound. Amy looks on with some concern for the bear that she has built a relationship with over many years and reaches out to touch her. The rest of the medical team waits in the background for the procedure to begin.