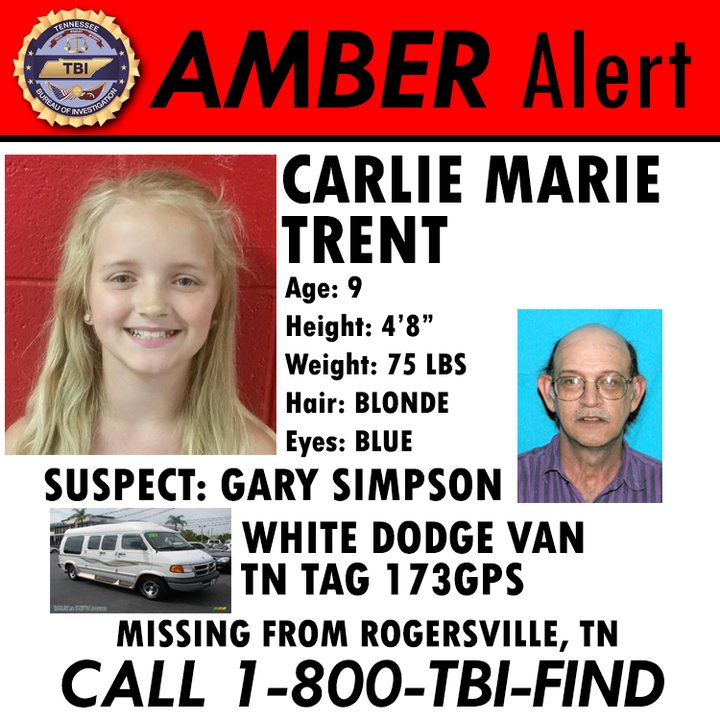 UPDATE: Carlie Trent was safely recovered on May 12, ending an eight-day manhunt. Her uncle, Gary Simpson, faces charges of aggravated kidnapping and custodial interference.
Tennessee authorities said Wednesday that a missing 9-year-old girl last seen with her uncle may be in extreme danger. 
Officials believe 57-year-old Gary Simpson kidnapped his niece, Carlie Trent, a week ago. The search for the missing child has since expanded across eastern and central Tennessee.
Authorities have "credible information that Carlie Trent is in danger of serious bodily harm or death," Tennessee Bureau of Investigation officer Josh DeVine said at a press conference on Wednesday. He asked the public to alert officials if they see the girl or her suspected captor.
"This was not an innocent camping trip. This was a crime," DeVine asserted. "We need the public to be on the lookout. When we say this child is danger, we absolutely mean it."
State officials issued an Amber Alert to alert the public of the possible kidnapping, but it is currently restricted to the state Tennessee. DeVine said they will not issue an Amber Alert for another state unless there's "credible information that that child is located in that state."
DeVine said that Simpson is believed to have "very limited" money, food and fuel at his disposal, meaning he'll eventually have to emerge for more supplies.
When that happens, DeVine said, he hopes members of the public will have their eyes open and will call 911 should they see Simpson, Carlie or any of their belongings.
The U.S. Marshals Service is offering a $2,500 reward for information leading to Simpson's arrest for kidnapping and a $5,000 reward for Carlie's recovery.
Carlie's pediatrician, Dr. Chris Calendine, has also offered $10,000 for information leading to the child's safe recovery, the TBI said.
The girl has blonde hair and blue eyes, is 4 feet 8 inches tall, and weighs 75 pounds, officials say. She was last seen wearing a black and grey tank top and blue jeans. 
Simpson has balding brown hair and brown eyes, is 5 feet 10 inches tall, and weighs 157 pounds. He was last seen wearing a brown cap, a dark-colored shirt and jeans and driving a white 2002 Dodge Conversion Van with Tennessee plates that read 173-GPS.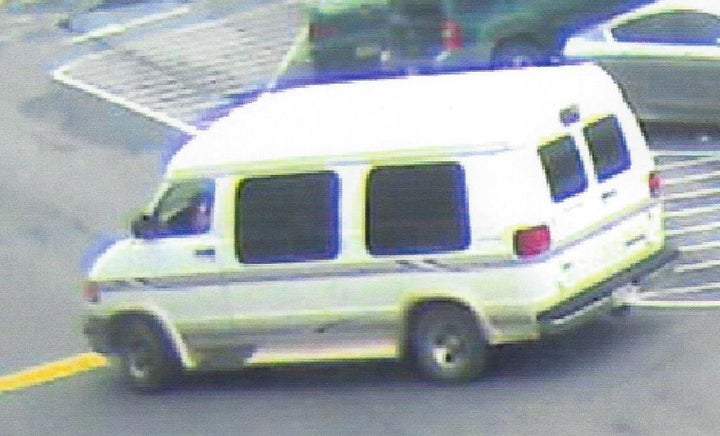 The van has a dark stripe down the middle with light gold running boards and paint chipping off of the hood. It can be seen in the photo above.
Anyone with information about Carlie or Simpson should contact the TBI at 1-800-TBI-FIND.
This story has been updated to reflect information from Wednesday's press conference.
Calling all HuffPost superfans!
Sign up for membership to become a founding member and help shape HuffPost's next chapter
BEFORE YOU GO