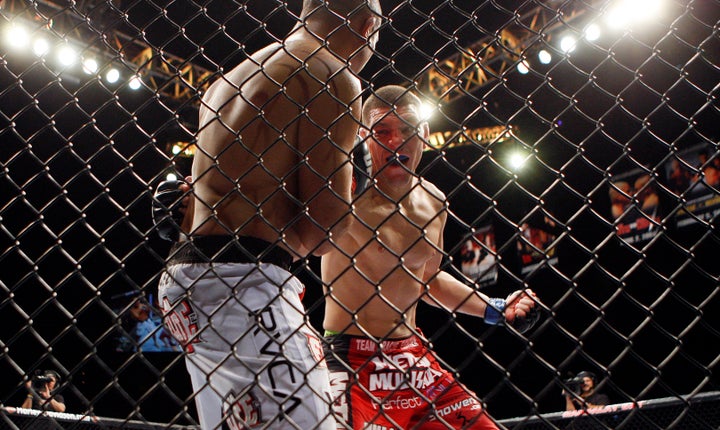 If the Ultimate Fighting Championship awarded world title belts for sheer fitness and intestinal fortitude Nick Diaz -- who fights Carlos Condit for the interim welterweight championship in Las Vegas on Saturday -- would have felt the weight of gold around his waist many years ago.
While some fighters are content to merely pound the roads or rack up kilometres on the treadmill in preparation for a mixed martial arts bout, Diaz goes the extra miles -- literally. When not distorting facial features for a living, the fiercely determined Stockton native's idea of relaxation is to compete in triathlons, and uses these three-pronged races as a unique fixture of his pre-fight preparations. Even amongst the elite athletes of the UFC, you won't find many going longer or harder than Diaz in the weeks preceding a major bout.
"Fighters are afraid of conditioning, they are afraid of getting tired, but I don't want to have anxiety or be afraid of anything," said Diaz, 26-7 (with one 'no contest') in his 10-year mixed martial arts career. "I can go 100 percent out there and never have to worry about getting tired. Everybody says fighting is 90 percent mental, and it's true. Knowing you can go 15 minutes or 25 minutes without any problem can help you sustain that mental advantage over your opponent."
Unbeaten since 2007, Diaz' aggressive and relentless fighting style bears testament to his obsession with conditioning and iron man preparation. Seemingly capable of throwing punches and kicks from bell to bell without so much as a second thought, Diaz often overwhelms foes through work ethic and a willingness to crank the heat to 11 when the going gets tough.
Naturally, each and every fighter that steps into the Octagon on fight night is physically fit -- in many respects, these are the fittest athletes on the planet -- yet, due to his triathlon background, Diaz ensures he is in a league all of his own. In addition to competing three or four times a year as a professional fighter, Diaz also makes sure he has time to fit in at least eight or nine triathlons, four or five of which are ultra competitive XTERRA races. He considers the XTERRA Lake Tahoe event his favourite triathlon, an unorthodox safe haven, second only to the Octagon in terms of comfort.
"I just like to race," said Diaz, also a proud vegetarian and somebody who subscribes to a health-conscious lifestyle all year round. "It gives me something to build for. During the triathlon season, I'll probably race every two weeks. I get stronger and stronger when building up to the race. After a race, a lot of people will crash and take their foot off the gas, but I'll keep building and building until I have to fight. I have a reason not to crash, and I try to keep the ball rolling until fight night."
"Doing the races keeps me in shape. By the time a fight comes around, I'm already in shape and ready to go. I don't have to get in shape for fights. When I am in the gym, I train mixed martial arts, I don't need to train to get in shape. I am already in shape. If I'm not running, I'm going to go for a swim or go on a bike ride. I don't like being stationary at any point during training."
In many ways, mixed martial artists and triathletes exist in the very same athletic ballpark. Arguably some of the fittest athletes in the world, both are specialists in a number of disciplines and seek satisfaction in variety and multi-tasking. Therefore, perhaps Diaz' transition from UFC bouts to triathlons isn't such a taxing one, after all.
Last July the top ranked welterweight participated in the 30th annual Donner Lake Triathlon in Truckee, California, finishing 36th out of 292 entrants. The race comprised of a 1.5-kilometer swim, 40-kilometer bike ride and 6.5-mile run, and Diaz nailed the course in 2 hours, 46 minutes and 20.4 seconds. As far as individual disciplines, he clocked a 24:59.1 in the swim, 1:25:11.4 in the bicycle portion, and completed the run in 53:50.5.
Diaz has often stated that, were he able to make a comfortable living from being a triathlete, he may never have become a fighter and headlined events across the U.S. as well as overseas. Ultimately, though, while Diaz has been able to call himself a super-fit triathlete for the past seven years now, a desire to scrap is something ingrained in his psyche since he was a young boy growing up in Stockton, California.
On Saturday, February 4, the night he battles Carlos Condit for the interim UFC world welterweight title, fans can expect to see a celebration of both Diaz' fighting prowess and triathlete's endurance, a combination that he hopes will lead him to his first UFC world title.
In preparation to face the most dangerous opponent of his career to date, Diaz has supplemented intense sparring sessions with 20-miles of mountain biking and 2,200-yards of swimming, conscious of the fact that Condit, known as 'The Natural Born Killer,' is also renowned for his frightening levels of conditioning. Of course, as many will now attest, when it comes to mixed martial arts, there is fighting fit and then Nick Diaz fit. This is all in a day's work for MMA's running man.
UFC®143: DIAZ vs. CONDIT will be available live on Pay-Per-View at 10 p.m. ET/7 p.m. PT.
Related
Popular in the Community