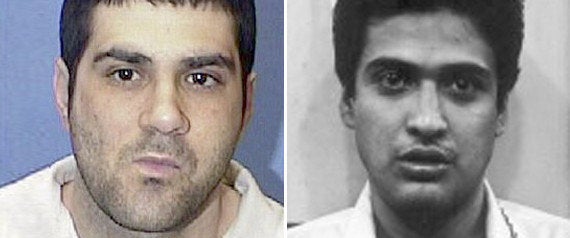 During the Supreme Court's 2006 adjudication of Cameron v. Marsh, Justice Antonin Scalia had this to say about what would happen if an innocent person was put to death by the criminal justice system: "If such an event had occurred in recent years, we would not have to hunt for it; the innocent's name would be shouted from the rooftops."
The last time I had the occasion to dredge up that bit of Scaliana, it was in reference to Cameron Todd Willingham, who was executed in 2004, wrongly accused of setting a fire in his home that claimed the lives of his children. The Willingham case had become newsworthy again in 2011 because of Texas Gov. Rick Perry's possible ascension to the presidential stage and a new documentary, "Incendiary: The Willingham Case," which chronicled the deeply flawed evidence used to convict Willingham and the political pressure exerted by Perry and his political allies to quash an investigation that was on its way to proving Willingham's innocence.
As such, the Willingham case hasn't resulted in much shouting from the rooftops. But if the Columbia Human Rights Law Review has anything to say about it, that won't happen a second time. Under the leadership of James Liebman, a Columbia law professor, the Review has devoted its entire issue to another man put to death in Texas for a crime he didn't commit: Carlos DeLuna.
The details of the crime, DeLuna's arrest and subsequent prosecution as well as the later investigation into DeLuna's innocence have already been chronicled on this site by Michael McLaughlin, so be sure to read the whole thing. But to briefly summarize, on Feb. 4, 1983, Wanda Lopez, a cashier at a Shamrock gas station in Corpus Christi, Texas, was stabbed to death with a buck knife during a robbery. Police who were sent to canvass the scene of the crime and its immediate vicinity found Carlos DeLuna nearby, hiding under a parked pickup truck. DeLuna was apprehended and brought back to the Shamrock, where he was fingered by an eyewitness as the man seen fleeing the scene.
There were, however, discrepancies among the reports from the other eyewitnesses, who described the assailant as a Hispanic man with a mustache, wearing a gray flannel shirt. DeLuna, when apprehended, was clean-shaven and wearing a white dress shirt. DeLuna eventually offered an explanation for the discrepancy: The real killer was Carlos Hernandez, whom DeLuna knew. (Knew and feared: DeLuna did himself no favors by waiting to accuse Hernandez; he stayed mum for months because he was afraid of reprisals.)
According to DeLuna, Hernandez had spent the evening with DeLuna at a nearby bar during the night of the crime. While they were together, Hernandez excused himself to go to the Shamrock. DeLuna was under the impression that he was going to purchase something from the store. When Hernandez did not return, DeLuna went looking for him. He told the jury at his trial that when he arrived at the Shamrock, he saw Hernandez inside, attacking Wanda Lopez. DeLuna, who had a record (for sexual assault), was out on parole and afraid that being caught drinking would get him sent back to jail, ran from the scene.
Police gave DeLuna's story short shrift, calling Hernandez a "figment of [his] imagination," and no effort was made to chase down the possibility that the wrong man had been apprehended. And it didn't help matters that DeLuna had more than a passing resemblance to Hernandez. DeLuna would eventually be convicted of the murder and executed by lethal injection on Dec. 8, 1989, declaring his innocence to the very last.
As McLaughlin reports, James Liebman started delving into the case "roughly ten years ago." His initial findings formed the basis of a three-part series published by the Chicago Tribune in 2006. This recent issue of the Columbia Human Rights Law Review provides the culmination of this mammoth effort.
Obviously, the Lopez murder is distinct in many ways from the Willingham case. Most importantly, in DeLuna's case, an actual crime had been committed. In Willingham's instance, when fire scientists applied their forensic expertise to the available evidence, they were able to demonstrate that the prosecutors, having relied on what amounted to folklore about how fires spread, had failed to make their arson case. The science plainly suggested that an accidental fire had occurred.
Another key difference is that the DeLuna case has not become consumed by the same intense, top-down political pressuring and posturing that came to the fore during the investigation into Willingham's execution.
Four years after DeLuna was executed, Liebman decided to look into the DeLuna case as part of a project he was undertaking into the fallibility of the death penalty. He asked a private investigator to spend one day -- just one day -- looking for signs of the elusive Carlos Hernandez.

By the end of that single day the investigator had uncovered evidence that had eluded scores of Texan police officers, prosecutors, defense lawyers and judges over the six years between DeLuna's arrest and execution. Carlos Hernandez did indeed exist.

Liebman's investigator tracked down within a few hours a woman who was related to both the Carloses. She supplied Hernandez's date of birth, which in turn allowed the unlocking of Hernandez's criminal past as the case rapidly unravelled.
Several of the crimes that Hernandez committed involved hold-ups of Corpus Christi gas stations. Just a few days before the Shamrock murder he was found cowering outside a nearby 7-Eleven wielding a knife -- a detail never disclosed to DeLuna's defence.

He also had a history of violence towards women. He was twice arrested on suspicion of the 1979 murder of a woman called Dahlia Sauceda, who was stabbed and then had an "X" carved into her back. The first arrest was made four years before DeLuna's trial and the second while DeLuna was on death row, yet the connection between this Hernandez and the "phantom" presented to DeLuna's jury was never made.
It gets worse, according to these two passages from the Guardian:
In October 1989, just two months before DeLuna was executed, Hernandez was se[n]tenced to 10 years' imprisonment for attempting to kill with a knife another woman called Dina Ybanez.
Hernandez himself frequently told people that he was a knife murderer. He made numerous confessions to having killed Wanda Lopez, the crime for which DeLuna was executed, joking with friends and relatives that his "tocayo" had taken the fall. His admissions were so widely broadcast that even Corpus Christi police detectives came to hear about them within weeks of the incident at the Shamrock gas station.
So how did it come to pass that Hernandez was never treated as a suspect in Lopez's murder? I saved this key detail from the Guardian's report for last:
Over the years he was arrested 39 times, 13 of them for carrying a knife, and spent his entire adult life on parole. Yet he was almost never put in prison for his crimes -- a disparity that Liebman believes was because he was used as a police informant.
So DeLuna, just like Willingham, appears to have been partially victimized by some scandalously bad police procedures.
But the most striking similarity I see between these two cases is that in the end, the lives of those involved just weren't important enough to anyone tasked with ensuring that justice was done. Willingham was an unemployed, impoverished knockabout with a bad reputation. DeLuna was a Hispanic parolee with a criminal record. Those who perished in these incidents were mostly invisible denizens of the lower-class fringes -- a couple of children born into grueling poverty, a gas station attendant. What they'd amounted to -- in life -- didn't seem enough to inspire much of an effort to provide a fully professional investigation of their deaths. In the end, neither case demanded a titanic amount of effort to arrive at the truth. Just a nominal amount of mere curiosity.
"This case changed my whole view ... I had thought the problem cases were ones where you have an out-of-town defendant, a scary person who commits a really bad crime that grabs the whole community ... Now, I think the worst cases are those that likely happen every day in which no one cares that much about the defendant or the victim."
And that's why you don't hear DeLuna's name being shouted from the rooftops.
Support HuffPost
The Stakes Have Never Been Higher
Related
Popular in the Community