 A 19-year-old U.S. citizen, Carlos Lamadrid, was shot in the back three times by a U.S. Border Patrol agent while fleeing across the southern border into Mexico in May of 2011. The young man, a native of Douglas, Ariz., was unarmed and was reportedly transporting marijuana. Lamadrid died from his wounds in a local hospital shortly thereafter.
Lamadrids's mother, Guadalupe Guerrero, is now suing the federal government, alleging that the border agent who shot her son acted "outside the scope of his authority," according to the family's attorney, Richard Gonzalez.
"The border agent violated this kid's civil rights. The only time an agent is allowed to use deadly force is in order to protect him or herself or to protect others in the area," Gonzalez told The Huffington Post. "This kid was unarmed and fleeing. He posed no threat to the agent. Shooting him was grossly negligent."
Customs and Border Protection told The Huffington Post that they could not comment on Lamadrid's death, the lawsuit or instances in which their agents may use their weapons. "It's pending litigation and we cannot discuss the details of the case at this time," Border Patrol spokesperson Mario Escalante said.
Lamadrid's case comes at a bad time for the CBP. Civil rights complaints filed against the agency have risen dramatically in recent years, while immigration has simultaneously slowed. While in 2004 CBP faced 34 civil rights complaints, in 2010, the most recent year for which complete data is available, 65 complaints were made. Between January and June of 2011 alone, 81 new complaint investigations were opened against border patrol. Corruption has also been on the rise, according to Reuters, with 129 agents arrested on corruption charges from 2003 to 2009.
Recent deaths caused by border patrol agents have also brought the agency unflattering press. Earlier this year, PBS unearthed footage of the beating of Anastasio Hernandez-Rojas. More than a dozen border patrol agents stood around the Mexican citizen while he was hogtied, beaten with a baton, and tased, according to PBS. The death of 15-year-old Sergio Hernandez-Guereca, a Mexican citizen fatally shot by a CBP agent in 2010, also sparked outrage in the immigrant activist community, after agent Jesus Mesa Jr. said he used lethal force because Hernandez-Guereca was throwing rocks at him.
The shooting of Lamadrid may also have been prompted by rock throwing, according to local reports. After Lamadrid's Chevy Avalanche caught the attention of local Douglas Arizona police, who noted that it "appeared to be suspicious," Lamadrid fled "at high rate of speed southbound towards the International boundary," according to the Douglas Dispatch. The U.S. border patrol happened to be in the area, according to the same report, and started pursuing Lamadrid, the driver, and the 17-year-old passenger of the car. An accomplice on the Mexican side of the southern border allegedly threw a ladder over the border wall, and rocks were thrown at border agents. According to local reports, border patrol agent Lucas Tidwell then shot and killed Lamadrid.
"At this time, there were rocks thrown at the Border Patrol agent who then fired his duty weapon striking the driver three times," the Douglas Dispatch reported.
The Latin American Herald Tribune reports that authorities subsequently found 48 pounds of marijuana in the car. But Lamadrid's family says they'd like to see the police report to confirm this.
"We haven't received any official report from the Douglas Police, the Border Patrol, not even from the Sheriff's Department. Sheriff Deputy Roger Clark said to us that they won't deliver any report until the case is solved," Janeth Guerrero, Lamadrid's aunt, told The Douglas Dispatch at a rally last year, calling for justice in her nephew's case.
Even if Lamadrid was transporting marijuana, however, the border agent may still be at fault for using his weapon, if the 19-year-old posed no imminent threat. In a similar case in 2006, two border agents, Ignacio Ramos and Jose Alonso Compean, were sentenced to prison terms of 11 and 12 years for shooting a marijuana-smuggling suspect in the buttocks as he fled across the U.S.-Mexico border in Texas.
Assistant Attorney Debra Kanof told the court at the time that the agents acted unlawfully. "The U.S. Supreme Court has ruled it is a violation of someone's Fourth Amendment rights to shoot them in the back while fleeing if you don't know who they are and/or if you don't know they have a weapon," Kanof said. In 2009, however, President George W. Bush commuted the sentences of the two former Border Patrol agents on his last day in office, setting them free after each served two years in prison.
The Lamadrid family's attorney says that convictions for border patrol agents are rare in his memory. "I've been doing this stuff for a long time and I've never seen a Border Patrol agent ever convicted in these cases, even when the circumstances are really egregious," Gonzalez said.
"Another kind of law" prevails along the border, she said. "If this happened to my son who was a citizen of this country, what can the undocumented immigrants expect?" Guerrero said. "If my son carried drugs they should have put him on trial, give him a chance."
"There is no logical reason for the death of my son," she continued. "I want justice, I want that person who hurt my son to pay like any of us."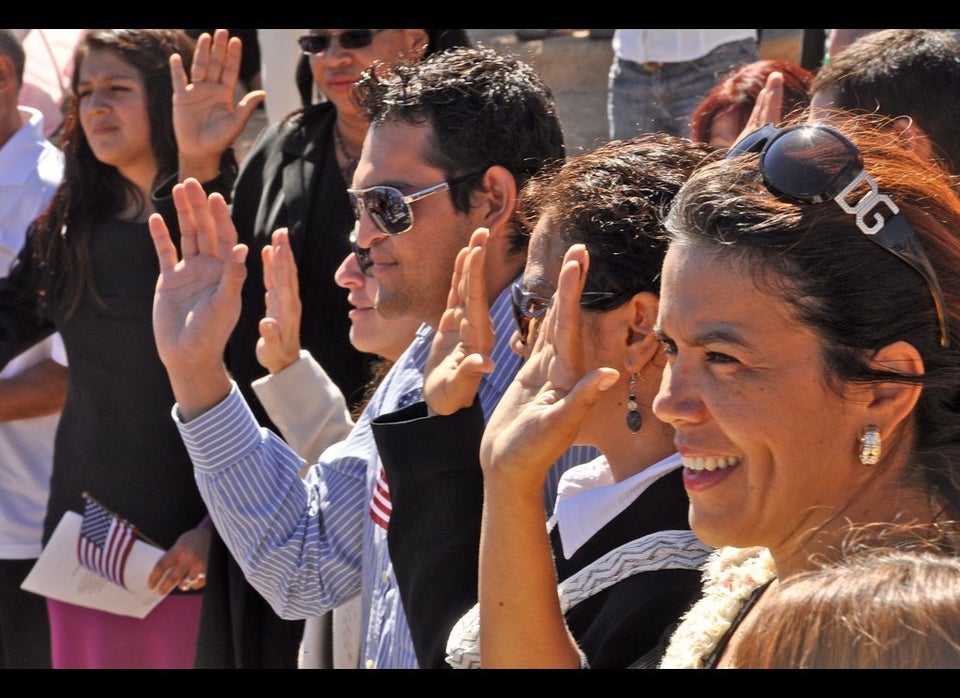 10 Major U.S. Federal Immigration Laws
Popular in the Community