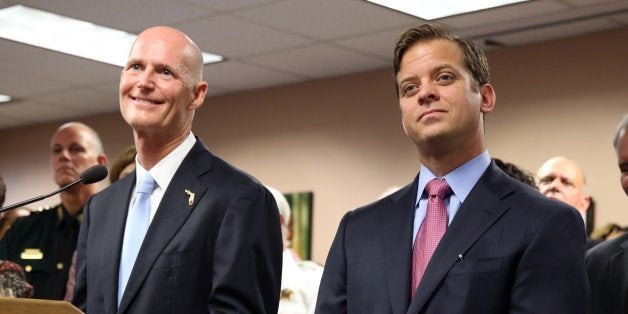 TALLAHASSEE, Fla., Feb 3 (Reuters) - Florida Lieutenant Governor Carlos Lopez-Cantera, a longtime legislative insider and the first Hispanic to hold that office, was sworn in on Monday barely eight months before Governor Rick Scott faces re-election in November.
Lopez-Cantera, 40, could give Scott a much-needed boost in heavily Hispanic south Florida at election time.
Recent polls have shown Scott, a Republican, trailing his main rival, Charlie Crist, himself a former Republican Governor but now running as a Democrat.
Crist's challenge to Scott, one of 36 gubernatorial contests on the 2014 midterm ballot, is the only gubernatorial election in a big swing state. A Democratic victory there in November would be a major upset for the Republican party heading into the 2016 presidential race. Florida's governorship has been under Republican control for 15 years.
Lopez-Cantera represented a Miami-Dade County district in the state legislature from 2004 to 2012, when he was forced out by term limits. He was elected Miami-Dade county property appraiser in 2012 and was chosen by Scott last month as his running mate for the 2014 campaign.
"He's going to do an outstanding job. He's got the right background," Scott said during a brief news conference in front of the Governor's Mansion. "He's got a great legislative background, being majority leader and majority whip, he's been in business, he's got local government experience," he added.
"I'm very proud to be part of the governor's team," said Lopez-Cantera, praising Scott for reducing unemployment in the state from 11 percent to 6 percent, and reducing the state's debt.
During his legislative tenure, Lopez-Cantera became a major political force and was an ally of then-Speaker Marco Rubio, now a U.S. Senator. He chaired the government affairs and business regulation committees and served on a property tax-reform panel, finishing his House term as leader of the Republican majority.
Scott said Lopez-Cantera would be instrumental in winning legislative approval of his 2014 budget, including a $500 million plan for reducing state taxes and fees. One big chunk of that is a rollback of auto license and registration fees that were hiked during Crist's term as governor.
The state Constitution prescribes no official duties for the Lt. Governor, other than to succeed the governor if he dies or is disabled. Lopez-Cantera took the oath of office in a private ceremony at Scott's office prior to a luncheon attended by friends, family members and government leaders at the Governor's Mansion.
Former Lt. Governor Jennifer Carroll of Jacksonville resigned last March after being questioned by police about work her private public-relations firm did for a veterans organization implicated in allegations of fraudulent charitable fund-raising by online "Internet cafes."
Carroll was never charged with any criminal offense and the Legislature last year voted to shut down the Internet cafes, calling them fronts for illegal gambling. (Editing by David Adams and David Gregorio)
Calling all HuffPost superfans!
Sign up for membership to become a founding member and help shape HuffPost's next chapter
BEFORE YOU GO
PHOTO GALLERY
Rick Scott Controversies