"After spending the last week discussing with family, friends, supporters, and leaders in the progressive movement, I have come to the conclusion that this is the best course of action not just for me, but for the vitally important movement we continue to build every day," Ramirez-Rosa said in a statement announcing his decision.
Calling Garcia a "good friend and progressive champion," the alderman invited his supporters to endorse Garcia as well.
"I hope you will join me in ensuring we have strong progressive leadership in this district at such a vital time in this country, when so many of our critical concerns are at stake," Ramirez-Rosa said.
Ramirez-Rosa's announcement follows polling indicating that he would have faced a blowout in a matchup against Garcia. A Public Policy Polling survey released on Dec. 19 showed Garcia with 54 percent support compared with 7 percent for Ramirez-Rosa, and even less for other challengers.
"He didn't want to waste people's time," said Lucie Macías, a supporter of Ramirez-Rosa and a fellow member of the Chicago chapter of the Democratic Socialists of America. "He wanted to respect people who had put in effort into this campaign, so it made sense to make the announcement now."
The immediate impact of Ramirez-Rosa's decision is to virtually ensure Garcia's victory in the March 20 race.
But it is also likely to disappoint the progressive activists and democratic socialists who had rallied behind Ramirez-Rosa's bid.
If elected, Ramirez-Rosa, 28, would have been the first openly gay Latino member of Congress. He also would have been the only person who was both a sitting member of Congress and a dues-paying member of the DSA, which has grown several-fold in size since President Donald Trump's election.
DSA has made significant inroads into government in the past 14 months, with several members being elected to state and local posts. But just as Ramirez-Rosa's success in getting on the ballot reflected DSA's rising prominence, his failure to mount a robust challenge to Garcia reflects the limits of the organization's political reach.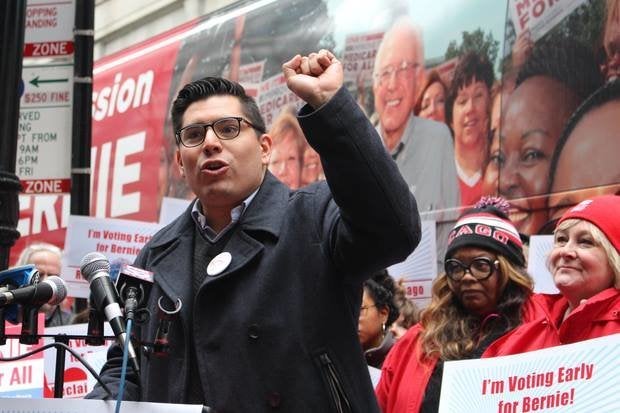 When Gutíerrez, 64, announced his retirement as congressman for Illinois' 4th Congressional District in late November, he immediately endorsed Garcia. Gutíerrez's blessing conveniently took Garcia out of the running for another bid against Chicago Mayor Rahm Emanuel, whose 2015 re-election Gutíerrez backed. (Garcia's progressive challenge against Emanuel forced the first mayoral runoff in Chicago history.)
In addition, the timing of Gutíerrez's announcement left less than a week for candidates to collect the number of signatures necessary to get on the ballot.
But with the help of a crew of fellow DSA members, Ramirez-Rosa collected the requisite signatures and then some.
Ramirez-Rosa has emerged as one of the most charismatic figures in the resurgent Democratic Socialists of America. With his impassioned speaking style, hip fashion sense and diverse background, he has a knack for making the sometimes arcane precepts of the far left accessible to ordinary people ― especially his fellow millennials.
"Every day, Donald Trump and the Republicans intensify their attacks against our working families, against our immigrant families, against anyone that doesn't look like a rich, white billionaire just like him," Ramirez-Rosa told HuffPost in a December interview about his decision to run. "We need a bold, progressive response in Washington, D.C., that's tied to grassroots movements that says not just 'We're gonna resist Donald Trump,' but 'We're gonna vigorously resist Donald Trump by uplifting the bold progressive policies that are gonna help our working families.'"
Early in his career, Ramirez-Rosa worked in Gutíerrez's Washington office.
"I quickly saw how he and his office were not connected to the grassroots movement led by undocumented people," Ramirez-Rosa said of his stint there in a July interview with The Nation.
Ramirez-Rosa subsequently returned to Chicago to work as a grassroots immigrants rights organizer with the Illinois Coalition for Immigrant and Refugee Rights. 
Following a successful 2015 bid to represent Chicago's 50th aldermanic district on the City Council, Ramirez-Rosa became one of the council's most outspoken critics of Emanuel. He was the only alderman to vote against the creation of a $95 million police academy on Chicago's west side.
But from the get-go, Ramirez-Rosa faced an uphill battle against Garcia. At 61, Garcia has been in city and state politics for over three decades, and his name recognition and support network far outweighed Ramirez-Rosa's.
It was also difficult for Ramirez-Rosa to outflank Garcia from the left. Garcia enjoyed strong progressive credibility for taking on Emanuel in 2015, and was part of the coalition of Chicago politicians who backed the insurgent 1983 mayoral bid of Harold Washington, the Windy City's first mayor. 
As an early endorser of Vermont Sen. Bernie Sanders' 2016 presidential bid, Garcia also benefited from Sanders' early blessing in the race. 
Gutíerrez, by contrast, supported both Emanuel's re-election and Sanders' main rival for the Democratic nomination, former Secretary of State Hillary Clinton. A Garcia win would likely assure the left a more independent fighter in Congress than the seat's previous occupant.
What's more, Garcia and Ramirez-Rosa both back a long list of progressive priorities, from single-payer "Medicare for all" to a federal $15 minimum wage.
One area of apparent disagreement was on the question of the boycott, divestment and sanctions movement to end the Israeli occupation of the Palestinian territories. In September, Ramirez-Rosa's refusal to renounce the nonviolent movement cost him a spot as running mate in state Sen. Daniel Biss' Democratic gubernatorial run. Garcia condemned BDS unequivocally in a December interview with HuffPost, and volunteered it unprompted as an area of policy disagreement between the two candidates.
Illinois' 4th Congressional District is gerrymandered to combine heavily Latino areas of northwestern and southwestern Chicago with nearby suburbs. It is heavily Democratic, and whoever wins the March primary is almost certain to win the general election in November.
In addition to Garcia, Chicago Alderman Proco "Joe" Moreno, police Officer Richard Gonzalez and Sol Flores ― founding executive director of La Casa Norte, a nonprofit that addresses homelessness ― are competing in the district primary.
Flores, who has received the endorsement of the national group EMILY's List, served on the transition team for Emanuel's second mayoral term. Flores' association with Emanuel, a centrist with a notoriously rocky relationship with the city's progressive activist community, has prompted suspicion that she is Emanuel's favored candidate. (Emanuel has not officially endorsed in the race.)
Although Chicago DSA has no plans to endorse Garcia at the moment, Flores' presence on the ticket and perceived ties to Emanuel might be enough to inspire individual DSA members to campaign for Garcia, according to Macías of Chicago DSA.
"It's important that he wins that, especially against a Rahm candidate like Sol," Macías said. 
"A lot of people are always afraid of the Rahm candidate, the big Chicago machine," she added. "It's still a very important campaign."
This story has been updated throughout.
REAL LIFE. REAL NEWS. REAL VOICES.
Help us tell more of the stories that matter from voices that too often remain unheard.
BEFORE YOU GO
PHOTO GALLERY
The 10 Happiest Cities In America