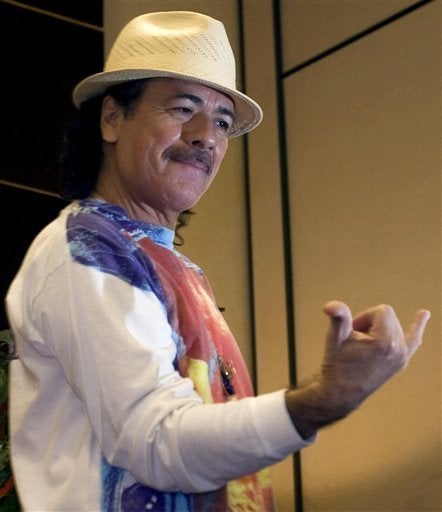 Music legend Carlos Santana shocked a crowd of more than 1,000 people when he bashed former President Ronald Reagan and Gov. Jerry Brown as he was inducted into the California Hall of Fame in Sacramento -- while Brown was standing right next to him.

It was supposed to be a night of celebration and inspiration for the sixth annual ceremony started by Maria Shriver and former Gov. Arnold Schwarzenegger to showcase the innovators and celebrities from California who inspired the nation, if not the world.

California's well-to-do turned out to see a rare calvacade of stars come to the Capital City, including astronaut Buzz Aldrin, The Beach Boys, NBA superstar Magic Johnson and others. This year, Gov. Brown and his wife, Anne Gust Brown, hosted the event for the first time at the historic Memorial Auditorium in downtown Sacramento.

But those in the audience in their cocktail dresses and suits did not expect to hear this from Carlos Santana, who was last to be inducted after being introduced by Oscar-winning director and actor Clint Eastwood:

"I grew up here in this California," he said, pausing to look over his shoulder at Gov. Jerry Brown standing besides him. "Watching Brown and Ronald Reagan not necessarily being... nice...," Santana said, slowly biting on the word and dragging it out for emphasis, "to the Campesino" (a Spanish word for farmworkers).

"Not necessarily being in harmony with the Dolores Huerta, Cesar Chavez," referring to the founders of the United Farmworkers Union.

The camera panned to Gov. Brown, who met Santana's glance with a serious, stern stare.

The musician continued in slow, halting words, "I don't approve of creating airports or libraries for Ronald Reagan and people like that because they were not... nice."

Smattering of applause here. But for those in the audience, especially the ones I talked to afterwards in the front rows, jaws dropped. People gasped. An inductee was dissing his host who was honoring him. This had never happened in the six-year history of the event which is meant to showcase the greatness and uniqueness of California.

Santana continued. "People who are nice are like Mother Theresa, Cesar Chavez, Dolores Huerta... for the highest good of all people, not just a certain race, but the whole human race," he said, implying many were anti-Hispanic in our society.

Santana skipped the red carpet. The next day, the Governor's Office and the California Museum both refused comment. The general feeling is that they didn't want one incident to ruin the overall positive, inspirational spirit of the night.

It's not clear which "Brown" Santana was referring to. Was it Jerry's father, Edmund G. "Pat" Brown, who served as California's 32nd governor from 1959-1967, or his son, Jerry, now in his second incarnation as governor -- once from 1975-1983, now from January 2011 to present. A Santana spokesman said the musician was talking about Pat Brown because they clashed on immigration policies. But by the turn of the head and subtle sneer Carlos gave Jerry on stage, one might think he was the target, although a Santana spokesman issued a statement saying he was not. Nevertheless, Gov. Brown comes from a tight-knit political family. His father was a governor. His sister, Kathleen, unsucessfully ran for governor. As in any family, a slight to one Brown was a blow to all.

Maria Shriver inaugurated the California Hall of Fame six years ago to bring attention to the innovators, visionaries, legends of art, music, film and sports who defined the state and the romantic lure of the West.

Among the inductees into the first Class of 2006 were Eastwood, Chavez and Walt Disney. Other honorees over the last five years included Steve Jobs, Ansel Adams, John Steinbeck, Robert Mondavi, Willie Mays and Jackie Robinson, Tiger Woods, John Wayne, Jane Fonda, Barbra Streisand, George Lucas, Harvey Milk, Mark Zuckerberg and Pat Brown. All of the past events were lovefests, respectful and praising the works of the people honored for their contributions to our world.

Santana also skipped the after party. Some of his last words of his controversial speech were "I will go back to harmony, and graciousness and compassion."

For many, it was not a very gracious night.
REAL LIFE. REAL NEWS. REAL VOICES.
Help us tell more of the stories that matter from voices that too often remain unheard.