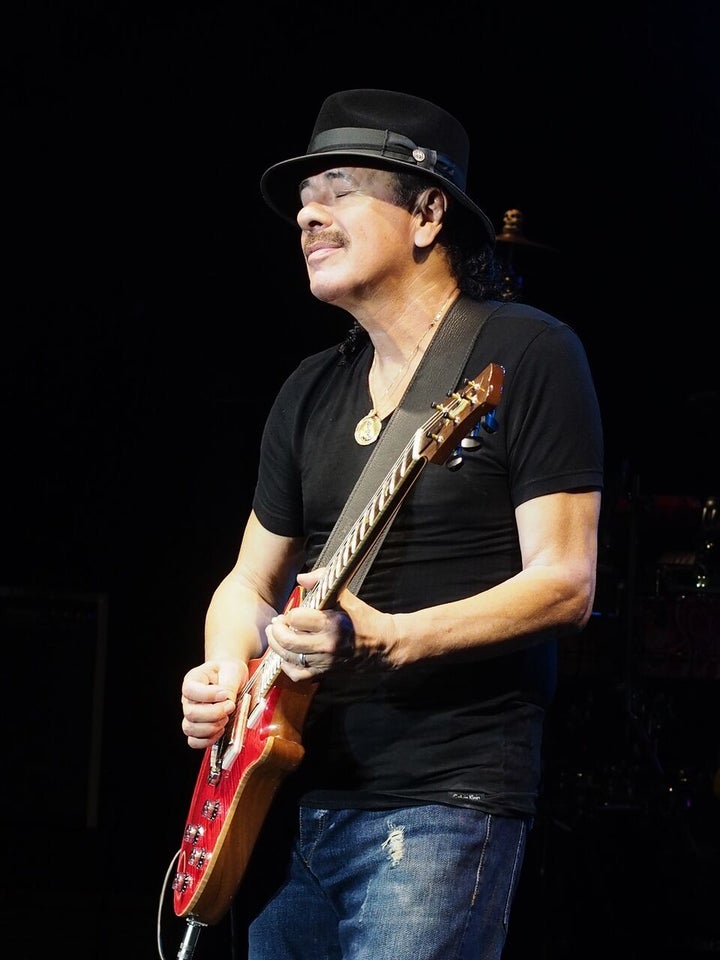 It was a rainy night that consisted of a tornado warning, but that didn't stop concert attendees from selling out Carlos Santana's ahTransmogrify Tour show at Hard Rock Live at Seminole Hard Rock Hotel & Casino – Hollywood on Saturday, October 28.
Santana was the epitome of cool donned from head to toe in all black. The Hispanic Johnny Cash, if you will. Black fedora, leather pants, thick shoes and chunky gold medallion was the attire. His guitar matched his necklace - all gold.
Santana and company played Spanish favorites, such as "Corazón Espinado" that had some audience members doing salsa in their seats. About ten musicians were onstage at once, but as for the instruments, well, it was easy to lose count. Two tambourines and a wooden instrument came out for "No One to Depend On". Maracas came out for the number before. And the vocals, though lovely, were kept at a minimal. It was all about the instruments for this song.
Following the fun "No One to Depend On", the lights dimmed to a romantic white and black combo. Spotlight on Santana, he performed a softer number. It was only two sets of drums, a keyboard, bassist, guitarist and the legend – nothing else was needed. Next up was a livelier track, accompanied by a video of African tribe. The bongos were the star in this song, prompting whistles and whoops from the audience.
Santana shredded, the maracas shook, the pianist jived and all three drum sets (including bongos) kept the beat. Let's not forget about the bassist and other guitar player. "Things Gonna Change" brought back the vocals and a vibrant array of red and pinks lights. Of course, Santana's signature screech of a long note made plenty of appearances throughout the performance.
"A Love Supreme" by John Coltrane was covered. Now, Santana took the mic. "What we do is admit a frequency for the highest good for all people in the planet. We love the cynical and arrogant people. I love that, because they always have the same look", he frowned, giving the aforementioned look. "Baba fucking boring," he said, making the audience roar into laugher. "Be open in your mind and your heart...receive the blessings"
Santana also mentioned that it was one of the vocalist's, Ray, birthday, to which a cake and a bouquet of flowers were brought out and happy birthday was sang. Needless to say, the vocalist looked surprised, albeit happy.
The birthday boy launched into "Total Destruction to Your Mind", originally sung with Santana and the Isley Brothers. The and the following single was sun with extreme gusto, and included a brief instrumental riff of "Satisfaction" by The Rolling Stones.
"Mona Lisa" followed with a backdrop of classic paintings of women morphing together. Santana took the mic in the middle of the song. "Ladies, I want to ask you a personal question," he slyly said. "How would you like your man to put his knees on the ground and say, 'baby, please [x10]'..." the rest of the sentence was explicative and lost in the audience's laughter.
"Gentlemen, I want to reach you a Spanish lesson. How would you like your woman to reply, 'Si, Papi me gusta'"?" The audience roared with laughter again. "Love, love changes the world," Santana said. Yes, yes it does.
Unexpectedly, "You Are My Sunshine" was played. Expectedly, the audience sang along. "Black Magic Woman" was next, appropriate for the Halloween weekend at hand. But it was "Oye como va" that made audience members stand up and dance again. Old video footage of Santana and his band played. The band looked like they had just as much fun, swaying in unison.
A strong instrumental drum number followed. Two outstanding drum solos were included, particularly from the female drummer. Cheers and whistles erupted from the audience as she seemingly played forever. The cheering got louder as Santana played a few riffs beside her. Let's just say Cindy (the drummer) got a well-deserved standing ovation.
Ray brought out a trombone for "Smooth", with red lights adding a sultry feel and also matching Santana's guitar. After introducing the members, Santana asked the lead guitarist, "Tu quieres?" After stating he did instead want it, a brief rendition of "Roxanne" by The Police was played.
"Love, Peace, Happiness" was sung as band members flashed peace signs and images of feel good deeds were exhibited. Audience members gladly reciprocated, throwing their own peace signs right back up. It was the church of Santana, and he was blessing everyone.
Related
Popular in the Community