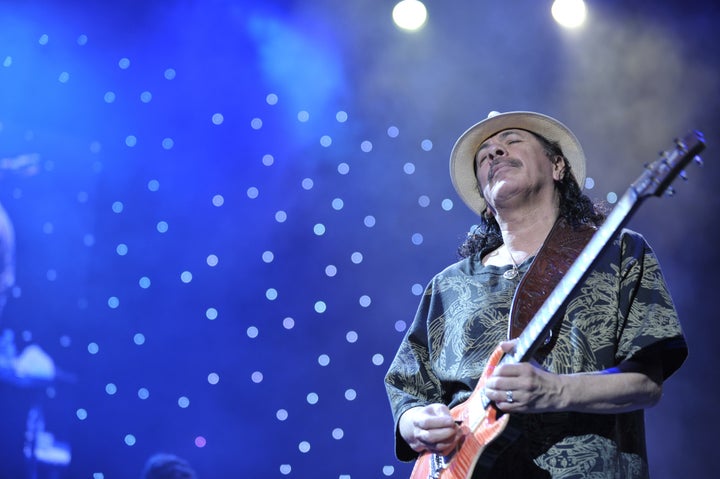 In celebration of the school's academic success, rocker Carlos Santana visited his alma mater, Mission High School, on Monday morning to rock out with students.
In the past, Mission High School has been among the lowest-scoring schools in the state. But Santana visited to congratulate students on their recent success: Last year, 84 percent of nearly 200 seniors were accepted to college. While the school still struggles with academic performance, Santana urged students to keep up the good work and get involved in their passions. "Turn off MTV," he said. "Get into real life. Participate."
According to the Examiner, when Santana graduated in 1965, the only music program in the school was the ROTC marching band. Now, the school boasts a choir and a guitar club. "It's incredible," said Santana.
To celebrate, the Grammy-winning rocker -- dressed in white from his shoes to his hat -- took the stage at the school auditorium with student musicians and rocked through "Oye Como Va" and "Maria Maria."
"When you play with him, you don't feel that nervous," said 17-year-old Zuola Guoerluoti to The Examiner. "He doesn't take himself as a celebrity, just an artist; someone doing something he loves."
Santana was joined by his wife, drummer Cindy Blackman Santana, Selena actor Edward James Olmos and La Mission writer Peter Bratt. According to SFGate, Bratt told students that each of them could live an equally successful life, even if it's not filled with fame.
Santana spoke to students onstage, encouraging them to do what they loved, and to never sell themselves short. According to SFGate, he left them with a closing message: "If you can remember only one thing today, remember this: You are significant. You are meaningful and you matter."
Watch Santana in action at Mission High School in the video below, courtesy of CBS:
Calling all HuffPost superfans!
Sign up for membership to become a founding member and help shape HuffPost's next chapter