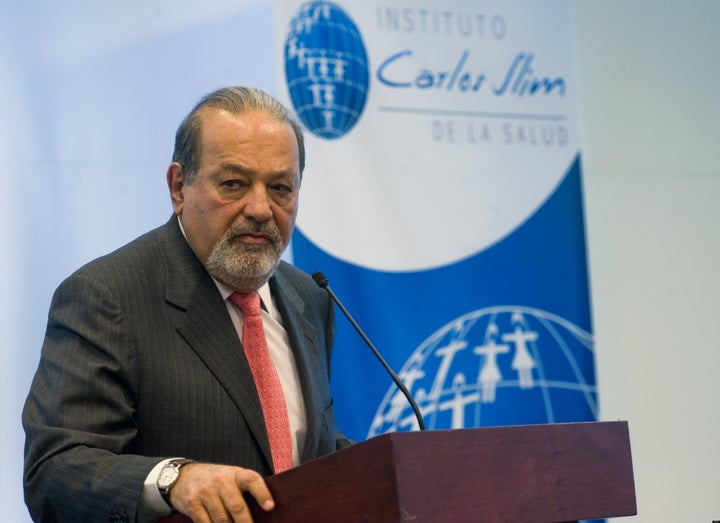 Last month brought mixed news for Carlos Slim, the world's richest man. Mexico's Federal Competition Commission disapproved an investment by Televisa, the country's largest television broadcaster, in Iusacell, a cellular phone company. That was good news for Mr. Slim because it hampered a rival to his telecommunications empire.
The bad news: The nation's Federal Communications Commission failed to reach an agreement to clear the way for a third and fourth broadcast television network. Mr. Slim badly wants to get into the television business. Both decisions lock in the status quo, are bad for consumers, bad for Mexico, and bad for Televisa, the company I chair, manage and in which I am the largest shareholder.
First things first. While we may have seemed against this in the past, Televisa does not oppose the creation of a third, fourth or even fifth nationwide broadcast TV network. If and when the Communications Commission announces the terms of an auction for additional television frequencies, we will not legally challenge it -- so long as the rules create a level playing field for competition.
We would also not challenge an attempt for a new television network backed by a U.S. partner, so long as we receive reciprocal treatment in the U.S. Currently, U.S. law prohibits foreigners from owning more than 25% of any television station.
We welcome greater competition in the Mexican mass media market, particularly in television, because we think our company is the best, and has been so for over a half century. Before launching new networks, however, it is essential to establish regulations that level the playing field for the telecommunications industry. Otherwise, the future of the broadcast, cable and satellite television business would be severely jeopardized.
Mexico's broadcast TV advertising pie is slightly more than $2.5 billion per year; the pay-TV market is another $2.5 billion. But while 95% of Mexican homes have TV sets, cable television (which we own a large subsidiary in) only reaches 30% of all households. And since U.S. law makes it difficult for us to expand our stake in Univision (the U.S.'s largest Spanish-language network and No. 5 overall), Televisa has to branch out to grow.
This is why we made a deal last year with Iusacell, a small mobile operator with a 4% market share, owned by our broadcast competitor TV Azteca (which has roughly 30% of the broadcast TV market). We want to participate actively in the telecommunications market, especially cellphones. Mexico's mobile-phone market is today worth roughly $15 billion.
Mexico's antitrust agency, Cofeco, blocked our transaction with Iusacell on concerns that two broadcasters joining in a common venture in the telecommunications industry could collude in the mass media market. This has never happened and is not Televisa's intention. We are prepared to establish firewalls in order to address the agency's concerns.
The antitrust agency should understand that not only is it good business for us to enter the telecommunications market, it is also good news for Mexico. That's because Mexico's telecommunications market sorely lacks competition. Companies owned by Carlos Slim control 70% of Mexico's mobile phone market, 74% of fixed broadband service and 80% of the country's landline market.
According to a recent study by the Organization of Economic Cooperation and Development (OECD), Mexico loses 2.2% of its gross domestic product each year because of astronomically high cellphone rates, low Internet penetration, and mediocre connectivity. Mexico has 10% as many wireless Internet subscribers per 100 inhabitants as Turkey. Its cellular phone rates are by far the most expensive in the OECD. Relative to other OECD countries, Mexico is ranked last in terms of investment in telecommunications per capita; but, says the study, "profit margins of the incumbent nearly double the OECD average."
We welcome competition in television. But Mr. Slim has fought tooth and nail to block competition in telecommunications, and delayed government attempts to regulate his fixed-line firm Telmex and cellphone provider Telcel in Mexico's courts.
The OECD recommends that "Telmex should be authorized to provide television services only when it is subject to adequate asymmetric regulations, and there is evidence that it is complying with them and not resorting to judicial challenges to delay or suspend their fulfillment." Such "asymmetric" regulations would regulate Telmex more heavily than companies trying to enter the market to make up for Telmex's market dominance.
Mexico is changing for the better. Televisa is too. So should someone with the vision, the talent and the clout of Carlos Slim.
REAL LIFE. REAL NEWS. REAL VOICES.
Help us tell more of the stories that matter from voices that too often remain unheard.