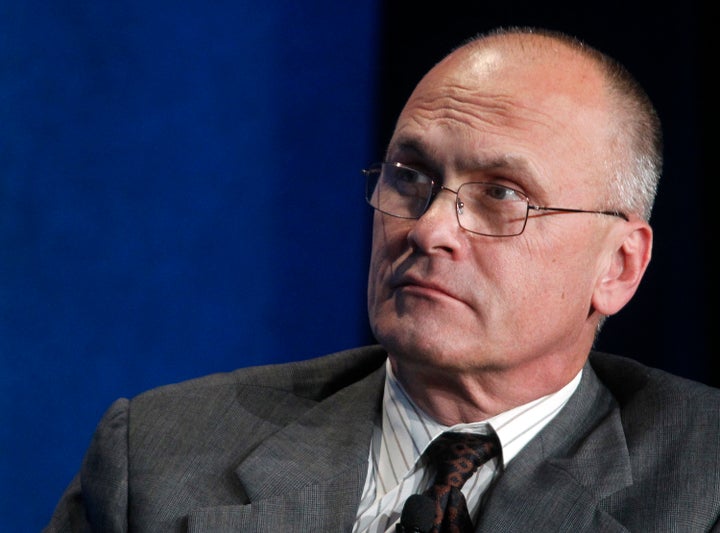 WASHINGTON ― In 2014, U.S. Immigrations and Customs Enforcement audited some 180 Hardee's and Carl's Jr. burger restaurants in the Southwest and Midwest, finding documentation problems with roughly one out of every three workers.
Jason LeVecke, the franchisee who ran the restaurants, had to fire approximately 1,200 apparently undocumented immigrants in a matter of days. To keep his restaurants afloat, he said he turned to CKE Restaurants Holdings, owner of the Hardee's and Carl's Jr. chains, and its chief executive, Andy Puzder. Puzder is now President Donald Trump's nominee for labor secretary.
His restaurants in turmoil, LeVecke asked Puzder and others at CKE to send people experienced with the Hardee's and Carl's Jr. system until replacements could be hired, he said. That help never came, according to LeVecke.
"CKE said they wouldn't send any bodies because they were afraid of being audited themselves," LeVecke told The Huffington Post.
The audit and its aftermath underscore an uncomfortable fact for Puzder, whose Senate confirmation hearing is scheduled for Feb. 16: The fast-food industry he's worked in and represented for years relies heavily on undocumented workers from Mexico and other countries. Although the workers may be technically employed by franchisees, their cheap labor benefits the brands that adorn their uniforms and the fast-food executives who run them.
If confirmed, Puzder would work for a president who has vilified undocumented immigrants for allegedly taking American jobs; berated U.S. executives for availing themselves of foreign labor; and promised to build a wall along the Mexican border in order to keep undocumented workers out of America's restaurants and construction sites. As HuffPost reported this week, Puzder also personally employed an undocumented worker at his home.
LeVecke is a grandson of Carl's Jr. founder Carl Karcher, and he's been a vocal critic of Puzder's leadership of CKE. In recent years, he and his brother Carl were sued by several of their business partners, including their mother, for alleged fraud in dealings through their franchise group. Those lawsuits were settled.
According to CKE's most recent annual report, the closely held company had more than 3,000 Hardee's and Carl's Jr. locations in the U.S. and abroad as of 2012. Of all those, fewer than 1,000 were operated by the parent company, with the rest run by franchisees like LeVecke.
Fast-food companies profit from their franchisees' business. CKE, for instance, collects 4 percent of a franchisee's gross sales. But it's usually just the franchisees who wind up in trouble when regulators come knocking, since they are formally considered the employers under the law.
The arrangement offers CKE plenty of plausible deniability in the case of an ICE audit, as Puzder's spokesman, George Thompson, reminded HuffPost when asked for comment for this article.
"It would be inappropriate to comment on the activities of a company that Mr. Puzder did not manage," Thompson said in an email. He did not address LeVecke's claim that CKE's in-house counsel feared getting involved in the audit.
An ICE spokeswoman would not confirm or deny details of the audit, which was first reported in May 2016 by Franchise Times, a trade publication, in a story about the feud between CKE and the LeVeckes. In that article, Puzder said "a franchisee's illegal employees are not our responsibility."
"The list was devastating. ... We had to fire people who had done nothing but work their asses off for us."
Julie Pace, a lawyer who oversaw the audit for LeVecke, told HuffPost that CKE kept its distance from its franchisee during the ordeal, which struck her as unusual for a fast-food chain. She's dealt with other big brands during audits, she said, and they're often willing to help with staffing to make sure the franchisee weathers the crisis and the stores stay open.
"That was not the approach that was taken by" CKE, Pace said. "They didn't want to get involved in helping or addressing it. They have [corporate Hardee's and Carl's Jr.] restaurants that they operate. That was the issue there."
In an August speech recently unearthed by CNN, Puzder said that his chain had problems with undocumented workers, but cleared them up with the advent of E-Verify, the government's web-based system employers use to verify the identify of job applicants. Thompson, the Puzder spokesman, said the implementation of E-Verify at Hardee's and Carl's Jr. stores "significantly reduced the number of inadvertently hired undocumented workers."
LeVecke had been using E-Verify for years before his Hardee's and Carl's Jr. restaurants were subjected to the audit, Pace said. He had his highest proportion of undocumented workers in Arizona, where E-Verify has been mandatory since 2008. According to Pace, many workers who turn up undocumented in an audit may have come onboard before the use of E-Verify, while others may have bypassed it with someone else's name and Social Security number.
Many workers broke down crying at the news of the audit, recalled LeVecke, a Republican who's publicly opposed hardline immigration laws.
"The list was devastating," he said. "It wasn't just cooks and cashiers. It was some of our most experienced people. ... We had to fire people who had done nothing but work their asses off for us."
The fast-food industry provides undocumented immigrants with a low bar for entry into the U.S. workforce. Before he was nominated by Trump, Puzder spoke about the need to have compassion for immigrant workers, going so far as to assert that they were willing to do jobs that American-born workers were not. He even put his name to a letter penned by a group of executives urging lawmakers in Washington to pass comprehensive immigration reform, including a pathway to citizenship.
After Trump nominated him, Puzder's tone changed abruptly. He issued a statement saying his duty as labor secretary would be to protect "U.S. citizen workers," while painting foreigners as job thieves: "It makes no economic sense to spend trillions on welfare and jobless benefits for out-of-work Americans while bringing in foreign workers to fill jobs in their place."
The Hardee's and Carl's Jr. outlets owned by LeVecke were hardly the first fast-food restaurants swept up in an immigration crackdown. In 2011, burrito chain Chipotle fired hundreds of workers in Minnesota and other states after a probe of its I-9 employment forms by ICE, which is part of the Department of Homeland Security. Despite former President Barack Obama's reputation for being lax on immigration, his administration aggressively carried out audits that resulted in civil penalties for companies and layoffs for workers.
LeVecke and his brother ended up filing for bankruptcy, and an Arizona court sold their Hardee's and Carl's Jr. locations to one of their investors last year. Some of the landlords of their restaurants are still trying to recover money through the LeVeckes' bankruptcy cases.
As for the undocumented workers, LeVecke said some have gained legal status and found jobs elsewhere, though others are going through deportation proceedings.
Sign up for the HuffPost Must Reads newsletter. Each Sunday, we will bring you the best original reporting, long form writing and breaking news from The Huffington Post and around the web, plus behind-the-scenes looks at how it's all made. Click here to sign up!
Popular in the Community