Carl's Jr. will introduce what it says is the first "all-natural, no hormones, no antibiotics, no steroids, grass-fed, free-range beef patty" from any major quick-service chain. The item also is the latest effort by a QSR chain to reach out to the 18-to-34-year-old millennial age group, some of whom are choosing fast-casual chains such as Smashburger, Elevation Burger and The Counter, perceiving these chains' food to be higher quality.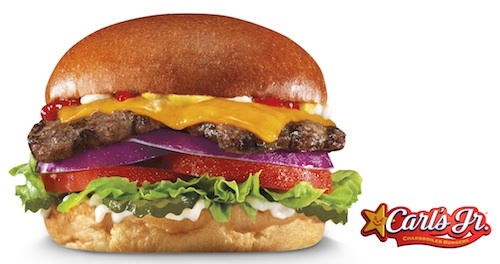 The All-Natural Burger, available Dec. 17, tops the char-broiled beef patty with Cheddar cheese, "vine ripened" tomato, red onion, lettuce, bread-and butter pickles, ketchup, mustard and mayo on a baked-in-house bun. The new burger is priced a la carte at $4.69, or $6.99 for a double. Carl's Jr. says customers will be able to request the Natural patty on any burger on the menu for an additional charge.
"We've seen a growing demand for 'cleaner,' more natural food, particularly among millennials, and we're proud to be the first major fast-food chain to offer an all-natural beef patty burger on our menu. Millennials include our target of 'Young Hungry Guys' and they are much more concerned about what goes into their bodies than previous generations," Brad Haley, chief marketing officer for Carl's Jr., said in a statement announcing the new burger. "Whether you're into more natural foods or not, it's simply a damn good burger."
McDonald's this week announced plans to expand availability of its "Create Your Taste" customization option for Quarter Pounders. That program also is seen as a way to appeal to millennials. But as reported here earlier, NPD Group data shows that millennials' visits to QSRs have declined over the past five years but 25-to-34-year-olds still make 171 annual QSR visits, compared with 11 fast-casual visits.
Broadcast advertising from agency 72andSunny breaks Dec. 29. The chain says it will air an additional spot during the Feb. 1, 2015, Super Bowl.
Related
Popular in the Community