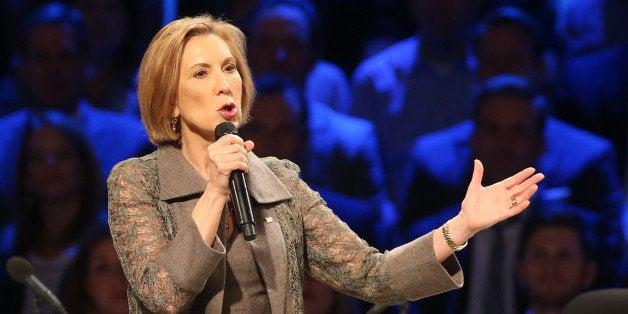 From my time at AT&T and Lucent, it seems that the public persona of Carly Fiorina is an accurate depiction. As people first observe, Carly is very intelligent, articulate and tough. I'd say, even steely. From my perspective of knowing her at both companies, I can safely say that Carly is also bold and brash -- as much so as any executive I've known.
Frankly, she'd probably even agree that she has, well, balls. But rather than literally being made of her husband's rolled up socks, as they were back in our Lucent days, by the time she launched the proxy fight for HP's merger with Compaq, we observed that they were made of nothing less than solid brass. She'd come a long way from somewhat more conformist days as part of the AT&T family.
With the rough ending of a rather dramatic tenure at HP, getting a new large-cap CEOship was not going to be easy. Carly dusted herself off, as I knew she would, and set her sights on something new -- politics -- the ultimate platform.
To be sure, she is certainly not afraid of the outcome of this election cycle. Any of Carly's fears or failures have motivated her to strive even further. I fully expect her to honor the concluding words in her Stanford commencement address: "Let your fear motivate you, not inhibit you." As we've seen, her Senate defeat didn't deter her. In fact, it motivated her to set the bar even higher.
Acoustically, Carly is very soft spoken, and she's calm under almost any circumstance. As a small example of her demeanor, upon the Lucent IPO roadshow, three management teams traveled the globe meeting with investors; red, blue and green teams. At one regional airfield, I believe it was Denver, without her team's scheduled ground transportation, she took command of a beat-up loaner car, normally borrowed by pilots, to take the group to their hotel. The problem was solved, and the investment bankers sent a picture. That's pretty hands on.
After the spin-off from AT&T was complete, Lucent had several years of good results. So much so, that financial analysts often felt we were "sandbagging" our expectations so that we could handily beat them. Helping to boost revenue growth, the company built an advanced telecom network for the Kingdom of Saudi Arabia and both manufactured and sold equipment in China.
As the stock price increased, we executed two stock splits, which kept the shares affordable for retail shareholders. Stock splits are generally viewed by investors as management having confidence in the future. Unfortunately, they also often coincide with stock price plateaus.
Around Lucent's pinnacle, the company announced its largest acquisition, Ascend Communications, for about 10-times its revenue. At the time the announcement was made, Lucent's share price was $107-7/8.
As Carly recounted the announcement of Ascend in Tough Choices:
I took center stage, turned my back to the audience, unbuttoned my jacket and slowly dropped it to the floor. When I was quite sure I had everyone's attention, I turned back around to face them. The bulge in my pants from [my husband] Frank's borrowed socks was obvious to anyone in that very big ballroom. 'And our balls are as big as anyone's in this room.' Rich [McGinn, Lucent's CEO] literally fell off his chair screaming with laughter... I'd made my point.
In celebration of the deal closing, Lucent's PR chief ultimately launched a colorful hot-air balloon.
Just a few weeks prior, we traveled to Atlanta together on one of the Gulfstreams to the annual SuperComm tradeshow. The plane was packed with executives and Carly was the highest ranking officer on the flight. She made some calls, and later rolled up her sleeves to open the plastic food trays that had been stowed for the flight, tearing off the cellophane. Here was the soon-to-be named CEO of HP serving everyone.
With air travel probably not at the top of her favorite-things-to-do list, serving us likely took her mind off the flight. It was a nice human moment where we shared M&Ms and all joked about being "captains of industry." Lucent also had a helicopter, for more local trips, and it was pretty well known amongst staffers that Carly would not take the helicopter.
Following the SuperComm show, Carly exited Lucent for HP -- and it was brilliantly timed. In hindsight, prominent short-seller Jim Chanos couldn't have had much better timing at calling the top himself. It was akin to a graceful chip shot onto the 18th hole center green, and course exit, while a fierce thunderstorm was on the horizon. Carly was able to leverage her spot on the cover of Fortune with her #1 rank on its Most Powerful Women In American Business list into the CEOship of HP. She would soon undertake the most controversial merger in tech history.
Around the time she left Lucent, the company was stretching to meet its financial goals, and it would ultimately miss them many times after her departure. The company had gone astray of its conservative Western Electric & Bell Labs pedigree under E. Wayne Weeks Sr. who drove a four-wheel-drive truck to work daily before his retirement. Lucent's first earnings miss was a huge shock and disappointment to Wall Street. I was with CEO Rich McGinn in his office when we called three of our largest shareholders to explain. As I read the phone numbers to McGinn, he punched them into his phone and paced the room tossing a football. He and optical exec Harry Bosco had to explain the issues with Lucent's optical networking division and why the company suffered its first earnings miss. It was a tense time and my suggestion to call a fourth shareholder was met with a scolding for being "tenatious."
The acquisition of Ascend was done to fill a product void, as Lucent had a minuscule presence in carrier data networking gear. Lucent's Bell Labs originally thought data gear was unreliable junk and never focused much on it. With the rise of the Internet, Lucent got left behind. But Ascend was a misguided bet on ATM technology at the peak of its lifecycle. Data focused rival Cisco was focused on IP, and was disciplined at never making large acquisitions. Ascend became a noose around Lucent's neck as growth went negative.
In irony, months prior to the first earnings miss, our CFO's house was literally stuck by lightening. But there could be no lightening rod installed to protect Lucent. In just a few years, annual revenues plummeted from $29 billion to $12 billion. In one year, it lost even more money than it took in. Ultimately, the company's stock would dip below $1 forcing tens of thousands of layoffs along the way.
The once thriving Bell Labs site of 4,000-plus employees in Holmdel, NJ that I first joined fell into disrepair and was ultimately shuttered. Many locations suffered the same fate. Layoffs were a continuous process, very far from "one and done." It was a painful and was no way to boost morale for remaining employees. Frankly, corporate disclosure seemed inadequate as the company even decided against having an annual analyst meeting. At one point during the downturn, the Lucent corporate PR team literally played the theme song from Annie, according to a former colleague who remained.
It's easy to blame an industry downturn for Lucent's troubles. But it wasn't just an industry downturn. Lucent was the first to start missing estimates, in part because of strategy decisions. It didn't produce an OC-192 optical system, leading to arch-rival Nortel garnering $5 billion in revenue from that product alone, until the market for it began to plummet. Optical networking was an important part of the service provider group that Carly had managed before leaving. And AT&T, a large customer, was rapidly diversifying its optical and wireless purchases to others.
In her book, Tough Choices, Carly was critical of CEO McGinn for not taking down the corporate guidance. But I doubt that McGinn wanted to lower the bar when rival Nortel was achieving similar results. The guidance was reasonable in the context of what Nortel was delivering, but not in the context of what Lucent was executing on, including Carly's former product units. Carly ran the largest division of Lucent, the service provider group, representing the majority of corporate revenue.
While there is more than enough blame to go around, those product units didn't deliver. In hindsight, there were aggressive sales practices leading to a "revenue recognition issue" related to stuffing distribution channels with product that ultimately needed to be returned, sales discounts as quarters came to a close, and selling "software rollups," whatever that involved, as well as a "whistleblower" lawsuit filed against the company by its head of North American service provider sales.
One large customer was even upset at the "craziest phone calls" toward the end of every quarter because he felt they were no way for Lucent to run a healthy business. It even became the norm to finance the working capital needs of upstart customers, financing more than 100 percent of purchases (think office furniture and payroll). Nortel went bankrupt and Lucent wasn't in great shape when rival Alcatel essentially bought it.
The proxy fight for Compaq clearly required balls of brass. And Carly proved that she had them. The HP-Compaq merger strikes me that it was so bold of a move, that pushing for it so forcefully simply went too far, taking on Walter Hewlett himself in a heated proxy battle. Proxy fights are usually launched by outsiders seeking management reforms, such as those by prominent activist investor Carl Icahn.
As son of a co-founder, and a major shareholder, Hewlett strongly opposed the deal. Some of his public comments during the proxy fight called for new leadership, specifically, "...I believe we will look for a current CEO with a track record for creating shareholder value and not get a CEO who again is learning on the job." The collective 18 percent stake of HP held by the Hewlett and Packard descendants were against the merger with Compaq. At the end of the day, Carly went toe-to-toe, and her efforts ultimately prevailed. Regardless of winning the battle for Compaq, the board later terminated her employment. In that sense, she kind of won the battle and lost the war.
This was not a woman who chose the easy road or who sought consensus for her life's choices. It was nothing short of a "damn the torpedoes" stance which could be particularly concerning if applied to military matters as commander in chief. This is the presidency we're talking about and each candidate, from Ben Carson to Carly, and Bernie Sanders to Hillary, must each be looked at carefully, as the Presidency sets the direction for the executive branch of our federal government.
In my interactions, as a midlevel former staffer at AT&T and Lucent, I felt that Carly seemed less open to opinions than some other officers were. Dialogue just didn't seem to flow both ways.
Though to be sure, having a woman somewhere on the Republican ticket would counter an opposing one with Hilary on it. As we look to the primaries, Carly will need to demonstrate the qualities of a consensus builder, one effective at establishing broad support for initiatives, rather than divisiveness.
The presidency is not a corporate CEOship where authority is checked only by the board and internal political foes. Being skilled at compromise and diplomacy are essential qualities to be effective. Meeting our foreign policy challenges -- including those of ISIL, al Qaeda, Iran, Syria, Russia and an increasingly confrontational and militarized China -- are clearly too numerous to be met with internal divisiveness. We must be aligned to meet these global threats, and to get our nation's economy on firm footing.
However this all plays out, I admire Carly for her tenacity; as she has demonstrated great balls. We just have to collectively decide if they belong in the White House.
Follow me on Twitter @ TomLauria and www.TheFallOfTelecom.com
Popular in the Community