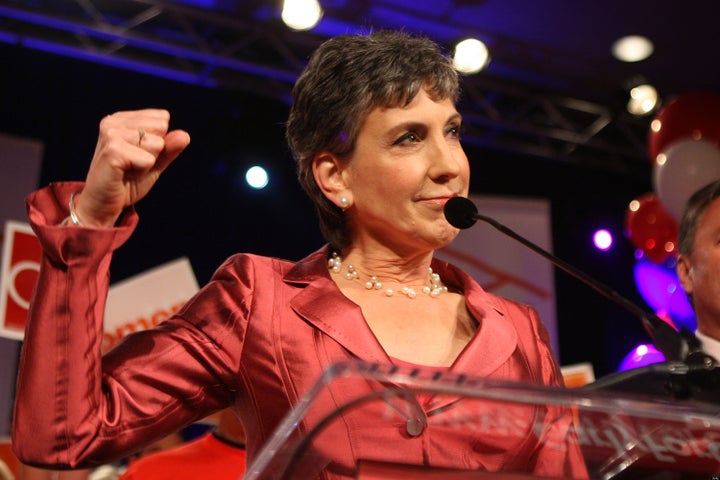 This story comes courtesy of California Watch.
Republican U.S. Senate candidate Carly Fiorina has obtained about $63,000 in donations this year from Appalachian coal-mining interests, much of the money from an outspoken Ohio mine owner who dismisses global warming as "hysterical global goofiness."
In a cluster of transactions - most of them dated Feb. 4 - 64 donors associated with mining in Ohio, West Virginia and other coal-producing states made contributions to Fiorina, who is challenging incumbent Democrat Barbara Boxer.
Of that, nearly $25,000 came from employees and a political committee of Cleveland-based Murray Energy Corp., the nation's largest privately-owned coal producer. Other donations in the bundle came from Midwestern companies that sell mining equipment and supplies.
Robert Murray, Murray Energy's CEO, has clashed repeatedly with Ohio environmentalists, facing criticism for building mining tunnels beneath an old-growth forest and for pushing plans to expand a huge storage lake for water polluted with mining runoff, according to interviews and press reports.
As Congress this year debated climate change legislation, Murray emerged as an aggressive critic of proposals to restrict the burning of coal, styling those efforts as a national "economic suicide note."
Murray's press spokesman declined to comment. But Andrea Saul, spokeswoman for Fiorina, responded:
Carly thinks we need to have the courage to examine the science of climate change, but knows that us acting alone will only put our companies at a severe competitive disadvantage in the global marketplace with no impact on the issue. First and foremost, Carly believes we need to expand and diversify our nation's energy portfolio - solar, wind, coal, natural gas - to reduce our dependence on foreign sources of oil.
Murray has no known connection to Fiorina, the former Hewlett Packard CEO. But Murray has publicly butted heads with Boxer, who has boosted cap-and-trade legislation to limit greenhouse gas emissions.
In testimony at a 2007 Senate hearing that Boxer attended, Murray dismissed global warming as "global goofiness" and accused congressional Democrats of "attempting to export the draconian so-called 'global warming' measures already enacted in California ... to the rest of America."
Boxer then questioned Murray about mining safety, asserting his company had paid the "biggest fines" of any mine operator in Ohio.
"You are wrong!" Murray retorted, according to a transcript, also saying, "You don't have the foggiest idea what a person does to pack a lunch and go to work or wear a hard hat."
Since then, Murray has singled out Boxer for criticism on global warming issues. Last year, when he laid off 91 miners at a mine in eastern Ohio, Murray sought to blame President Barack Obama and congressional Democrats, including Boxer, saying in a press release that the "insanity" of proposed cap-and-trade legislation to fight global warming was reducing the demand for coal.
Murray is "very outspoken in his opposition to climate change legislation," said Nachy Kanfer, a Sierra Club coal expert based in Columbus, Ohio. "He's so outspoken, he almost revels in it."
With political donations, Kanfer said Murray was "targeting the champions of revitalizing our economy with clean energy - the Bob Murrays of the world rely on dirty energy to survive."
As late as 2008, when she spoke at the Republican National Convention that nominated John McCain, Fiorina advocated cap-and-trade measures for environmental protection.
"John McCain will create a cap-and-trade system that will encourage the development of alternative energy sources," she said, as grist.org has noted.
But since she began running for the Senate, Fiorina has backed away from the topic. In a TV interview during the GOP primary, Fiorina said "I'm not sure," when asked whether climate change was occurring. And in a TV commercial, she mocked Boxer for asserting that climate change could pose national security issues for the U.S.
"Terrorism kills, and Barbara Boxer is worried about the weather," Fiorina said.
Murray, the mine owner, uses tough language about proposals to check climate change.
In testimony before the Senate environment and public works committee last year, Murray contended that replacing coal-fired power plants would "kill American people" and cause perhaps 150,000 "premature deaths annually." That's because alternative energy sources are much more expensive, he said.
In a 2009 essay for the West Virginia Gazette newspaper, Murray derided cap-and-trade legislation then pending before Congress as an "economic suicide note," saying the measure would "destroy the nation's coal industry," cost taxpayers "over $2 trillion in just over eight years" and transfer wealth from the Midwest "to the West Coast and New England."
Murray won national attention in 2007 when a cave-in at a Utah mine co-owned by one of his companies killed six miners. In television interviews, Murray defended his company's safety record and contended the mine collapse was caused by an earthquake.
In Ohio, he battled in court for years for the right to mine beneath an Ohio forest containing some of the only old-growth hardwood trees left in the state. In the end, a federal court rejected an environmentalists' lawsuit and allowed tunneling to commence near the forest, called Dysart Woods.
Ohio University owned the tract, but not the mineral rights. During the controversy, Murray was arrested on charges of assaulting environmentalists outside a hearing room, the Associated Press reported. Murray said the accusation was false and politically motivated, and he was eventually acquitted, the AP said.
Related
Popular in the Community