WASHINGTON -- Carly Fiorina is presenting herself as the anti-Hillary Clinton, a Republican businesswoman ideally positioned to take on the Democratic front-runner on women's issues in the general election. But the former Hewlett-Packard CEO, who announced her campaign for president on Monday, has in the past held a series of liberal-to-moderate positions that could threaten to derail her bid for the White House before she even makes it out of the GOP primary.
Fiorina, who is the first woman to lead a Fortune 100 company, ran for Senate in California in 2009 by pledging to revive a shattered U.S. economy. She lost to incumbent Sen. Barbara Boxer (D), but not before staking out moderate positions in an effort to appeal to the state's liberal electorate. Although Fiorina does not support marriage equality, she believes that same-sex couples ought to have the same government benefits as heterosexual couples. She also holds a relatively moderate stance on immigration, similar to that of former Florida Gov. Jeb Bush (R), by supporting a pathway to legal status for undocumented immigrants.
But it's Fiorina's record as economic adviser to then-Republican presidential nominee John McCain in 2008 that could really come back to haunt her. Addressing the Republican National Convention in Minneapolis that year, Fiorina touted McCain's cap-and-trade plan, a toxic proposal in today's Republican Party.
"John McCain will create a cap-and-trade system that will encourage the development of alternative energy sources. He will help advance clean coal technology, and nuclear power. And all of this will both create jobs and lower the cost of energy," Fiorina said of the plan, a market-based approach to curb carbon emissions emitted by businesses.
Two years later, in her campaign against liberal environmentalist Boxer, Fiorina abandoned cap-and-trade as a means to curb the harmful effects of climate change. An ad from Fiorina's campaign claimed Boxer's proposal -- which was similar to McCain's --"would take already painful jobless numbers and make them dramatically worse."
While Fiorina hasn't denied the link between human activity and global warming, as many of her fellow Republican presidential contenders have, she recently blamed environmentalists and climate regulations for what she called a "man-made" drought in California.
As McCain's adviser, Fiorina also defended the $700 billion TARP bailout for Wall Street banks in the midst of the 2008 recession. The bailout, the former CEO said in an appearance on Fox News, "was, unfortunately, necessary because credit is tight for hardworking Americans and small businesses."
"So something had to be done to loosen the credit freeze. And, in fact, it appears to be working thus far. While the stock market plummeted today on fears of an economic slowdown or recession, fundamentally, we can see the credit is loosening. That is a bit of good news," she added.
Two years later, again in her Senate campaign, she came out against government bailouts. But the remarks on behalf of McCain could prove especially damaging because they were recorded on video -- an easy medium to use by the campaigns of her conservative rivals, many of whom either opposed or remained silent on TARP.
In 2009, Fiorina praised President-elect Barack Obama for making "very good appointments" to his economic team tasked with resuscitating the U.S. economy, which she described as having a "lot of credibility."
Following the president's election, Fiorina called for "comprehensive immigration reform so that the United States continues to attract entrepreneurs, risk-takers and hardworking people from all over the world." She also later came out in support of the DREAM Act, a legislative proposal offering college-age undocumented immigrants legal status, because, she explained, "I do not believe that we can punish children who through no fault of their own are here trying to live the American dream."
Another bone of contention for conservatives could be Fiorina's remarks on liberal Supreme Court Justice Sonia Sotomayor. As a Senate candidate in 2009, Fiorina told a group of conservative journalists that she probably would have voted to confirm Sotomayor to the court, explaining that she "does not believe in litmus tests" for judicial nominees. Interestingly, Sen. Lindsey Graham (R-S.C.), another potential 2016 contender, also gave Sotomayor his stamp of approval by voting to confirm the justice.
One debate where Fiorina and Clinton once found some agreement is whether health insurance plans should cover prescription birth control. Speaking with reporters at a breakfast in Washington, D.C., in 2008, Fiorina proposed "a real, live example which I've been hearing a lot about from women: There are many health insurance plans that will cover Viagra but won't cover birth-control medication. Those women would like a choice." Fiorina has changed her rhetoric since then, telling attendees at this year's Conservative Political Action Conference that women "had plenty of access to birth control both before and after" the Supreme Court's Hobby Lobby decision.
Fiorina's rocky tenure as CEO will likely also become an issue in the primary. Already on Monday, the morning of her official campaign announcement, a website (carlyfiorina.org) registered by someone other than her campaign mocked her record of mass layoffs at the company with a series of sad emoticons.

Before You Go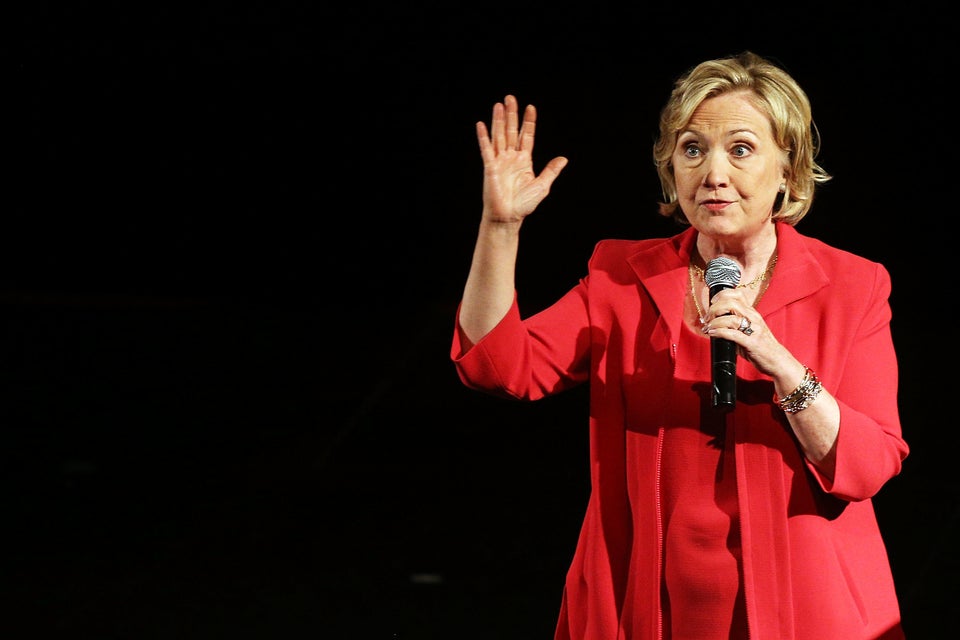 Potential 2016 Presidential Contenders
Popular in the Community