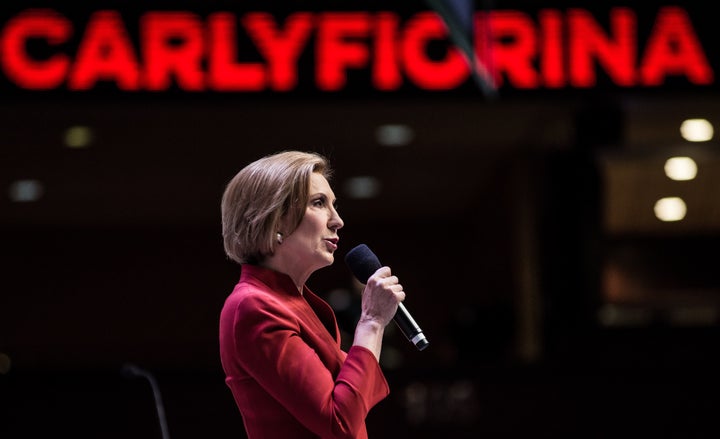 WASHINGTON -- Republican presidential candidate Carly Fiorina defended her record as the former CEO of Hewlett-Packard by suggesting that the layoffs she executed at the company have given her the knowledge about how to reduce the size of the federal government.
"Fox News Sunday" host Chris Wallace asked how Fiorina would explain HP's stock dropping more than 55 percent during her tenure as chief executive and the 30,000 employees laid off under her leadership, as television ads highlighting those metrics were run against Fiorina when she ran for the Senate out of California.
Fiorina argued that HP's troubles had to be viewed in the context of the NASDAQ exchange dropping and "the worst tech recession in 25 years."
"When you have a big, bloated bureaucracy that is becoming inept -- that's what's happening in Washington, D.C. -- there are some jobs that have to go away," she told Wallace.
Fiorina also said that even when her employees were laid off, they received excellent severance packages and were given counseling to help them find new jobs.
"The hardest thing for a chief executive to do is to tell someone they don't have a job anymore," she said.
She told Wallace that as president, she'd make sure that any new job openings in the federal government created by retiring baby boomers would not be filled.
When Wallace asked about how an HP "Wholesaler of the Year" could have sold millions of dollars in products to Iran -- despite U.S. sanctions -- without Fiorina knowing, she argued that the wholesaler was doing business with another company that was doing business with Iran. She said the foreign subsidiary of HP was "not honest in their dealings."
"The SEC investigation proved that neither I nor anyone else in management knew about it," she said.
Such questions about her leadership of HP are likely as she rockets to the top of the polls following a strong performance in the second Republican presidential debate. A new CNN/ORC poll has her in second place, with 15 percent, behind businessman Donald Trump's 24 percent. Ben Carson is in third, with 14 percent.
Popular in the Community