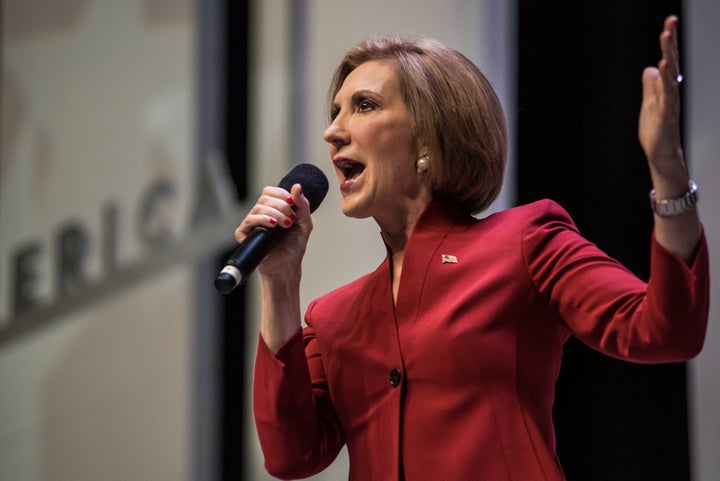 WASHINGTON -- Republican presidential candidate Carly Fiorina's explanation for a controversial business practice undertaken by Hewlett Packard during her time running that company appears incomplete, if not misleading.
On Sunday, the rising GOP primary star was pressed on allegations that her former company did business with Iran during a time when U.S companies were prohibited from doing so. In response, Fiorina stressed three separate points: that she was unaware that a subsidiary of Hewlett Packard had been selling printers in that country; that an "investigation" by the Securities Exchange Commission "proved" her innocence; and that HP only discovered the transactions three years after she left the company:
Three years after -- in fact the S.E.C. investigation proved that neither I nor anyone else in management knew about it, and the facts of the matter were the European subsidiary apparently was doing business with another company in the Middle East. That company was doing business with another company, that was doing doing business with Iran. And when the company discovered this three years after I left, they cut off all ties with those companies. The S.E.C. investigated very thoroughly and concluded that no one in management was aware.
All of these points are missing significant nuance, and some seem at odds with surrounding context.
On the first point, it is true that there is no direct evidence showing Fiorina was aware of HP's business dealings in Iran. Moreover, sanctions experts say it is not uncommon -- nor illegal -- for corporate executives to be caught off guard when a distributor is doing business with a sanctioned country.
"The typical practice for those who comply with the law is to put a clause in the distribution contract indicating that the distributor will not distribute the product to embargoed country and to anyone you know who will distribute to embargoed companies," Clif Burns, a D.C.-based lawyer who specializes in export law, told the Huffington Post. Burns was speaking generally and not about HP specifically. "You are going to see American products all over Iran and they make it through a circuitous route. It is almost always done now without the knowledge or the participation of the manufacturer itself."
But if Fiorina was unaware of HP products ending up in Iran, it appears to be partially because she wasn't looking or listening.
After she took over HP in 1999, the company's Middle East general manager called Iran "a big market for Hewlett-Packard printers." Fiorina herself echoed that assessment about the Middle East region in 2003, though she never specifically cited Iran. The same year, as a reflection of their growing business, HP named Redington Gulf, a subsidiary in the region, their "Wholesaler of the Year."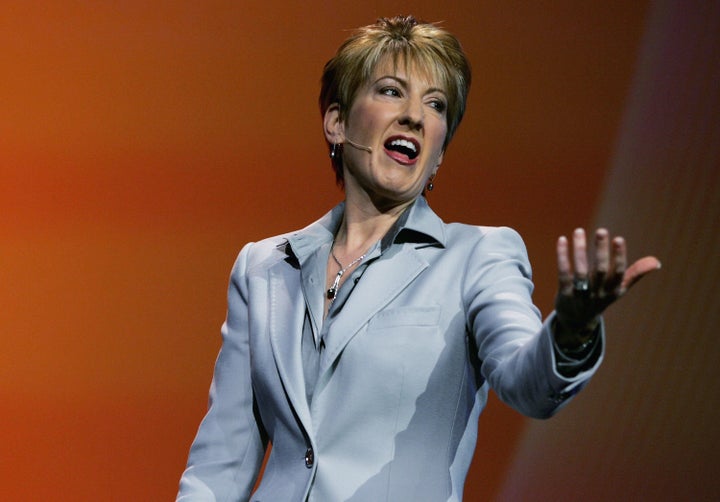 Even after she left the company in 2005, Fiorina maintained that HP was in full compliance of sanctions laws. In August 2010, while running for Senate in California, she defended her company's dealings with Iran by arguing that its people could use HP ink to publicize the regime's atrocities.
"Isn't it wonderful that Dell PCs and Apple iPhones are in Iran, because this is why we know that a woman has been condemned to be stoned to death because she is accused of adultery," Fiorina told Lady Globes magazine, an Israeli publication. She added, "We should be encouraging elements of political reform inside Iran, and one of the ways to do that is by selling communication in and out."
With respect to Fiorina's suggestion that "the S.E.C. investigation proved that neither I nor anyone else in management knew about" the company's business dealings in Iran, it's not entirely clear what investigation she's discussing.
In late November 2008, the Boston Globe first reported that HP's subsidiary, Redington Gulf, was selling products in Iran. On Feb. 10, 2009, the SEC sent a letter to HP which it described as a "review process" to "assist you in your compliance with the applicable disclosure requirements." In it, the commission said it was aware of the Globe's report and asked several questions related to business dealings in Iran and other sanctioned countries.
On March 12, 2009, HP's Vice President and Deputy General Counsel Paul T. Porrini, responded. In the letter, he laid out in meticulous detail how its Iran dealings were never direct and, therefore, were legally above board. He estimated that the company did $120 million in business in Iran in fiscal year 2008 just on printers and printer supplies:
All known sales of HP's products into Iran involved sales by Hewlett-Packard Europe B.V., a Dutch subsidiary, through its Meyrin Branch located in Geneva, Switzerland ("The Meyrin Branch"), which is responsible for sales of HP printers and related parts and supplies (e.g., ink and toner) throughout the Middle East and Africa.



The products that have been sold by The Meyrin Branch to Redington Gulf and the other distributors were limited to printers and printer supplies that were authorized for redistribution into Iran under the Export Administration Regulations (the "EAR") administered by the Department. More specifically, substantially all of the printers authorized for distribution were EAR 99 Products, while two products were classifiable under Export Commodity Classification Number 5A992. Thus, there are no restrictions against the redistribution of these products into Iran under Departmental licensing requirements for that country. In addition, neither the Dutch subsidiary nor The Meyrin Branch is a "United States person" within the meaning of section 560.314 of the Iranian Transaction Regulations as administered by the Office of Foreign Assets Control ("OFAC") of the U.S. Department of the Treasury. Thus, the regulations administered by OFAC are not applicable to the sales of products by The Meyrin Branch to Redington Gulf and the other distributors authorized to sell for redistribution into Iran.
On March 30, 2009, the SEC responded. The issue of business with Iran never comes up in the letter. There is no formal exoneration, nor is there an indictment. The correspondence ends there.
For Fiorina to call this an "investigation" -- let alone a thorough investigation -- gives it an imprimatur it almost certainly doesn't deserve. A spokesman for the SEC told The Huffington Post that the agency conducts such inquiries on a routine basis via its annual fiscal year filing website. In fact, when the SEC issued its letter, HP itself called the query part of a "routine staff review" of the company's annual filing. The Fiorina presidential campaign did not return multiple requests for comment.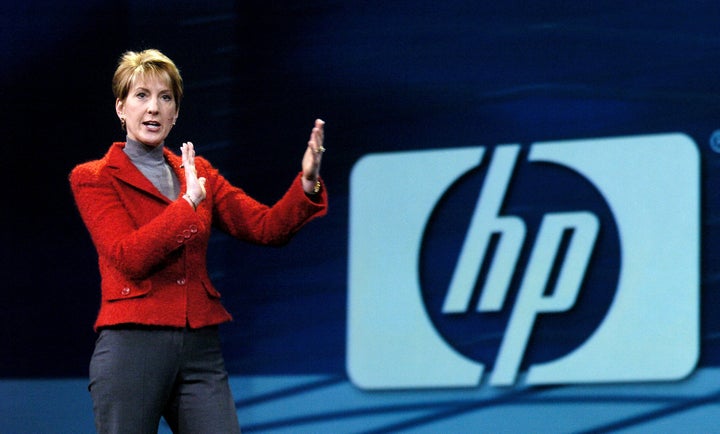 As for Fiorina's assertion that HP only discovered the Iran-related transactions three years after she left the company, that too seems unlikely. The company, after all, was known to use subsidiaries to circumvent sanctions law. In a September 2002 congressional hearing, both witnesses and lawmakers talked openly about how HP used a subsidiary in Singapore to send desktop computers to Iraq (itself sanctioned). Then-Rep. Bob Stump (R-Ariz.), who chaired the House Armed Services and Veterans Affairs committee, accused HP of "disserving our country" by doing "an end run around American laws."
HP's lobbying activities in Washington during Fiorina's tenure also suggest that the sanctions issue was at least on the company's radar. According to a review of Senate records from 1999 to 2004, HP's in-house lobbyists reported they lobbied Congress and the White House on "unilateral sanctions." The filings didn't mention Iran specifically. But considering it was the biggest potential business partner being sanctioned, it's highly unlikely that the country wasn't discussed.
In February 2005, Fiorina was forced to resign from HP amid wide criticism that she had mismanaged the company. That same month, Marketplace ran a story on efforts by the Bush administration to pressure subsidiaries of HP and Xerox to stop doing business in Iran. In it, reporter Borzou Daraghi quoted a business consultant named Rakki Ansari. The transcript, below, is via LexisNexis.
DARAGAHI: Nirdaman Computer Center in Tehran bustles with activity. Here is the heart of Iran's growing IT business. Among the biggest brands are Xerox and Hewlett-Packard. Ansari says American companies can't afford to lose market share here.

Mr. ANSARI: If you look at companies like, for instance, Hewlett-Packard or Xerox, Kodak, etc., this market is indeed their largest market in the Middle East.

DARAGAHI: With 70 million increasingly affluent residents, Iran is becoming an attractive market. Methi Bothari's shop sells thousands of dollars a day in printers and scanners from Hewlett-Packard. He says HP simply beats the competition.
Popular in the Community