WASHINGTON, May 5 (Reuters) - Republican U.S. presidential candidate Carly Fiorina is defending her record as a corporate executive after a critic took over a website with her name on it to highlight job losses at Hewlett-Packard Co while she served as CEO.
Fiorina, who announced her candidacy on Monday in the 2016 race, said she would run on her record at Hewlett-Packard, but added in reference to the carlyfiorina.org website: "Obviously, would I have preferred that we bought up every conceivable domain name? Yes."
Visitors to carlyfiorina.org came across the message, "Carly Fiorina failed to register this domain. So I'm using it to tell you how many people she laid off at Hewlett-Packard."
The website showed sad-face emoticons to symbolize what it said were 30,000 job losses at the tech company for which she served as chief executive from 1999 to 2005.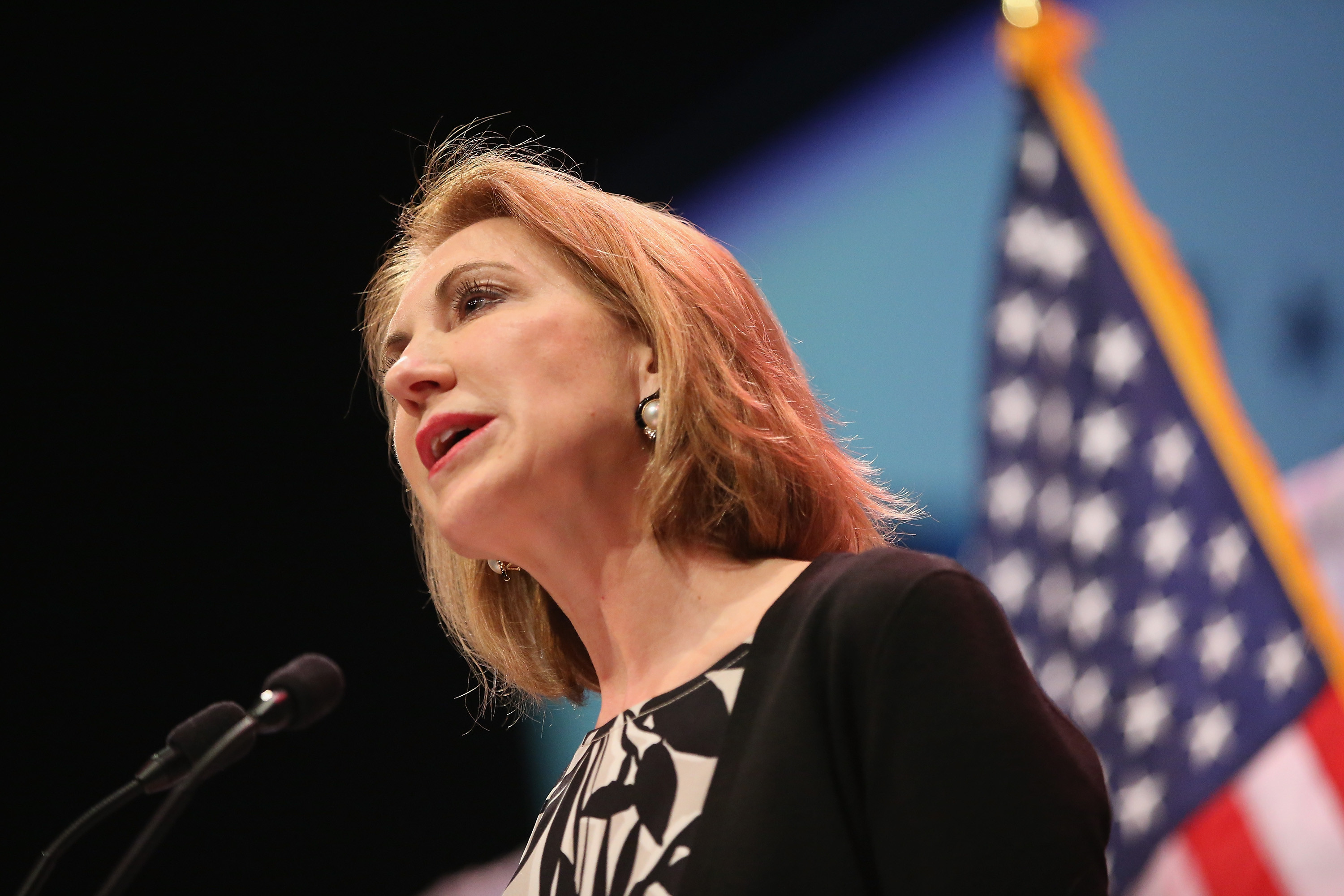 Former business executive Carly Fiorina speaks to guests gathered at the Point of Grace Church for the Iowa Faith and Freedom Coalition 2015 Spring Kickoff on April 25, 2015 in Waukee, Iowa. (Photo by Scott Olson/Getty Images)
"When you managed through a technology recession, every technology company - every one - laid people off. It's a terrible decision to have to make," Fiorina said in an interview taped on Monday with Katie Couric of Yahoo News.
"But sometimes there are tough decisions that must be made to strengthen a company for the long haul, which we clearly made. ... So it was a tough time I managed through. But we transformed a company from failing to succeeding," Fiorina added.
Fiorina said a quote attributed to her on the carlyfiorina.org website that "I wish I would have done them all faster" was taken out of context, and that when she decided to fire an executive "a lot of people came up to me and said, 'I wish you'd done that sooner.'"
She also gave her account of her departure from Hewlett-Packard as the company dealt with a $19 billion merger with then-rival computer maker Compaq.
"I was fired in a boardroom brawl over a two-week period at Hewlett-Packard because we had board members who were leaking confidential information," Fiorina said. " ... I know that when you're leading - which means you're challenging the status quo - you're going to make some enemies along the way. I made some enemies in the boardroom. I'm not embarrassed by it." (Reporting by Will Dunham; editing by Andrew Hay)
REAL LIFE. REAL NEWS. REAL VOICES.
Help us tell more of the stories that matter from voices that too often remain unheard.
BEFORE YOU GO
PHOTO GALLERY
Which Women Might Run In 2016?