AMES, Iowa – With less than two weeks until the first GOP presidential debate, it's crunch time for Carly Fiorina, the only woman in the packed Republican field, aiming to boost some last-minute support during a four-day swing through Iowa.
"I'm going to let the boys fight, and I'll keep doing what I'm doing," Fiorina said to reporters following a campaign event on Thursday.
Fox News, which is hosting the Aug. 6 debate, has decided only the top 10 candidates in recent opinion polls will qualify. Fiorina has been hovering around 1 percent, making it unlikely that she will take the stage.
"At this point in the political cycle, the polls and pundits said Jimmy Carter couldn't win, Ronald Reagan couldn't win, Bill Clinton couldn't win and Barack Obama," Fiorina said to a crowd of nearly 50 voters at a campaign stop in Webster City. "I don't care much for the polls and the pundits, and I know you don't either."
On Thursday, Fiorina hit four campaign events in less than 10 hours in Iowa, in her first extended swing through the Hawkeye State since her announcement. The Former Hewlett-Packard CEO touted her business experience and conservative values. In her remarks, Fiorina differentiated herself from the "professional political class," naming Hillary Clinton multiple times but never mentioning any of her GOP challengers. 
"I promise you this, if you help get me to that general debate stage, Hillary won't know what hit her," Fiorina said as the crowd erupted in laughter.
The 60-year-old cancer survivor emphasized her role in the race, claiming that her fellow GOP competitors wouldn't be able to "pull a punch" against Clinton in a debate.
"Hillary Clinton won't be able to talk about being a mom or a grandma, because I am too. She won't be able to talk about the history-making nature of her candidacy -- me too," Fiorina said. 
During an Iowa fundraiser for the Iowa Democratic Party last week, Clinton mentioned her struggles as a mother and becoming a grandmother, closing her remarks saying she hoped for a country "where a father can tell his daughter you can be anything you want to be, even president of the United States."
Fiorina said if she faces off against Clinton in a debate, Clinton would be forced to talk about her track record. For now, the former chief executive is working to stand out in a field with 16 major candidates.
Following her final campaign stop on Thursday, Fiorina spoke to reporters, staying upbeat about her prospects of participating in the upcoming debates in Cleveland, the same location selected for the Republican National Convention nearly a year later.
"I'm going to keep doing what I'm doing. I'm going to get out and meet as many people as I can," she said. "I of course would love to be on that debate stage, but we are going to keep going, with or without it."
When asked if she was frustrated that candidates like Donald Trump will be taking the stage in August, she said she's accepted that the business mogul turned Republican presidential candidate is meeting the requirements set by Fox News, although she isn't satisfied.
"I think it would be helpful for all the candidates, including Donald Trump, would talk about the solutions and maybe would keep their eyes on who it is that we really have to beat," she said.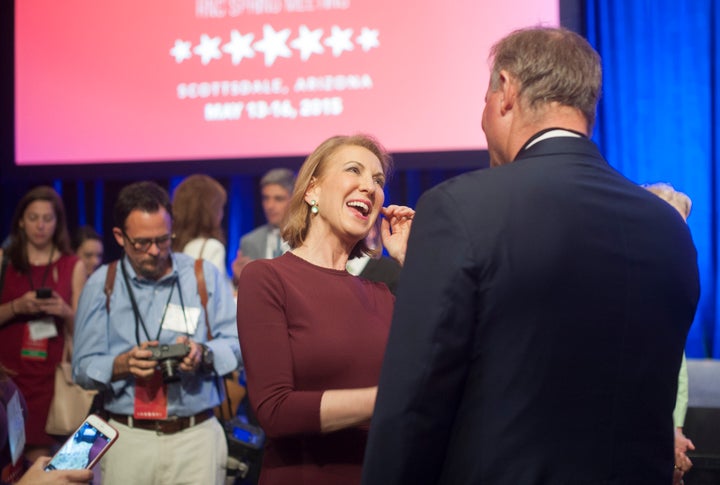 In recent days, Trump has threatened to run for president as a third-party candidate, something Fiorina says could cost the Republican Party the election.
"I think it would be a rather selfish gesture on his part," Fiorina said.
Fiorina, who has only visited Iowa three times since declaring her candidacy in May, is still working to gain name recognition. In a recent Quinnipiac poll of Iowa Republican caucus-goers, 69 percent of Iowans answered that they had not heard enough about her to form an opinion. 
"I know you're Iowans and you take your responsibility really seriously, and I know some of you are going to have to meet me five more times before you agree to caucus for me, but even if you haven't made up your mind, in your heart of hearts you know you want to see me debate Hillary Clinton," Fiorina said to a crowd of over 200 voters during her last stop in Ames, Iowa.
As voters trickled out of the country club ballroom, one praised her for not letting the polling numbers get to her, and another compared her to Rick Santorum, the 2012 Iowa Caucus winner.
"By February, these numbers will be different, and I can see her coming out on top," said the last man to leave.
REAL LIFE. REAL NEWS. REAL VOICES.
Help us tell more of the stories that matter from voices that too often remain unheard.