But the former Hewlett Packard CEO and presidential hopeful not only stole the show with her fierce and precise responses, she also did so standing in a pair of 3 1/2-inch heels for three hours.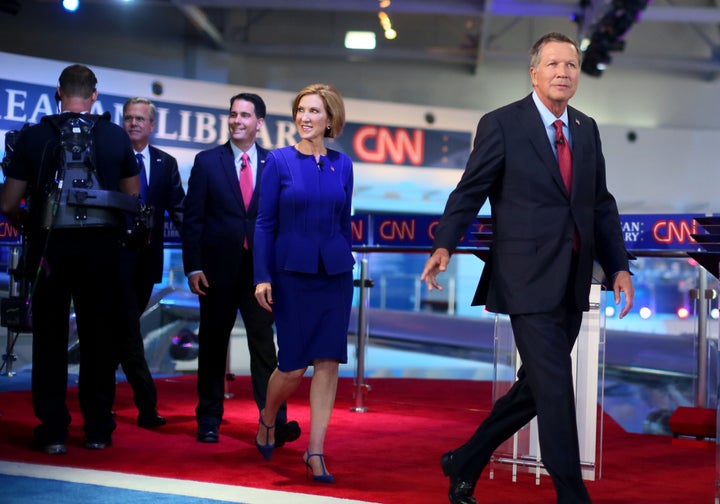 Yes, most women are very familiar with the perils of wearing heels for long periods of time while still handling business. However, we wanted to take a moment and applaud Fiorina's fashionable feat. She was exceptionally poised and didn't sway or slouch as she fielded tough questions and put Donald Trump in his place.
For inquiring minds, we're making a well-educated guess that the shoes in question are the "Wotton" suede T-strap pump by Manolo Blahnik -- and we're 100 percent amazed by Fiorina's oh-so-stylish stamina.
"It is always a great pleasure to hear my shoes can be worn for hours and hours -- it proves we are great technicians," Manolo Blahnik told The Huffington Post.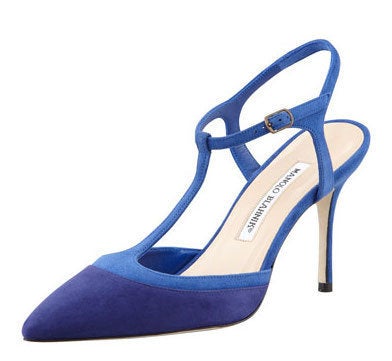 "I watched eagerly when Carly Fiorina first walked on stage to see how high her heels were," said our very own Arianna Huffington. "I immediately recognized the heels she was wearing, as I have the same Manolo Blahnik pumps in black. They're high -- 3 1/2 inches! I personally wear them when I know I'm sitting down! I love them and completely understand why she chose them, in terms of style. But, as the debate dragged on, I wondered how uncomfortable she must have been, especially since she didn't just have to stand there looking elegant but being alert and firing on all cylinders. For the next debate, I highly recommend a kitten heel. Here are some suggestions from Manolo Blahnik: D'Orsay heels, 'Carolyne' heels and the 'Sfida' heels. It makes a huge difference and she would look just as chic."
But the height of the heel aside, it reminds us of what was once said about actor/dancer Fred Astaire and his legendary dance partner: "Sure he was great, but don't forget Ginger Rogers did everything he did backwards ... and in high heels!"