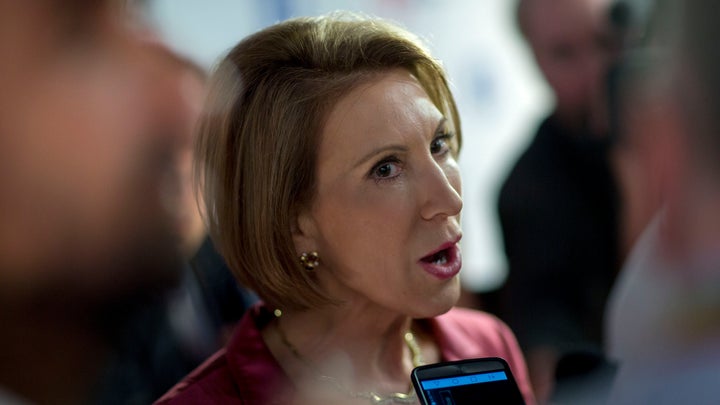 WASHINGTON -- GOP presidential contender Carly Fiorina said on Sunday that she opposes changing federal law to require companies to provide paid maternity leave. Her position is at odds with the policies of virtually every developed country on Earth and considerably worse than the maternity leave policy in war-torn Afghanistan.
The Huffington Post reached out to other Republican presidential contenders to see where they stand on mandatory paid maternity leave. None of them, including Fiorina, responded with comment by deadline. Democratic presidential candidates Hillary Clinton and Bernie Sanders have, more broadly, backed guaranteed paid family leave.
The federal Family and Medical Leave Act of 1993 provides 12 weeks of leave for the birth of a child and other needs, but it does not require wage compensation. In addition, employees who have worked at a company for less than a year are not covered.
Employers are left with a lot of leeway in how much they choose to accommodate mothers recovering from labor and parents with a newborn child. The result, as Rebecca Traister wrote in The New Republic, is that parenting has become "a privileged pursuit" that "ultimately affirms public and professional life as being built for men."
To put Fiorina's position in perspective, Afghanistan requires 13 weeks of maternity leave during which 100 percent of a woman's earnings are covered, according to a report published last year by the International Labour Organization. Individual companies are held liable for the costs.
According to the ILO report, out of 185 countries and territories for which information was available, the only nation besides the United States that does not require some cash benefits for women during maternity leave is Papua New Guinea, which is reportedly on the brink of a Greek-style economic meltdown. Papua New Guinea is also reportedly home to severe police abuse of detainees, violence against women, and vigilante killings, the U.S. State Department said last year.
Policies like the one in Afghanistan, while stronger than that in the U.S., still leave mothers vulnerable to job discrimination, because employers may be reluctant to hire or promote pregnant workers to avoid paying the direct and indirect costs linked to their leave, the ILO pointed out. The ILO report also did not indicate to what extent Afghanistan's policy is actually enforced.
Most developed countries, particularly in Europe, offer paid parental leave that is financed out of social insurance. But GOP support for that kind of financing also seems unlikely. Democrats introduced the Family and Medical Insurance Leave Act again this year, which would guarantee new parents and caretakers a portion of their income while on leave. It would be paid for by employee and employer contributions. But there are no Republican cosponsors.
In the U.S., the glorification of individualism during the Reagan years turned some Americans away from the idea of guaranteed paid leave, tainting it as another tax expansion. As it stands, high-end companies like Netflix, whose policy Fiorina praised, offer generous paid parental leave policies. But companies that employ lots of minimum-wage workers don't. Even at Netflix, the new parental leave policy does not extend to workers in its DVD division.
According to a study published by the Families and Work Institute, only 9 percent of companies in the U.S. offered fully paid maternity leave benefits in 2014, down from 16 percent six years earlier.
"I don't think we can afford to wait for corporations, out of the goodness of their hearts, to come up with a policy," said Steven Wisensale, a professor at the University of Connecticut who has written on family leave policy.
Parental leave experts said the current U.S. policy exacerbates the economic gap between women who work for companies that offer job protection and paid maternity leave, and women who do not. "We want everybody to have a fair shake, and one way to do that is to have mandated leave by the government," Wisensale added.
"At the national level, it is dead obvious why this should be funded -- you're talking about raising the next generation of citizens and that's why most countries fund it," said Joan Williams, a professor at the University of California, Hastings College of the Law, who noted that she did not actually expect any change on the national level.
She added, "Not having mandated leave for employers is a recipe for pushing women out of the workplace."
Popular in the Community