Former Hewlett-Packard CEO Carly Fiorina doesn't appear to be keeping up with the news. During the Republican presidential debate Tuesday, Fiorina emphasized her opposition to the Affordable Care Act by declaring it hasn't provided assistance to anyone.
"Obamacare isn't helping anyone," Fiorina said. "Obamacare has to be repealed because it's failing the very people it is intending to help."
The numbers tell a different story. According to survey results published by the Centers for Disease Control and Prevention this month, the number of Americans without health insurance dropped by 16.3 million to 28.5 million, or 9 percent of the population, since the end of 2013, before health benefits from the law took effect last year. These findings are consistent with other surveys, including those from the U.S. Census Bureau and Gallup. A previous CDC survey also found the share of Americans saying they couldn't afford medical care to be the lowest since 1999.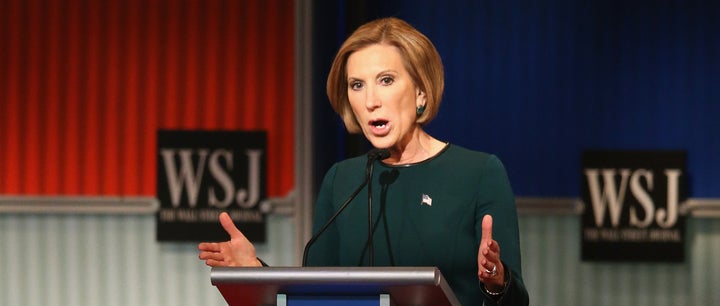 Fiorina dismissed the health coverage expansion under Obamacare because the majority of newly covered people have benefits under Medicaid rather than private health insurance, which she suggested is not worthwhile because physicians don't accept Medicaid patients. And while physicians are more likely to see patients with private insurance or Medicare, 75 percent of Medicaid beneficiaries told Gallup they were satisfied with their coverage, a higher rating than given by people with health plans provided by employers or unions.
"We need to try the free market -- the free market where people actually have to compete," Fiorina said. In place of the Affordable Care Act's Medicaid expansion and health insurance marketplaces where carriers compete for customers who may be eligible for subsidies -- with its strict prohibition against insurers turning away customers with pre-existing conditions -- Fiorina touted state-run programs to provide coverage to people who couldn't get approved for private insurance because of their medical histories.
"The alternative is to allow states to manage high-risk pools for those who really need help. Look, I'm a cancer survivor, OK? I understand you cannot have someone who's just battled cancer just become known as a pre-existing condition. I understand that you cannot allow families to go bankrupt if they truly need help," Fiorina said.
Such programs have existed for years, and have failed to provide a stable, affordable source of coverage for people with pre-existing conditions, largely because they are underfunded. Providing health coverage for the most costly patients is expensive, and states have never devoted the resources necessary to make these high-risk pools work, leading to high premiums, long waiting lists and other shortcomings.
See the latest updates on the GOP debate here.
CORRECTION: Due to an editing error, a headline on this piece originally indicated that the number of uninsured Americans has decreased by 9 percent. In fact, 9 percent of the population is uninsured.  
PHOTO GALLERY
Milwaukee Fox Business GOP Debate
Calling all HuffPost superfans!
Sign up for membership to become a founding member and help shape HuffPost's next chapter