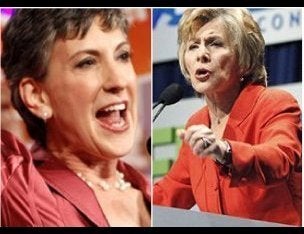 After former Hewlett-Packard CEO Carly Fiorina clobbered her opponents in California's Republican primary race for Senate Tuesday night, it didn't take long for the fight to heat up between the newly-minted GOP nominee and Democratic incumbent Sen. Barbara Boxer.
As Fiorina took to the podium to address supporters when the primary race was called, the Senate hopeful used her acceptance speech as an opportunity to fire off a string of attacks against her Democratic opponent.
"In her 28 years as a career politician, Barbara Boxer is a bitter partisan who has said much but done little," Fiorina said in accepting California's Republican Senate nomination. "She gets an A in politics, but she gets an F in achievement."
The former HP CEO went on to blast Boxer as being on "the very fringe of American politics" and embodying a "destructive elitism."
As for Boxer, the California Democrat is also already mounting an aggressive strategy in taking on Fiorina in November. "Our supporters are energized and organized, and we are all looking forward to a vigorous campaign on the road to victory in November," said Boxer campaign manager Rose Kapolczynski Tuesday night.
Boxer's campaign has also installed a "Setting the Record Straight" feature on her campaign website to rebut attacks unleashed by Fiorina.
A new web video released by Boxer's camp criticizes Fiorina's leadership at the helm of Hewlett Packard.
"Carly Fiorina is rated one of the 20 worst CEO's in history along with Ken Lay of Enron," flashes across the screen in the two-minute long spot. "With a resume like this why would we hire her for US Senate?"
Meanwhile, both the Democratic and Republican Senate campaign arms didn't waste any time before wading into the Boxer-Fiorina match-up.
Democratic Senatorial Campaign Committee chair Sen. Robert Menendez assailed Fiorina as "defining herself as a right-wing extremist," shortly after she emerged as the GOP's pick to take on Boxer. "She is against a woman's right to choose, supports the Arizona immigration law, wants to repeal health care, and supports allowing people on the "no-fly" list to buy guns."
The National Republican Senatorial Committee is taking the gloves off with a new web video attacking Boxer's "partisan and divisive record in Congress."
Less than 24 hours into California's general election race for Senate, attacks continue to pour out from both sides of the aisle.
WATCH: Boxer Web Video Assails Fiorina As 'One Of The 20 Worst CEO's In History
WATCH: NRSC Ad Assails Boxer's Career As 'Decades Of Epic Fail
Calling all HuffPost superfans!
Sign up for membership to become a founding member and help shape HuffPost's next chapter