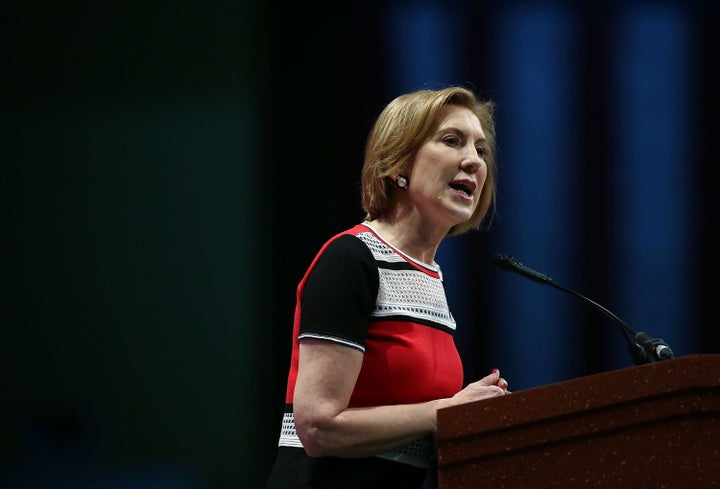 Republican presidential candidate Carly Fiorina on Thursday objected to closing a loophole that allows suspected terrorists to legally purchase firearms.
Asked about the matter on MSNBC's "Morning Joe," Fiorina, the former CEO of Hewlett Packard, dismissed the effort as a half measure that didn't get to the root of the problem.
"That's kind of a red herring, honestly," she said. "If somebody is a suspected terrorist on a watch list they can be indicted at any time. And once you are indicted you cannot own a firearm. So let's enforce the laws we have. Let's start with that."
Fiorina added that she didn't support the ban because responsible gun owners could mistakenly be added to the list.
"My best friend's husband was on the watch list for years, it was a complete mistake," she said. "He also happened to be a gun owner. If I had utter faith in the competence of government I might agree with that, but do you? I don't. The government screws up all the time."
The Republican businesswoman noted the suspects of a mass shooting at a center for individuals with disabilities in San Bernardino, California, which she called an "unspeakable tragedy," appeared to have
acquired their weapons legally
.
"It's a red herring --  if someone is a suspected terrorist, they can be indicted. Why aren't they? If someone illegally owns a gun, they can be prosecuted. Why aren't they?"
In an earlier interview on MSNBC, newly minted House Speaker Paul Ryan (R-Wis.) similarly argued against closing the loophole.
"There are people who are arbitrarily placed on this thing, sometimes they are on there by mistake," he said.
PHOTO GALLERY
San Bernardino Shooting Photos
Calling all HuffPost superfans!
Sign up for membership to become a founding member and help shape HuffPost's next chapter