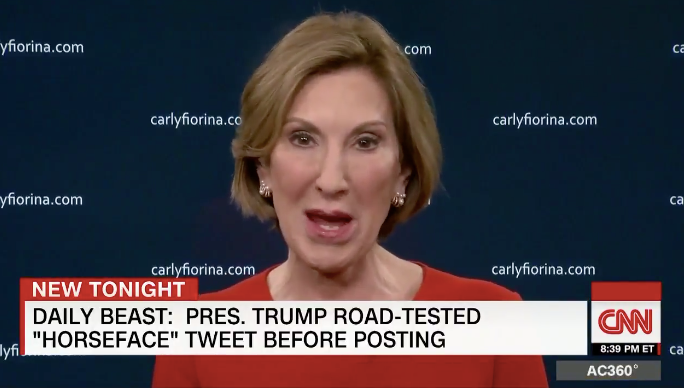 Carly Fiorina said on Thursday that President Donald Trump has reached "a new low" with his recent attacks on Stormy Daniels, a porn star who claims she had an affair with Trump in 2006 and has sued him for defamation.
"I think the habit of insulting one's political enemies is unfortunately long standing in this country, and he has brought it to a new low ― a fine art," Fiorina told CNN's Anderson Cooper.
"There's no question that in politics personal insults work and they rile people up," Fiorina said, adding that she thinks the insult "diminishes" the Oval Office.
"I think it's beneath him, and I think it diminishes all women ― but it works," the former Republican presidential candidate said.
Trump on Tuesday called Daniels "horseface" in response to a federal judge's decision to dismiss her defamation suit against him.
Fiorina, a former Hewlett-Packard CEO, related Trump's attacks on Daniels to the insults he hurled at her during his presidential campaign.
"Look at that face," Trump told the magazine. "Would anyone vote for that? Can you imagine that, the face of our next president?! … I mean, she's a woman, and I'm not [supposed to] say bad things, but really, folks, come on."
When Cooper asked what she thought of Trump's "horseface" remark, Fiorina replied, "Here he goes again."
"When people were shocked at Donald Trump's comments about my appearance, I wasn't," she told Cooper. "He wasn't the first man to make comments about my appearance, positive or negative, and he won't be the last man to do so."
While Fiorina denounced Trump's insults, she also slammed Daniels' behavior toward Trump, referencing the porn star's memoir in which she describes Trump's private parts.
"There's no doubt that the office of the presidency is diminished when the occupant engages in this kind of insult over Twitter," she told Cooper.
"On the other hand, when I think about the people involved here ― Stormy Daniels, her lawyer, Donald Trump ― I honestly think they're all birds of a feather," Fiorina said. "They're all in show business. While she's talking about his private parts, he's talking about her face and they're all getting a lot of publicity."
Calling all HuffPost superfans!
Sign up for membership to become a founding member and help shape HuffPost's next chapter