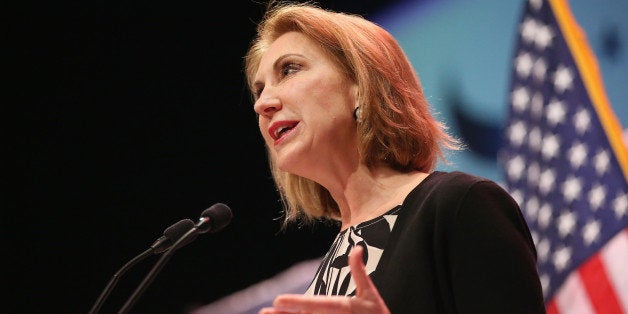 Shortly after the former Hewlett-Packard CEO made her announcement Monday, the website CarlyFiorina.org surfaced -- and it's not pretty. The site, which appears to have been registered in December, criticizes Fiorina's controversial tenure at HP, highlighting the number of layoffs that occurred under her watch.
"Carly Fiorina failed to register this domain," a message on the site reads. "So I'm using it to tell you how many people she laid off at Hewlett-Packard."
The site then lists a massive number of frowning emoticons:
It's no big secret that Fiorina, a Republican, fired thousands while she was in charge of the technology giant from 1999 - 2005. The .org website claims 30,000 people lost jobs during her time as CEO, a number echoed in a CNN report about her political ambitions, though others put the number at 15,000.
In an emailed statement to The Huffington Post, Sarah Isgur Flores, deputy campaign manager for Fiorina, said: "It's always unfortunate when someone loses a job. Carly worked hard to save as many jobs as possible. If HP had gone under during the recession -- and it was by no means a foregone conclusion it would have survived the recession -- then every employee at HP would have lost their job. In the end, the company succeeded and grew because of her tough choices."
Flores did not immediately respond to a request for comment about the campaign's web domains.
A quick glance at the website Whois.net reveals that a handful of domains similar to CarlyFiorina.org remain open for purchase.
The owner of CarlyFiorina.org uses a service called Contact Privacy, which helps mask his or her identity. When HuffPost attempted to reach out via phone, we were directed to a web address containing an email form to contact the site's administrator. Attempts to use it only produced an error message.
"It really has nothing to do with my job or my employer," Link said.