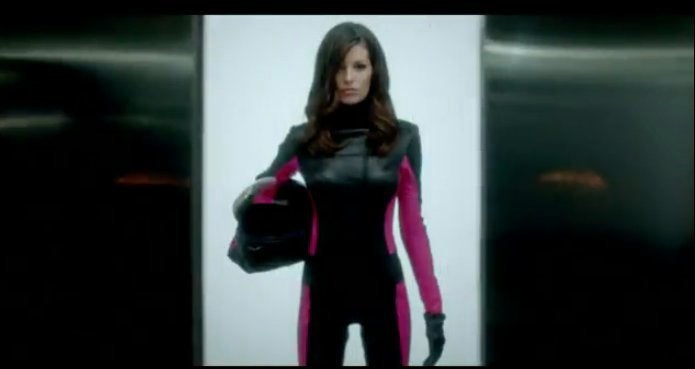 UPDATE: T-Mobile has emailed us the FULL Carly commercial for your viewing pleasure. Check out the new T-Mobile ad, with a sweet, crunchy guitar riff and a whole lot of attitude, below:
PREVIOUSLY: Carly's got a brand new bag.
The T-Mobile girl -- that would be Carly, to you -- has a newer, leather-er look. Say goodbye to pink sundresses and society gloves, and say hello to a black leather bodysuit and a sleek motorcycle.
T-Mobile has announced a new ad campaign for its burgeoning 4G network: Carly is still around, but, like T-Mobile's cellular network, she too has received a makeover. From an email sent to journalists:
With this new ad, there is a distinctive departure from our existing campaign as Carly's magenta summer dresses are replaced by motorcycle leathers and a 1000 cc Ducati superbike, which symbolizes the speed and capabilities of our 4G network. Entitled "Alter Ego," the ad is a metaphor for what T-Mobile is all about – challenging the status quo and taking bold steps in the marketplace as a challenger brand.
"Blah blah blah," I can hear you cry. "Get onto the ad."
Your wish is my command. Here's a teaser spot for T-Mobile's new advertising campaign, featuring Carly's "good girl gone bad" look:
And here's Canadian actress Carly Foulkes -- yes, her real name is Carly! -- talking about the project behind-the-scenes. She started making T-Mo commercials in 2010, making everyone forget about former T-Mobile spokesperson Catharine Zeta-Jones:
The reinvention of Carly comes at a pivotal point for T-Mobile. The telecom giant is struggling: It lags in total subscribers by a wide margin behind leaders Verizon, AT&T and Sprint; it is the only one of those networks to lack the iPhone, which has stunted its ability to retain existing customers, 700,000 of which fled to carriers with the iPhone in the final three months of 2011 alone; its merger with AT&T collapsed; and in late March it announced 1,900 layoffs, or about five percent of its workforce.
T-Mobile is going through a crisis, in other words; why not buy a sweet new Ducati?
These teaser spots will continue into Fall 2012, when T-Mobile will fully unveil its "brand re-launch." Until then, biker Carly will continue to tantalize us with these brief glimpses of her new wardrobe. This summer, it might not be the weather for leather, but T-Mobile's spokeswoman is rocking it anyway.