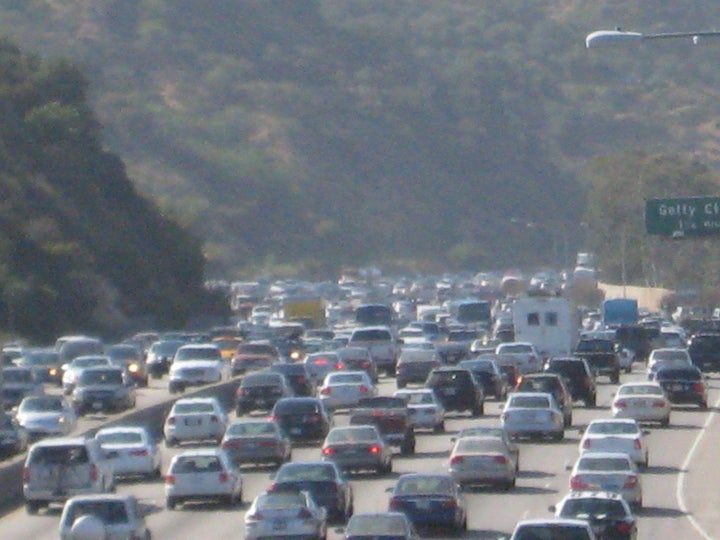 I'm sure most of you around the country, hell, even in the rest of the state haven't heard about this coming weekend's impending disaster. For those of you not living in our over-packed bubble, Los Angeles is shutting down 10 miles of one the nation's busiest freeways for a massive overhaul and upgrade from 10 pm on Friday July 15th through 5am Monday July 18th. Instead of inconveniencing people for months, CalTrans is supposedly going to get all the work done in 53 hours. Right... So why am I talking about an event that only effects Los Angelenos?
Well, mostly because it's just too much fun to say Carmageddon -- makes me giggle every time -- and partially because I think it's hilarious how businesses are trying to take advantage of this sure-to-be-epic traffic nightmare. There's a plethora of $4.05 or $40.05 deals coming through on Twitter trying to lure us onto the streets. The city bigwigs claim it should only affect those of us unfortunate enough to live near the 405 freeway and its tributaries, like the 10 and 101 highways, but, please, who are we kidding? The whole city's going to be a GD mess.
If you have to be anywhere in the vicinity of LAX, my prayers are with you, but I don't think even God will be able to help you.
Some advice for out-of-town travelers: make your flight out on Saturday or Sunday. I'd leave your hotel the day before and just park your ass in the airport. It's hard to sleep on a cold floor or while sitting up in a plastic chair, but at least your sweet dreams of your own bed will be realized soon enough. Plus, you'll save money off of that extra night, parking fees and the rental car.
For those coming into town, all I can say is life is a bitch and you're going to meet her firsthand. Hopefully, only the first day or two of your vacation will be spent trapped in your car. Making things even worse is that June Gloom has high-tailed it out of here and July's high heat is here to welcome you. If you aren't staying at the beach, God help you. Make sure you use the restroom before you leave the airport, and grab some water and snacks as well. Yes, they're twice as much as the 7-11 a mile away, but you might die of thirst before you get there. This is no time to pinch pennies. Getting in and out of LAX is pure hell on a regular day. This is going to be the traffic equivalent of D-Day.
Now the mayor's office is saying that if people just avoid the area, it will seem like a normal weekend. Maybe enough Angelenos will be scared and just leave town, relieving the congestion all together. Don't be fooled, people. The Westside is a mess every hour of every day with the 405 open and it's not like going through Downtown or using the PCH are a dream either. The only sane thing to do is stay home. Or at least out of your car.
Some good news: the Red Line subway from the Valley to Hollywood will be free of charge that weekend. The bad news: it really doesn't go anywhere locals need it to. If you're a tourist, then you're set. Unfortunately, cooling off at the beach after taking in the delights of Hollywood is not an option. Hopefully your hotel has a pool.
Personally, we are treating it like a hurricane or Nor'Easter (though without the bad weather and threat of imminent destruction). Sure, it may not be as bad as we think, but who wants to stumble out into a Category 5 traffic shit storm just for a loaf of bread? We're shutting all the windows (to keep the sun out and the house cool), stocking up on our favorite food and drinks, and watching live coverage of the British Open Golf tournament from dawn til dusk. Then perhaps an evening fire and some stargazing. Should be a pretty great weekend, especially since Tiger's not playing in the tournament. A win-win for us, considering this is pretty much what we were going to do anyway. We're willing to share our bounty with anyone crazy enough to venture out. I'm guessing won't be getting any takers. Or should I say, no one who can actually reach us.
If you really don't feel like spending the weekend trapped in your house or apartment, the Los Angeles Convention and Visitors Bureau is lending a hand, or, rather, 405 tweets (@discover_LA). Starting on Sunday July 10 (at 4:05 p.m.), the bureau will be recommending 405 things to do around town during the weekend. Public transportation suggestions and 405-themed deals will be part of the mix as well. At least the city seems to be taking this in stride and trying to have fun with it -- something I thought impossible where traffic was concerned. I'm hoping this will all be a bad joke and things will move smoothly, but I'm not willing to find out. Good luck out there, you poor bastards.
Related
Popular in the Community