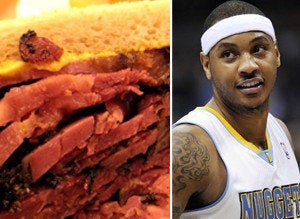 Incoming New York Knick Carmelo Anthony won't just be getting boatloads of money for his trade, he'll also get his very sandwich from famed Carnegie Deli.
The "Melo Sandwich" was added to the 74-year-old deli's menu the same day reports broke that the former Denver Nuggets star was finally heading to the Big Apple in a three-team trade.
The Deli is already selling the "Melo" for $21.95. It's a towering sandwich made up of an ungodly amount of pastrami, salami, corned beef, bacon, tomato, and Russian dressing on rye bread.
Why $21.95? Sandy Levine of the Deli told TMZ that if they sell 3,000,000 of the Melo then they'll make Anthony's estimated salary of $65 million.