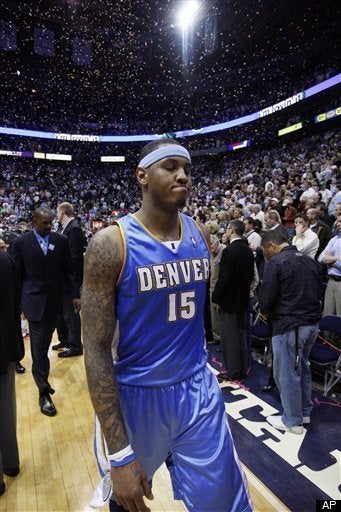 Earlier this week, reports surfaced that the Denver Nuggets front office was delaying a potential blockbuster deal that would send stars Chauncey Billups and Carmelo Anthony to New Jersey. Now, reports are indicating that Anthony himself may be the biggest snag in getting the deal deal done.
On Wednesday, ESPN's Chris Broussard quoted an unnamed source who "speaks regularly with Anthony" as saying "He [Melo] has not agreed to go to New Jersey... I have never heard him, in all the times we've talked, say he's willing to go to New Jersey. Not once. Personally, I would be stunned if he went there and signed an extension."
A proposed deal with New Jersey would involve the Detroit Pistons and would get the Nuggets New Jersey's Devin Harris and Derrick Favors, as well as draft picks. The deal, however, is dependent on Anthony agreeing to sign a long-term extension with New Jersey.
It is widely thought that Anthony wants to play for the New York Knicks, but the Knicks have not been able to offer the Nuggets an attractive-enough package of assets to complete a trade. Nonetheless, unnamed sources have said that Knicks star Amar'e Stoudemire is still actively recruiting Anthony.
Meanwhile, Anthony's tweets have grown increasingly defensive regarding growing impatience over the drawn-out trade negotiations. Yesterday, the all star forward tweeted a line from the Dark Knight : "die a hero or live long enuff to become a villain." He also tweeted: "Despite all the haters, much love to my supporters and fans. That's all that matters."
Nuggets fans booed Anthony during a home game on Sunday.
The Denver Post wrote on Thursday that, despite all of the delays and snags, an trade will happen before this year's deadline.
Related
Popular in the Community