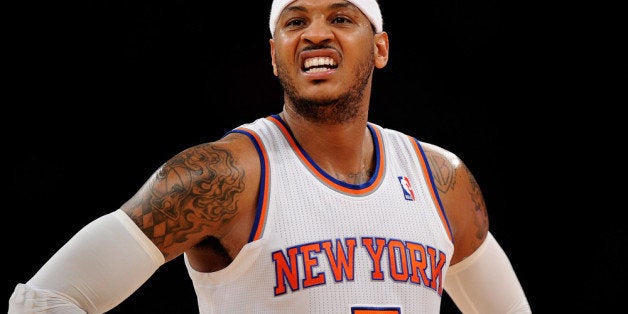 Carmelo Anthony may be struggling to elevate the play of his teammates as the New York Knicks struggle through a disappointing season but he has had no problem raising the games of those following him on Twitter. The 6-time NBA All-Star dropped an odd insult during a brief Twitter spat with a hostile fan on New Year's Eve that sparked an unlikely meme.
WARNING: Tweets Contain NSFW LANGUAGE

The Twitter altercation began innocently enough in the final hours of 2013, with Anthony suggesting his followers ring in the New Year with his sneaker giveaway.

Things took a turn for the weird when one unhappy Knicks fan replied, unhappily. In his response, Anthony deployed a phrase that caught everyone's attention: Glazed Donut Face.
Knicks shooting guard J.R. Smith, no stranger to controversial tweets, was among those who found the exchange funny.
Indiana Pacers center Roy Hibbert also took notice.
From there, "glazed donut face" took on a life of its own.
With Twitter use @jose3030 suggesting Melo pics ready for the addition of one or more donuts, the meme dominated the close of 2013.
Related
Popular in the Community