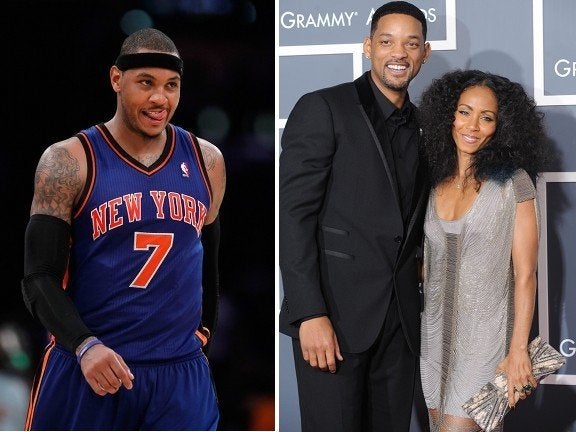 If the old saying "Give and you shall receive" is true, then Carmelo Anthony and Will and Jada Smith have a karmic bounty headed their way soon. The stars were named numbers 22 and 20 respectively on The Giving Back Fund's "Giving Back 30," a list of the 30 celebrities who made the largest donations to charity in 2010 according to public records.
According to The Giving Back Fund (GBF), the ranking is based on media reports of charitable giving by sports and entertainment professionals and information provided by more than 250 celebrity publicists, attorneys, agents agencies, and managers about their clients. Requests were also sent to charities known for their celebrity affiliations and to major sports leagues and associations.
Through their charity the Will and Jada Smith Family Foundation, the couple made hefty donations totaling $900 thousand to the Lupus Foundation, the Baltimore School for the Arts and the Make-A-Wish Foundation.
Carmelo Anthony gave $837,200 to his alma mater Syracuse University and to the non-profit The Living Classroom Foundation, according to GBF. But an ABC News interview with celebrity stylist Phillip Bloch last fall put Anthony's donations closer to the $4 million mark.
WATCH
:
Information on the "Giving Back 30" was confirmed by at least one source other than an initial media source and donations made by a celebrity's foundation were not included on the list since there is no way to track the source of that money, GBF says.
While Anthony and The Smiths ranked high on the list, which also includes writers, producers, musicians and comedians, the top giver was actress Jami Gertz and her husband Antony Ressler whose donations totaled more than $10.5 million given to their Ressler Gertz Foundation. Grants from the foundation were then distributed to to the LA County Museum of Art (for $1.7 million) and to Cedar Sinai Medical Center (for $400,000).
Forbes magazine notes that while Gertz isn't exactly a mainstream actress, her deep-pocketed donation has much to do with the fact that Ressler is the co-founder of Ares Capital, a Los Angeles investment firm that controls more than $40 billion in assets, which has also recently expressed interest in buying the Dodgers.
Support HuffPost
Every Voice Matters
Popular in the Community